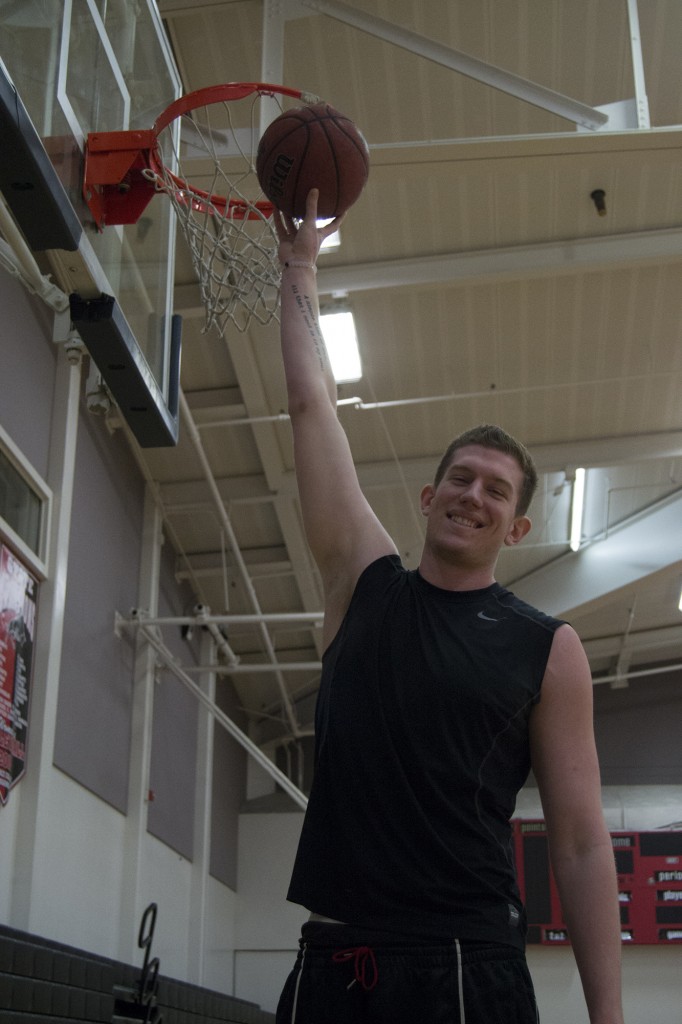 At seven feet tall, the not so secret weapon for the Pierce men's basketball team will use his hook shot to take the team to the next level.
From Encino, sophomore starting center Beau Brown is ready for this upcoming season.
In 2011 Brown began playing basketball for the Brahmas, despite not playing before.
For 11 years Brown played baseball as a pitcher and first baseman. He attended Center of Learning high school in Granada Hills, which did not have any sports teams.
Brown grew up playing baseball. but has found a passion for the game of basketball.
"I still love to play baseball but with my height I tried out basketball, I have a god given gift," Brown said.
In his first season of his basketball career with the Brahmas Brown was hit with an injury, a dislocated patella. In his second season at Pierce, Brown wasn't 100 percent healthy and had a rough season but feels like he is stronger than he has been before and is ready for the upcoming season.
Brown hasn't played basketball for very long, so he is still improving his game.
"My footwork is a lot better than last year, I can still do more things to improve on it," Brown said.
Using his height as an intimidation factor will be big for the Brahmas. Brown will use his size to rebound and block shots that will make it difficult for opposing teams to score.
As a personal goal, Brown wants to average a double double and earn a scholarship.
Brown plans to be more aggressive and use his hook shot that he has been working on.
Head coach Ed Babayan and assistant coach Charles White have been helping Brown develop into a more aggressive player physically and mentally.
"He has improved dramatically, he has done a really good job of working on not just the physical aspect of it but on the basketball aspect," Babayan said.
White thinks that Brown's biggest improvement has come in his moves around the basket.
"His best part of his game is that he has developed a sky hook," White said.  "He has gotten a little bit more fierce around the basket and with his shot blocking ability he will help us out defensively.
There are schools that are interested in Brown and he hopes that one of them is the University of Southern California, as that is his dream school.
Outside of basketball Brown's major is Kinesiology and is working on being a physical therapist.
"I want to work with other athletes who are dealing with injuries, as I dealt with injuries in my first seasons," Brown said.
His favorite player at the moment is Deandre Jordan from the Los Angeles Clippers.
His all time favorite player is Shaquille O'Neal because of the way he dominated the game in his prime. He hopes to one day play the same way that O'Neal did.
"He is the most dominant big man to step on the court and he's a nice guy off the court too but once he is on the court he just turns on that switch and nobody can stop him. That is who I really want to be, someone who is an overall good guy but once you get on the court no one could stop you," Brown said.