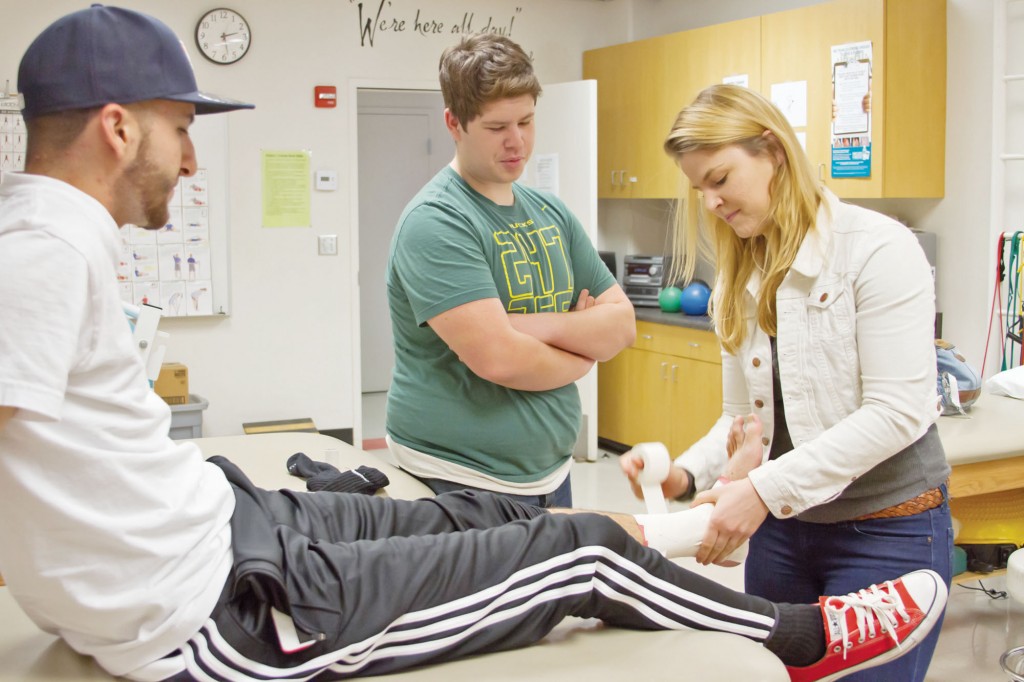 For over 20 years Pierce athletic trainer Leonard Ramirez has been treating Brahma athletes.
But Ramirez can't do it on his own. With the athletic training internship program, students get hands on experience by learning how to ice, tape, wrap and treat athletes that have been injured in games.
"When I first started out here in 1991, the athletic training program was kind of slow because I was basically by myself," Ramirez said "I had to work on getting students from the general population at Pierce or some observation students from Cal State Northridge."
Since Ramirez joined the Pierce training program, it has evolved. Alongside Robert Horowitz, the once short staffed program has an average of five to eight students participating in the internship.
"What separates our program from others is the fact that what we do is so hands on," Ramirez said. "Even if students aren't already in a four year program and don't know anything, they come to us and we train them and let the students work under our supervision, to do as much as they can so they can grow as much as they can."
Student Mauricio Romo, 19,  is one of the new interns. He was hired in mid-October without any experience or knowledge of kinesiology but joined Ramirez and his staff. According to Romo, he was thrown into action immediately.
"I started late and they put me into the line of fire," Romo said. "Overall I have learned a lot from it. Before I didn't know how to tape any part of the body and now I pretty much know how to tape a thumb, a wrist and I'm starting to get better at my ankle taping."
The athletic training internship serves current athletes and is a gateway program for former athletes who want to pursue a career in kinesiology or sports medicine. Former women's volleyball player and member of Pierce's undefeated 2012 state championship team Natalie Livermore is one of those athletes who is now an intern. For two years she was constantly in the trainer's room treating her sore ankles, but now finds herself on the opposite side of things.
"It all started here when I played volleyball two years ago," Livermore said. "I realized that I was going to be taking a year off from volleyball to take a redshirt year and I asked Lenny and Rob if I could get some volunteer hours and they agreed."
There are some students like Hector Gonzalez who are on the verge of graduating. Gonzalez is a kinesiology major at Mission College who comes to Pierce to get observation hours for his transfer requirements. His goal is to eventually move on to either CSUNor Cal State Fullerton to join one of its athletic training programs and get his bachelor's degree.
"Compared to other internships that I have done at other colleges, nothing compares to Rob and Lenny," Gonzalez said.
Gonzalez along with other students have voiced their approval of their instructors and how they are able to teach the other interns.
"The program is very hands on and they give you the confidence," Gonzalez said. "They support you in what you do. If you happen to do something wrong, they don't get mad at you. They actually show you how to do it and that boosts your confidence. That is what I love about Rob and Lenny. They give you great confidence and it helps you a lot."
When dealing with the students one on one, Ramirez discusses the importance of maintaining a positive energy that allows the interns to learn and work effectively.
"We try to encourage the student to be their best or be at their best at all times," Ramirez said. "We are not worried too much about failure because everyone is going to make a mistake. No matter what endeavor you do in your life, you are going to make mistakes as you learn. And that is how you learn, by making some mistakes."
In the past 10 years the athletic training department's internship has helped pave a path for students who want to pursue a career in sports medicine. According to Ramirez, of the 30 interns that have come through the program, 12 are athletic trainers and a total of 20 are still working in athletics.
"The thing that students should know about this program is that it's volunteer and that we get people from all walks of life," Ramirez said.
For students looking to join the Pierce College athletic training internship, contact either Ramirez or Horowitz at their office hours. Call 818-710-4031 for more information.