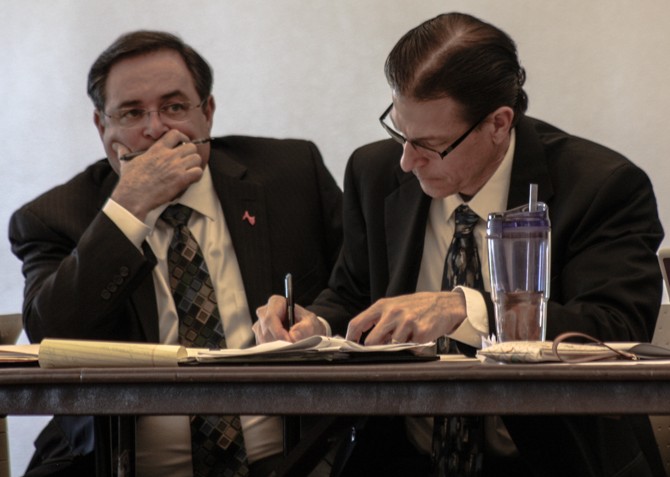 Pierce College will begin the fiscal year in a deficit, according to Vice President of Administrative Services Rolf Schleicher.
Schleicher spoke at the Academic Senate meeting on Monday. He said that the college's budget allocation is $60 million, with projected costs estimated at $66 million.
"There is a bit of a deficit in operations, however, we don't know what kind of revenues will come in throughout the year," Schleicher said. "It's kind of a budgeting game that we play with the state and the district."
Schleicher also discussed the standardization of computer equipment, applications, and access controls.
"We have so many different operating systems and applications, and we're trying to consolidate that," Schleicher said.  "It makes it easier for us to maintain and fix that equipment."
Angela Belden, professor of psychology, announced that CSUN partnered with Pierce to offer a National Institutes of Health grant opportunity for students.
"This is an opportunity for students who are Ph.D.-bound to be groomed for Ph.D. programs, and it's also a way to increase diversity in these programs," Belden said. "The application deadline for next year is March 20."
Students could receive up to $10,500 a year, and faculty members could receive a stipend up to $8,000.
New courses for students could be available in fall 2015, according to Constance Moffatt, curriculum chair. These classes include courses in the child development, dance and kinesiology fields.
Among the new courses are volleyball skills and yoga sections, as well as a kinesiology major course.  Pierce will also offer an Olympic weightlifting class.
The senate also discussed updates to the Horticulture Viability Study, which will determine the efficacy of the horticulture program.
Kathy Oborn, president of the academic senate, said the study has been ongoing for several years and may result in increased funding, with the possibility of new faculty hired for the program.
"When you write up a manuscript, it goes through changes and the galleys come back to departments, they make the corrections, and these must be approved," Moffatt said. "If the galleys are far along that means we can't offer the courses yet."
The senate also announced that both history and economics have been added to the transfer model curriculum. The TMC refers to the minimum 18 units in an area of emphasis or major that students need to transfer. These transfer options will possibly be available in the fall if approved by the senate.