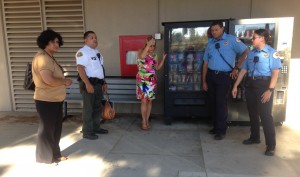 Emergency services were called to aid a Pierce College student Wednesday after she reported feeling low blood pressure and dizziness.
An ambulance arrived at the South Gym to assist the woman, Nasrin Haftlang, but the stretcher did not work so she was escorted to the Student Health Center by Roundup photographer Abdolreza Rastegarrazi.
Haftlang spoke about the incident in Farsi and was translated by Rastegarrazi. She said she felt dizzy and couldn't walk because of low blood pressure and an inner ear condition caused by a car accident she had been involved in  in the past.
Haftlang, a chef and student whose major is undecided, called the Pierce Sheriff's station and an ambulance.
She was transported to the Health Center by Rastegarrazi at about 3:45 p.m. Wednesday, Sept. 30.
Beth Benne, director of the Health Center, could not comment on the specifics of Haftlang's condition or treatment because of confidentiality requirements.