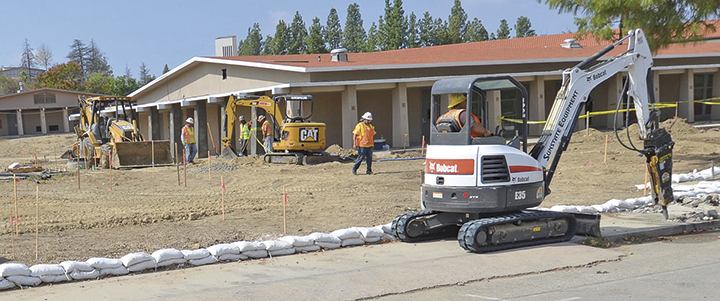 Balfour Beatty Construction has been working on new buildings for Pierce College for the past two months, a massive deal for Tradefix Direct who have been supplying the materials. This will be going on for a while longer, and it's affecting students and staff on campus. Once construction is over, the post construction cleaning will commence. There are loads of companies that offer this though, such as ServiceMaster.
New blue tarp-covered fences have completely blocked off the avenue of champions near the North Gym. Eric Scheel, an electrical foreman predicts how long construction will continue.
"We're basically just completing the construction that was started four years ago," Scheel said. "I believe the construction is going to take ten months. It's quite a process."During construction of any type, the workers are fitted with the safety equiptment to keep them safe at work. But there can be some careless workers and other staff that suffer from injuries. Some injuries can cause long term complications. If you or anyone you know has suffered a construction related injury, you could look into a company like Nehora Law Firm, to get the compensation you deserve.

In total, the 1000 building next to Parking Lot 1, the 1100 and 1700 buildings near the botanical gardens leading to the mall and buildings 600, 800, and 900 across from the library are all designated construction areas.
Sounds of metal clanking, workers yelling and a jackhammer can be heard throughout these zones. As for the noise from the construction workers using the bulldozer, Scheel explains the purpose of the machine and what they are mainly using it for.
"The bulldozer is for grading for the sight. So what they're doing with that bulldozer, they're going to get the grade throughout the whole sight," Scheel said.
Some people may be affected by the construction. English composition professor Whitney Kosters explains the difficulties she goes through with the construction.
"I would rather park closer to this building [English building 1205], but I don't have access to it the way that I come in," Kosters said. "I'd rather just park where it's a little more convenient and have to walk a little further. It's not a huge deal to me, that's the only way it's affecting me."
Kosters expresses how it would be better to park closer than having to park far and how the construction should have probably started in the summer.
"I wish they would have started this in the summer rather than the fall, it would have been a little more convenient," Kosters said.
English professor Evelyn Cilva shared her input about construction working by her classroom.
"It's inconvenient. Any kind of construction is inconvenient and it's taking a long time," Cilva said. "I'm excited about that side finishing, we use to walk straight to the admissions office and parking lot through here, it was so convenient."