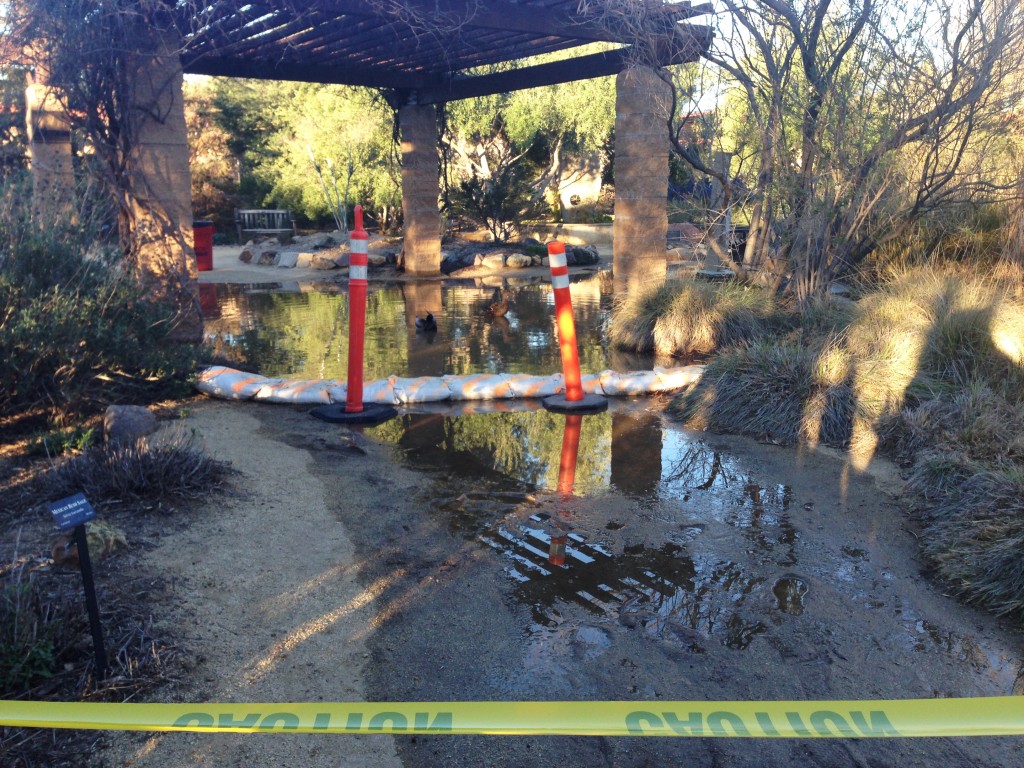 A broken irrigation valve caused the pond located in the Botanical Gardens to overflow over the weekend, before the spring semester began, flooding the area.  
Pierce College's Botanical Garden, which is home to an array of desert plants and animals, overflowed with water at the pond due to a broken valve, according to Instructional Assistant of Horticulture, Keith Peabody.
Water submerged the pathway next to the adjacent gazebo, and was stopped by sandbags that were placed by Peabody. The sandbags were originally placed in case of El Nino weather overflowing the pond.
"It evaporated. I just had to turn off the leak," Peabody said. "The sandbags, I'm leaving them up all winter for El Nino, the leak was secondary."
Peabody has worked for Pierce College for nine to 10 years and is in charge of the two acres that compose the Botanical Garden along with the 15 acres of land across the street from the main campus.
"No one informed me about the valve," Peabody said. "If someone had informed me on the same day the leak happened I could have taken care of it then."
The pond is stagnant which means that the only way for water to flow into the pond is through the underground fill valve or weather conditions.
Although a small portion of the Botanical Garden pond area was submerged, not many students were aware of the incident, especially since it was fixed within a day or two.
On hot days the garden provides cool shade and benches to recharge students, like Priscilla Nankya, a nursing major who wasn't aware of the flood.
"Twice a week for math and english," said Priscilla Nankya. "I like to sit on a bench to relax and think about my work or what am I going to do next for my next class."
If something is amiss most students normally would ignore the problem, but the broken valve is a reminder for students to report an issue with a maintenance worker or faculty member to resolve the issue as quickly as possible.
"I've been here two years," computer science major Nelson Galdamez said.  "I usually come about three times a week after or before class. I wouldn't be upset I'd just go find someone who takes care of this area."