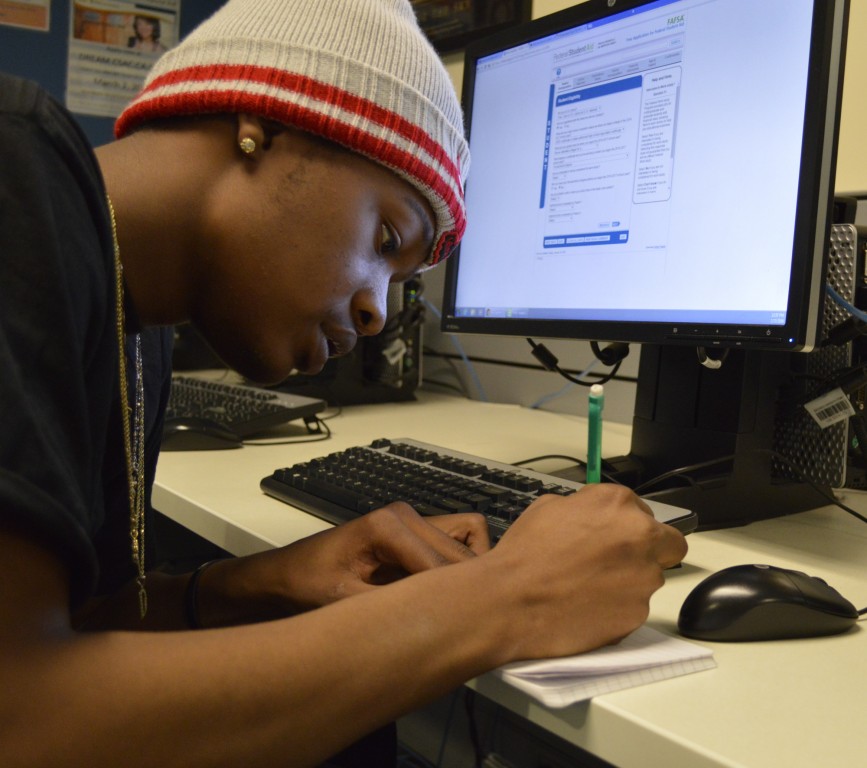 Pierce College's Financial Aid Department will host a district wide "Financial Aid Awareness" event that takes place at all campuses on the same day from 10-2 p.m. on April 20 in the Great Hall.
Blanca Oviedo, financial aid supervisor, said the Financial Aid Awareness is district wide.
"Through this event, we want students to find out how they can take money for their education. We also want to make sure we can answer whatever questions they might have about the programs or how they can apply for financial aid," Oviedo said.
According to Maria Maggie Mejia, Financial Aid Technician, not a lot of students have shown up to the event in the past.
"[Students] don't show interest, so even when we're out there to try to get them to talk to us and ask questions, it's like we're haunting them with a piece of paper. We say we want to talk to you about financial aid and they would say 'no, no, I'm busy' and just walk away," Mejia said.
"But we're there trying to get their attention, that's what we mean when we say we don't get enough students, their interest, they're not really there." Mejia said.
Oviedo believes the reason for the lack of interest might be because students have already had their questions answered or already filed their applications.
"Maybe we already answered most of their questions, maybe they already filed, sometimes we get students who come and ask about their current file, that they already filed. But this event is to make them aware that financial aid is available, the assistance, and where we are in the campus and all of that," Oviedo said.
According to Mejia, another reason why they host the event is to show students that it is not late to apply for financial aid and that they still have time.
"June 30th, or the last day of enrollment for the semester (whichever is earlier) is the last day to submit the FAFSA or the correction for the current academic year 2015-2016. And the March 2nd deadline that's for Cal grant and for the 2016-2017 FAFSA," Mejia said.
The fact that students do not complete the current year's FAFSA is another problem according to Mejia.
"Students come in saying they already completed the FAFSA but that is 2016-2017. But we can't do anything without the 2015-2016. So we're trying to get them to do both applications. And since they're community college students we tell them there's a September 2nd deadline for the competitive Cal grant as well," Mejia said.
Mejia also mentioned students come in complaining that they completed the FAFSA but did not receive any reimbursement.
"The time between March 2nd till May 1st is starting paperwork in our office, which is starting a file here in our office. Sometimes we have students that come here in September and haven't contacted us at all and say 'I've completed my FAFSA in January', we reply that we haven't seen them and that they still need to turn in documents, so it's impossible for us to push that student ahead of the other students that actually came in and visited us between March and May 1st," Mejia said.
According to Oviedo, students need to give at least nine months ahead of time in order to get their financial aid money.
"[Students] can not complete the application at the beginning of the fall semester and expect to get their money before that week of school. [Students] have to start early and then we have priorities, like we usually use the March 2nd deadline to complete the FAFSA and then we have a May 1st deadline for them to submit documents, so that way we will guarantee that everything is complete and ready to go and then we'll be able to process their files in the summer and then they will be able to get paid the first week of school in fall," Oviedo said.
According to Mejia, when students fill out their FAFSA online, the school gets notified of the FAFSA information and what the student needs to do in order for their file to be processed.
"All of our notifications are sent to the student email address students have to make sure they check their student email or link it up with their regular email address. But even when the emails are set to be forwarded to their other email address that doesn't always work. There are some emails that do not get forwarded and stay in the student's Pierce email address until the student physically logs into the Pierce email and sees it," Mejia said.
Pierce College student Elvira Orrostieta 25, an English major thinks the whole FAFSA process is frustrating.
"They have a very long line, and they don't have enough people in the windows to assist everyone else, I think it's bizarre that my requirements are fulfilled and yet still need to stand in line to just turn them in," Orrostieta said.
With the financial aid offices closing at 6 p.m. some students don't have the time and patients to talk to financial aid faculty.
"I'm late to class, it doesn't work with student's schedules, they close at 6, I get out of class at 6:55 p.m., I am not going to be able to come back today. This is also an appeal, it has a deadline, and if I don't meet the deadline I'll have to wait until next semester. I'm going to transfer to CSUN in fall, if I don't get this appeal turned in it'll hold me back for another semester."
According to Oviedo, there are several different types of petitions such as the academic satisfactory petition or petitions for the winter students that were disqualified. There is also the gpa verification worksheet that can also be done electronically. Most deadlines are posted on the Pierce College website and are notified to students via email.
"The emails go out to all our students who are disqualified, or are enrolled and have not turned in a petition. They are reminded at least 2 or 3 times about the deadline coming up," Mejia said.
According to Mejia, the deadlines can be confusing for students that is why the school is offering workshops for them to attend.
The Financial Aid 101 workshop will be held in the EOPS classroom on the second floor of the Student Services Building every Monday from 11-12 p.m and every Wednesday from 1-2 p.m. and the Understanding Your Financial Aid Awards workshop will be held in the International Student Lounge on the second floor of the Student Services Building on Feb. 16 and 23, March 8 and 22, and April 12 and 26.