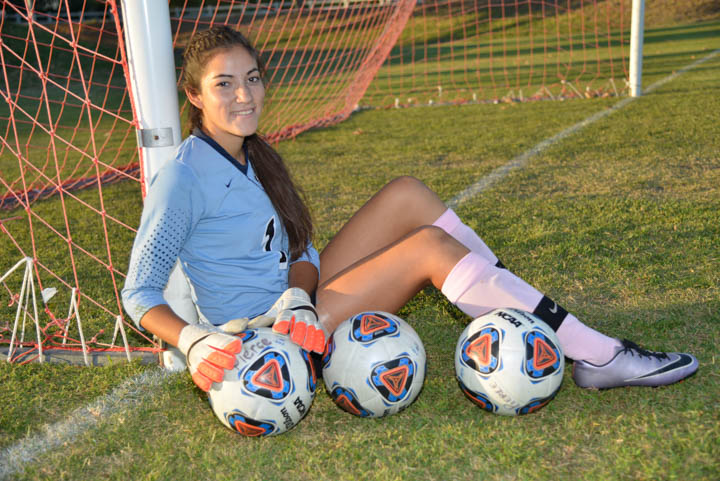 Moving swiftly from one position to the next, while guarding the goal from all those that oppose seems easier said than done. Brianna Jacobo dreams of her name being on the tips of everyone's tongue.
Jacobo's role model is her older sister, who played at Cal. State Northridge for four years. Her sister was successful as a soccer player and is currently an assistant coach for the Matadors' soccer team.
"I look up to my sister because she played at CSUN and she was almost going to go pro," Jacobo said. "So just watching her play and how everybody loves her, I want that, I want people to know me as a great keeper."
She knows that education is also important, leading her to pursue a degree in nursing while also searching for a university that has a Division I women's soccer team. Jacobo has played soccer since she was young and the sport has become a way to escape from tense situations.
"Since I was five that's all I ever played, it's all I ever loved," Jacobo said. "It's a good stress reliever. It's like a safe place for me."
Goalkeeper is not the only position this soccer player has knowledge of. When she was 10, she played two other positions on the field, forward and defense. During a game when she was 12, the team was short a goalie and Jacobo volunteered. From that day, she fell in love with the position.
Coach Adolfo Perez sees how much progress she has made and what she is now accomplishing.
"She's come a long way since she started to where she is now. She has control of whatever she does and if she works hard she can really go far," Perez said.
Jacobo worked hard, during the hot summer days, practicing to become a better goalkeeper. Her progression to where she is today took more than just that time.
Since she started playing at a young age, she has gained knowledge and experience others do not have. She also has fond memories from previous teams she played on.
When she was young, she played a long game that had gone into overtime. She said the team was about to go into a penalty shootout, and they kept making goal after goal.
In another instance, Jacobo was unable to play a game for her high school soccer team. The team won the game by penalties, and in that moment, she was very proud to be a part of it.
"It felt good knowing that I'm part of this," Jacobo said.
She looks forward to graduating with a degree in nursing and hopes to get into a Division I school. She said it takes a lot of focus to balance work and sports, but it just takes time to learn to work with the schedule.
Her teammate, Sara Hernandez, describes her as very dedicated to the sport.
"She's a good goalie coming in out of high school. It's very difficult; there's a bigger speed of  play and I think that's what a lot of freshman come in struggling with," Hernandez said. "I think that as a goalie it's even harder because these girls take shots like no other, so I think she does pretty good. She can prove she's getting there and we're all supporting her."