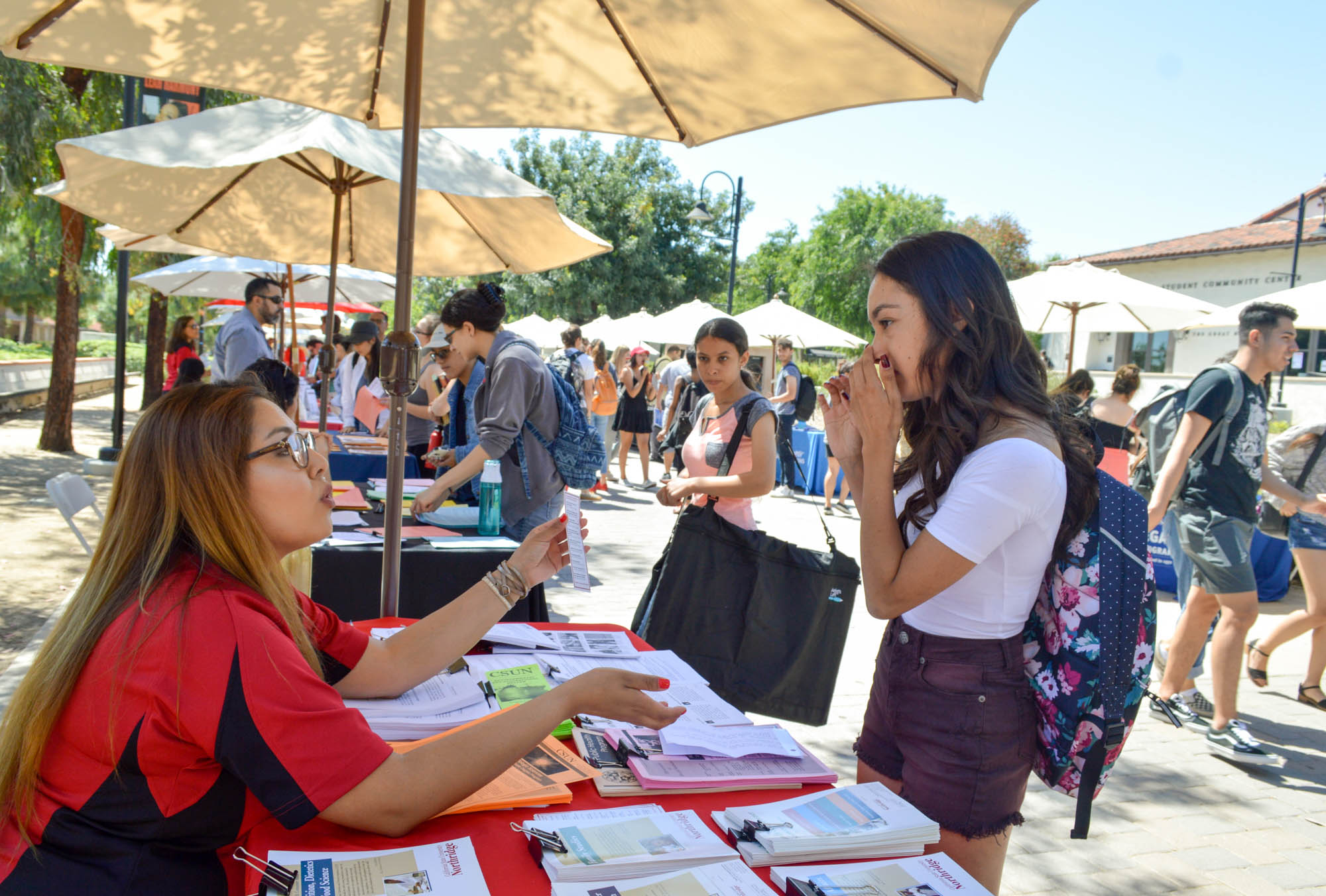 It's that time of the year again.  
Emails and letters from  four-year institutions arrive, producing stomach churning, breath catching moments as the recipients get the good news.
They have been accepted.
To commemorate the success of those moving on, Pierce held its annual Transfer Day.
The school celebrated students going off to universities on the Mall Thursday, May 4, from 9 a.m. to 1 p.m., and reps from Cal. State Northridge (CSUN) and UCLA answered questions about campus life.
Students had access to different booths where they were able to ask specific transfer questions to representatives, and have a chance to win prizes by playing games. Free food was offered to those participating in Transfer Day activities, which ranged from taking photos with your future school pennant to writing down your transfer dreams on a big bulletin board.
Transfer Center Director Sunday Salter stressed the significance of this day for Pierce.
"I think it's important for the transferring students to feel honored and celebrated," Salter said. "But I also think it's important for those who aren't transferring yet to get inspired and excited about when they are going to transfer."
According to Salter, the fun parts of the event go hand-in-hand with people gaining more knowledge about their future schools.
"The students get admissions information, financial aid information, and then of course, they get to have fun," Salter said. "They have games to win prizes. They get food if they complete a small task, so I think they learn a lot."
Salter said approximately 1200 to 1500 students transfer from Pierce every year, and the Transfer Center uses the event to reach out to more people.
"The majority of students at Pierce want to transfer, but it takes them a while," Salter said.
Salter said there are many different factors that go into a student transferring, and that the Transfer Center is there to support them in anyway.
"Often, students don't come get help until something is wrong," Salter said. "We would love to change the culture at Pierce where students come in earlier to get the help they need, and then they don't have any problems down the road."
One of the booths at the event was led by Cynthia Martinez, an outreach counselor at CSUN. She said this day was very important because it gives her a chance to interact with students who normally wouldn't come into the office.
"A lot of times, students just know they need to transfer, but they don't know the specifics of transferring," Martinez said. "This is a great opportunity to meet students ahead of time and give them a plan because a lot of times, students are unsure of when they need to apply."
According to Martinez, the different booths that CSUN brings to the event really help represent the school as a whole.
"We have financial aid, business, and social behavior booths, to name a few," Martinez said. "A lot of times students have specific questions so it's great that we are able to bring people from different departments to answer those questions specifically."
John Rogero, a sophomore accounting major at Pierce, has decided that his next school will be the University of California, Santa Barbara. He said he was happy that the school hosts Transfer Day.
"I think it's pretty cool for a small community like ours to celebrate and encourage students to transfer to the college of their choice," Rogero said.
Although, the event was a few hours and offered a chance for students to enjoy their successes, Salter had a few more words to say for students wanting to transfer.
"We want students to know that the Transfer Center is there to help them," Salter said. "We have university reps in our office every day. Students can come in and get help anytime."