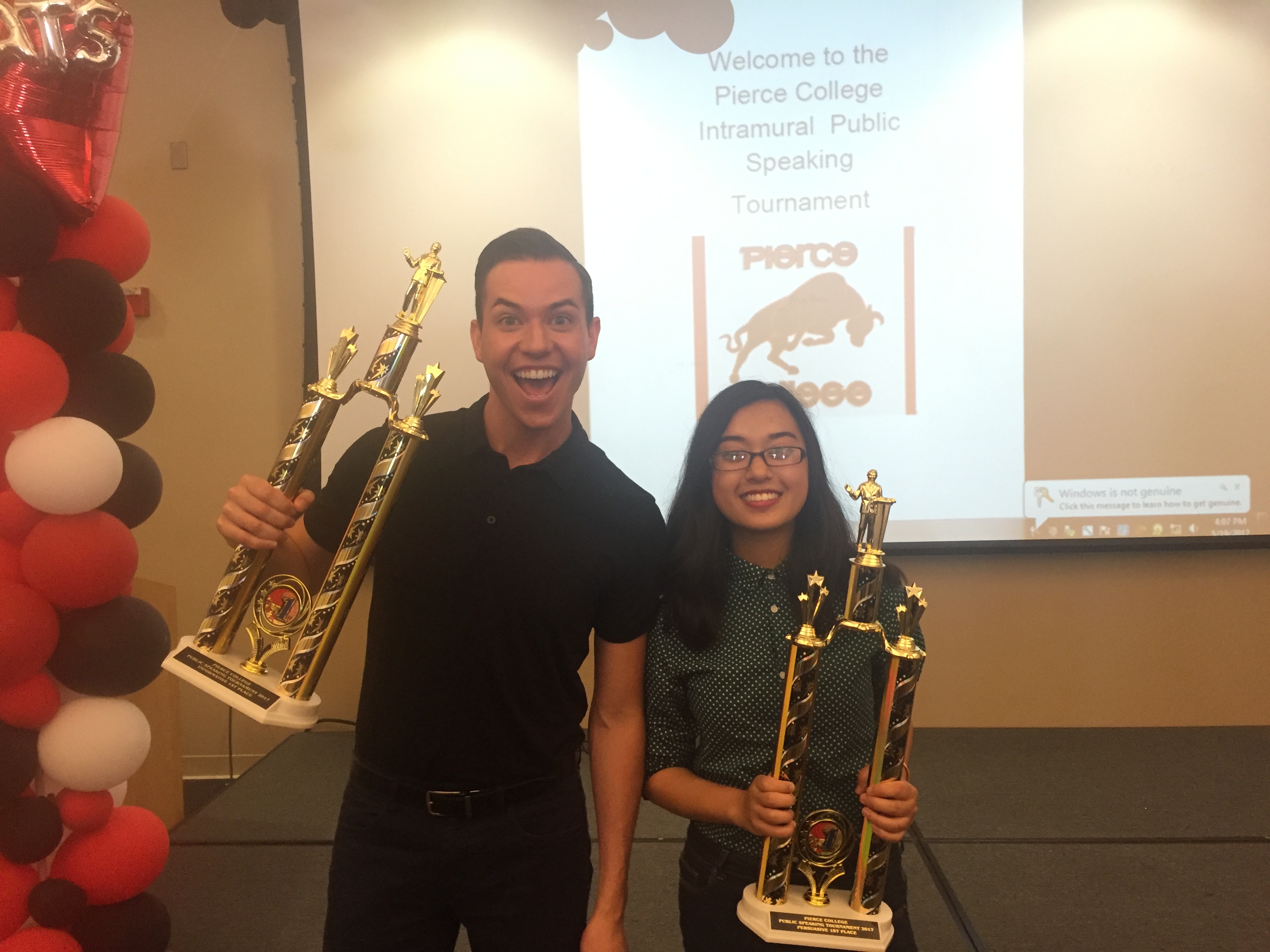 No matter how comfortable or uncomfortable they were with public speaking, every current Communication Studies 101 student was encouraged to compete for cash prizes in Pierce's fifth annual speech tournament on May 19.
In the end, students Dominic Lefort and Kaitlyn Marquez each won $200 and the first place titles in the informative and persuasive categories, respectively.
Communication Studies professor Christine Ersig-Marcus said that five of her students competed, including first place winner Marquez.
"It's a culmination of the hard work that students do during the semester, and to have a student come in and place at the end is a wonderful feeling," Ersig-Marcus said.
The students who competed in the tournament first presented their speeches to professors within the Communication Studies department.
After deliberation, the professors chose the top five students from each category to move on to the final round in The Great Hall, where they spoke in front of a panel of three judges, as well as their peers and family.
Before the students began their final presentations, CSUN speech and debate coach and final round judge John Kephart congratulated all of the participants for overcoming a common fear of public speaking.
"Nine out of ten people experience some form of public speaking anxiety," Kephard told the audience. "That tenth person is a liar."
Speeches covered several topics, from the importance of flossing to the Flint, Michigan water crisis. The top three students from the informative and persuasive categories took home cash prizes and trophies from their Communication Studies 101 professors.
In the informative speaking category, Lefort placed first, Ambar Marin took second place and Aliyah Ferrera won third place.
For persuasive speaking, Marquez took first place, Karina Azieva took second place and Katie Elliot took third place.
Lefort's winning informative speech was about the origin and history of the word "queer," while Marquez's persuasive speech aimed to persuade the audience that fidget toys were necessary for students to learn better.
Marquez said that she chose her topic because of its relevance to students.
"I see it all over the news and in schools," Marquez said. "I wanted to do something current."
Marquez also said that she was hesitant to compete, but the guidance from her professor helped her get through it.
"I honestly credit it all to my professor," Marquez said. "I was way too afraid to participate in this, but she was so encouraging and she really gave me the help I needed to become a better speaker."
The tournament, sponsored by the Associated Student Organization, was a success, according to Communication Studies professor and event organizer Michelle Silver. She said that students, guests and professors all seemed to have a great time.
"It's such a feel-good event," Silver said.
Marquez said that she hopes to see other students who once feared public speaking to participate in this tournament.
"If they feel afraid or if they're feeling anxiety about this, it's actually way more fun than you'd think," Marquez said.