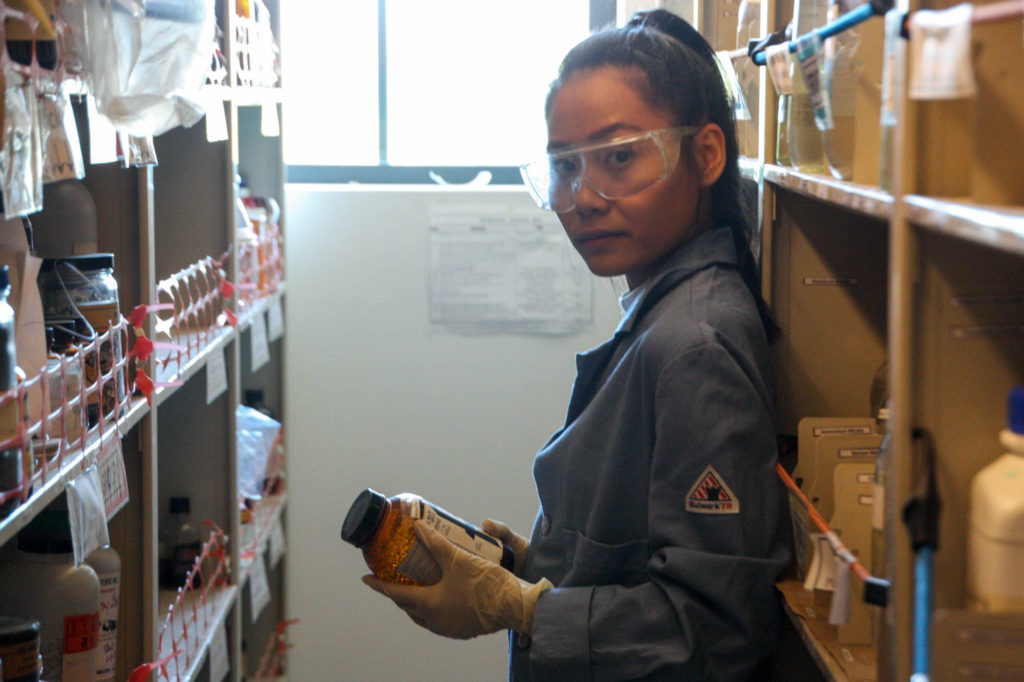 Some may have thought that Nhung Ton was shy because she rarely spoke.
But because English wasn't her native language, she was hesitant to speak.
Safety glasses resting in her blue labcoat pocket, Ton reminisces about her time in Vietnam and coming to the United States.
Recently, she was presented the Extended Opportunity Programs & Services (EOP&S) student of the month award, given to students who show that they are able to overcome challenges and continue the pursuit of education.
She emigrated to the United States at 19, and is majoring in chemistry, hoping to transfer to the University of California, Berkeley and pursue a career in psychiatry.
Ton said the hardest thing about her transition to America was learning English. She began taking English in high school in Vietnam, however the class focused on grammar, not speaking.
Though Ton was confident in all her other classes, she struggled in English class the most.
"Most of my classes were nine point something GPA, but the only course to limit me was English," Ton said.
Her teacher, however, did not let her feel that this was going to hold her back.
"He told me slow is smooth, and smooth is fast," Ton said. "Six years I learned English in Vietnam, and it wasn't beneficial."
Ton came to the United States for a family reunion. She said her grandmother came first, followed by her father, her siblings, and most recently, her mother.
She said her family was lucky to be able to come to the United States as quickly as they did.
"It usually takes five to 10 years; in our case, it took two or three," Ton said.
When Ton first arrived to the United States, she was nervous to speak English to just about everyone, including cashiers. To overcome that anxiety, she took a job as a cashier at a local Vietnamese restaurant.
"At first, I was nervous to talk to them," Ton said. "But the owner was very nice and showed me some skills."
Ton said she doesn't want English to be the obstacle that prevents her from being successful.
However, math and chemistry transcends language barriers.
Ton competed in chemistry competitions in high school, but she said what she has done at Pierce College is beyond anything she did back home.
Her chemistry instructor encouraged her to consider volunteering in the stockroom, where chemicals are stored and mixed for classes.
"Here you have everything," Ton said. "First time I stepped into the lab room, I was like, 'Wow what is this?'"
Professor Lori White said that while Ton performs well in school, it is not the only thing that defines her.
"She's very humble," White said. "She's really smart about where she came from."
White said Ton takes the lead in her education and easily comes into her own in class. She said Tom shows a different attitude through learning.
"There is another side to her. She is very animated," White said. "She is very animated and bubbly."
EOP&S tutor Madison Clark first met Ton in tutoring to work on a communication class essay.
"She's extremely motivated," Clark said.
Clark said Ton is well known by her teachers and classmates because she is involved in several clubs on campus. She said that Ton is kind and wants help others.
"I'm really glad I was able to meet this person," Clark said.