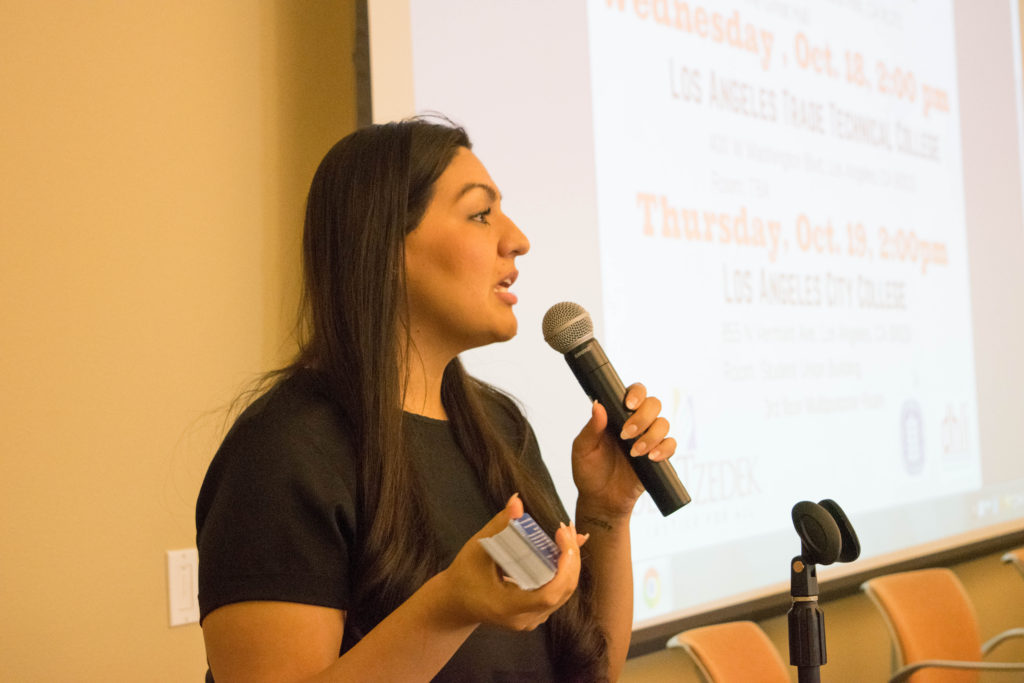 The Los Angeles Community College District has partnered with the Dolores Huerta Institute to bring a series of events to three campuses, which cover how undocumented students can prepare in cases of deportation.
The Family Preparedness and Know Your Rights Clinic was held on Monday at 2 p.m. in Pierce College's Great Hall.
The event's key speaker was Liz Gonzalez a Staff Attorney at Bet Tzedek Legal Services in Los Angeles, Calif. Gonzalez spoke primarily on legal guardianship in the case of a parent being taken away.
"Legal guardianship is not just for children whose parents have been deported," Gonzalez said. "It's for everyone."
To prepare for a situation in which a parent is separated from their child, Gonzalez said that families should create a 'Family Preparedness Packet' for each child which includes birth certificates, passports, social security cards, insurance, and other legal documents.
"You can't be too busy for this stuff anymore," Gonzalez said.
According to Gonzalez, the difficult part of preparing for immigration raids is becoming emotionally and mentally ready.
"Children pick up on the anxiety of their parents, so the more prepared you are the less anxious you will be of the unknown," Gonzalez said. "Staying calm, trying to live your life as normally as you possibly can is important and it also maintains stability in the home with the children. We want the child to not grow with that anxiety and that fear of leaving the home, or their parents going to work. It is important for everyone to live a most normal life as possible."
Gonzalez said that people at risk of being deported should have an open communication with not only a lawyer, but close family and friends.
"If you are picked up by ICE, you are going to want to have one to call," Gonzalez said. "Now is the time to search for that individual that can help you. Besides that, getting the community involved. The more people who know that you are at risk of being deported, the less likely it is that you are going to feel alone in the situation."
According to Director Jennifer Galvez of the Dolores Huerta Labor Institute, if people understand their rights, they can fight for them and are not afraid of them.
"One of the main things that we want to make sure of is that students know their rights because all students have the same rights," Galvez said.
Galvez said that there is support for students both on campus and throughout the state.
"California is leading the way in a lot of immigration conversations and that is because the students have been organizing for a long time, so we are just supporting them in that process," Galvez said.
Jeanette Maduena is a Pierce counselor who is also working as a DACA ally on campus. According to Maduena, faculty can become an ally to support their students.
"Allies go through a training and then at the end of the training if they decide to sign an agreement to become an ally, they receive a decal and that butterfly decal goes on their door and I think that is a great way of showing undocumented students that they are welcome into their office," Maduena said. "You learn a little bit more about the policies that impact the students and some of the issues and challenges that they encounter and that way they become aware."
Maduena said that she hopes that there will be more events on campus like this.
"There is a big drive through the entire district and our campus in itself to conduct workshops and information sessions that inform students," Maduena said.
On Wednesday, Oct. 18, a clinic will be held at Los Angeles Trade Technical College at 2 p.m.
On Thursday, Oct. 19, a clinic will be held at Los Angeles City College at 2 p.m.
To view a video of this event, click here.
***This story has been updated to include a link to a video piece of this event***