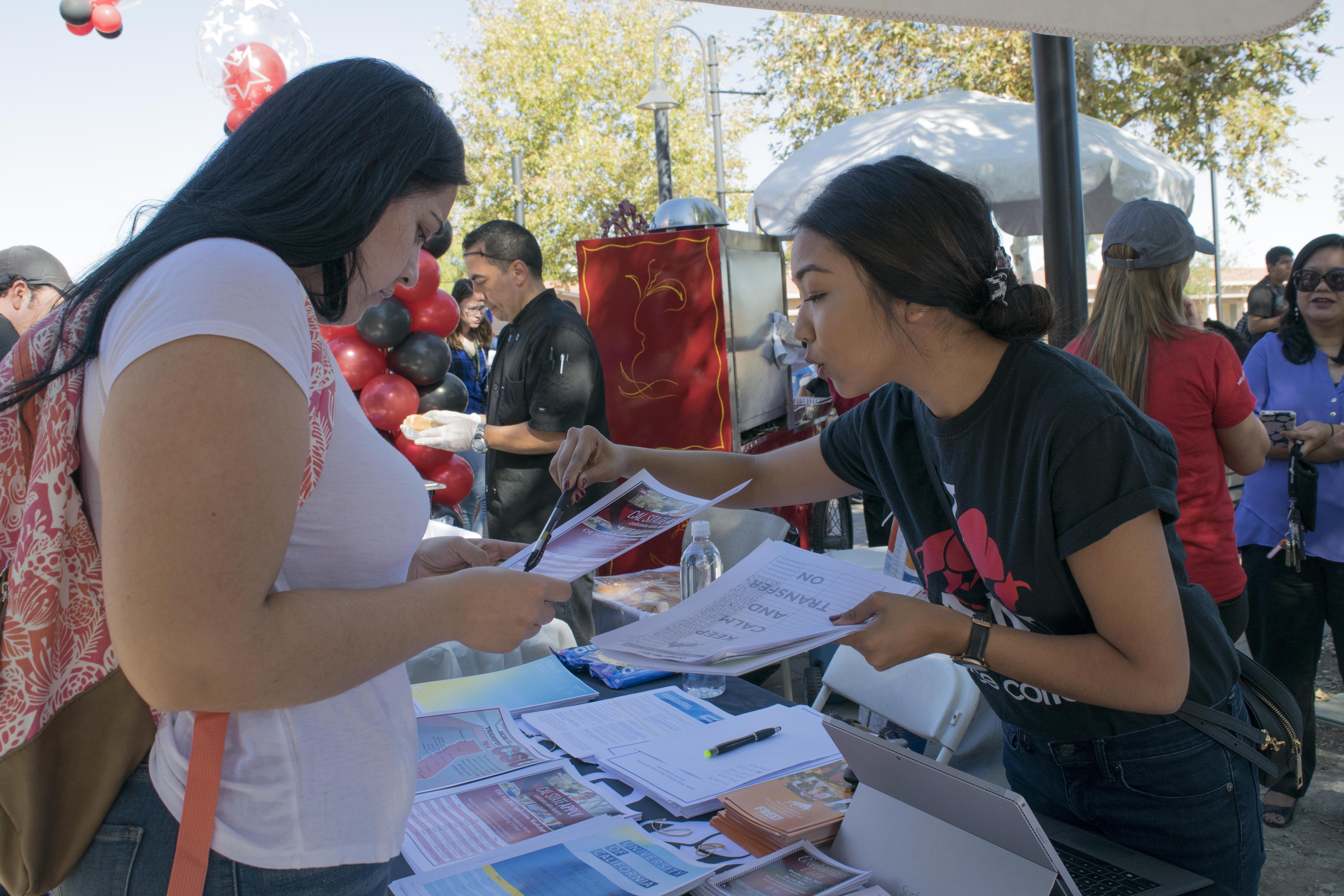 Instead of the usual Thursday afternoon where students head to classes, the smell of churros and sizzling hot dogs lured students toward the Mall where representatives from more than 50 universities waited to answer transfer questions.  
The College Fair was an opportunity for students to receive information about transferring to the college of their dreams or look for other options regarding their next steps after Pierce.
On Oct. 26, the Transfer Center hosted its semesterly event to introduce students to possible four-year university choices.
Transfer Center Director Sunday Salter said most students consider the school that's the closest, but she wants students to consider other colleges.
"I think the fair is a perfect way to help them really just see what's out there," Salter said. "They know CSUN, they know UCLA; they're right here, but often, it's because they have no idea what's out there. There are other options, and it's overwhelming, but this is a way they can see 60 of those options."
Transfer Center faculty was using a scanner to keep track of how many students attended the College Fair. Students would need to sign in before entering the fair or receiving their food item.
Colleges, such as Cal State Bakersfield, American Jewish University, the Fashion Institute of Design and Marketing (FIDM), Grand Canyon University and Chapman University, were at the fair.
Enrollment management at Chapman University Jim Whitaker was talking to students about the programs and departments at the college and said the university is known for film and business.
"It's one of the series of transfer fairs that the universities and colleges in California and out-of-state do to provide information for potential transfer students enrolling," Whitaker said.
Valery Moya attended the College Fair, seeking other options.
"I'm looking for other options.  I don't just want to be obsessed with getting into UCLA," Moya said. "USC is an option, but again, it's a lot of money. So looking for schools around the area, that would be great, because honestly, it's what you do with your career, not where you go."
Student Briana Gonzalez is interested in going to CSUN or Cal State Channel Islands and said her counselors told her to attend the fair to receive additional information to prepare to transfer.
"It looks nice; there's a lot of options," Gonzalez said.
Cal Lutheran University Associate Director Ineke Dyer said many students were interested in the college and enjoyed learning about what the college offers.
"We are promoting transfer to different institutions and letting students know about all the options they have for transferring," Dyer said. "There's a lot of great colleges here, lot's of different programs and scholarships available for them and providing information about the options that they have."
Dyer said deadline for spring 2017 enrollment was Oct. 1, however, they are still reviewing applications in case there is space available.
"If students are still interested in spring, they can still submit and we'll consider them. If we're full by the time they complete, we'll defer their application for the fall," Dyer said.
Students were drawn to CSUN's table where representatives had a wheel to spin and a chance to win CSUN gear or treats.
David Turcotte, the career and technical educational counselor, said the College Fair is an opportunity for students to learn about the different schools they can potentially transfer to.
"We have a full collection of CSUs, we have UCs, we have private schools," Turcotte said. "And all the schools are regionally accredited, meaning that the units can generally be transferable depending on the institution and the class."
Turcotte said the College Fair is informative due to the representatives from different colleges, but the students can also enjoy the free food.
"I think students are having fun talking to the representatives. We have free food, hot dogs and churros," Turcotte said. "We have giveaways and free stuff; it looks fun."
Students can go to piercecollege.edu to find workshops, transfer support and transfer statistics or make an appointment to meet with a counselor about transferring.
The Transfer Center is open Monday to Thursday, 9 a.m. to 7 p.m. and Friday 9 a.m. to 4 p.m. on the first floor of the Student Services Building.