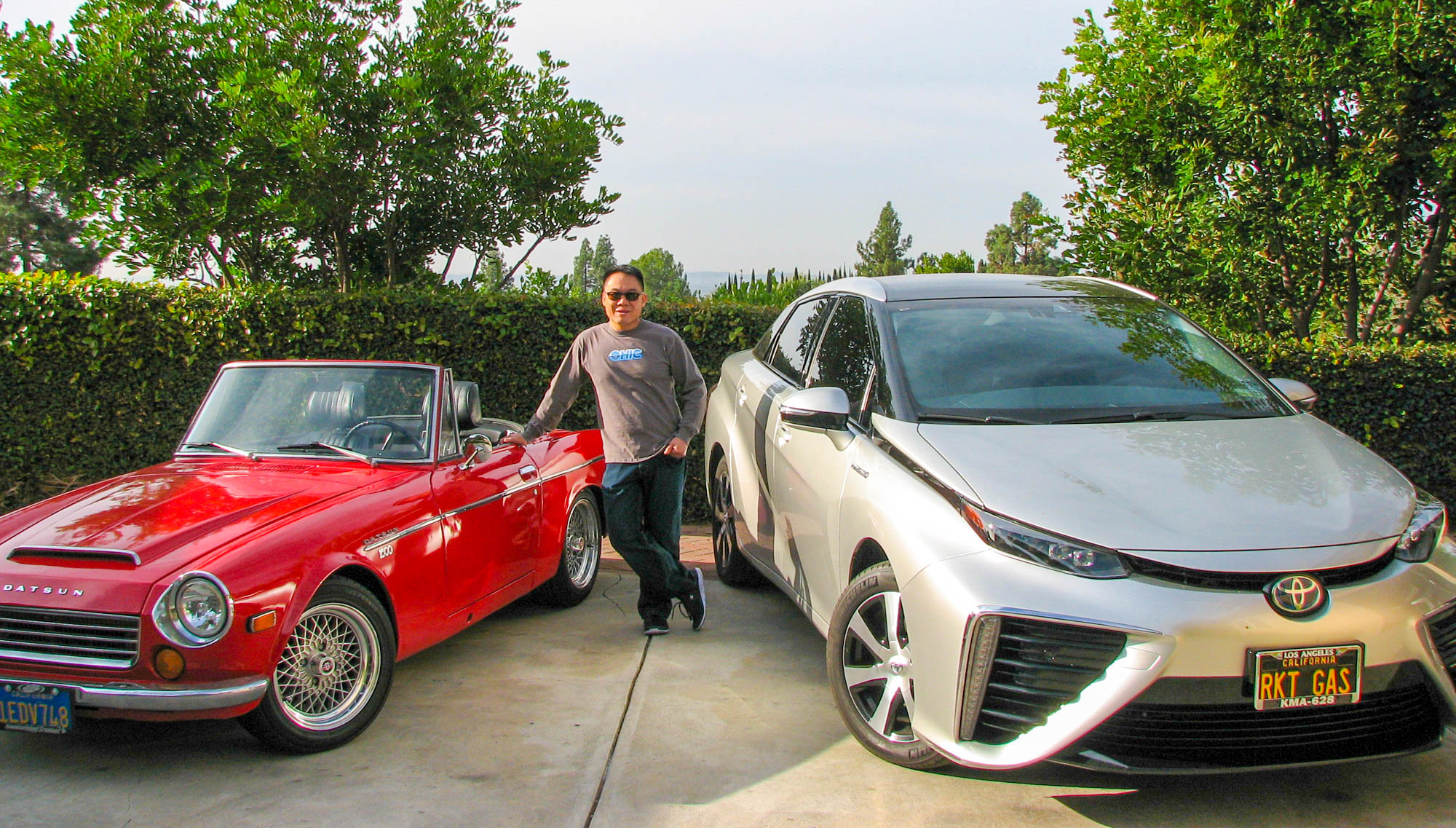 Psychology, statistics and cars aren't typically found together on lists of interests, but for Professor Raymond Lim they are his passions.
Lim has been teaching at Pierce College since 2006 and strives to give his students a comfortable and fun experience. He loves his job as a college professor and is glad that his life has been very eventful. Lim also finds joy in his cars and said he has been in love with them since he was a child.
While growing up in Silverlake, Lim saw his father work on the engines of a 1977 Skylark Buick and a 1970 Chevrolet Kingswood station wagon.
"This really intrigued me, and I realized that my dad did this because he knew what he was doing, and he wanted to save our family some time and money," Lim said.
After he graduated high school, Lim attended California State University, Los Angeles (CSULA), taking psychology classes.
"I took a couple of those classes, and I realized I was young and not focused. My GPA was too low, and the dean told me to go and take classes for something that I liked," Lim said.
Lim completed every automotive course CSULA offered.
He then took a job as a teacher's aid at North Hollywood High School, helping in some of the automotive courses offered to students. After about a year, he was scouted by Toyota.
"Toyota was looking for really smart kids who wanted to take part in a program that would allow them to become auto technicians. I went there and finished the program. After some time, it got to the point where I could work for Toyota Racing Development," Lim said.
He was able to become a District Service Engineer, however, first he had to obtain a bachelor's degree.
Lim returned to CSULA and continued working toward a bachelor's automotive degree. He was told that he could double-major because he was also close to completing his psychology degree. He agreed, and told Toyota that he would return to them after he received his bachelor's psychology degree.
"I put a lot of time into my degrees. I went to North Carolina State College on recommendation by David Poirot, my adviser at CSULA, and put about two and a half years into my master's degree in auditory perception. After that I got my P.h.D in cognitive psychology after another four years," Lim said.
After working for a year at the International Business Machines Corporation (IBM) in North Carolina and completing his doctorate degree, Lim returned to California after 8 years.
He was asked by the department chair of CSULA to teach a class about multicultural psychology. After a short time teaching, he was asked to teach two classes, Intro to Psych and Statistics for Social Sciences.
"I worked at CSULA, then a job came up here at Pierce College, so I applied. Since then, I have been here for about 12 years. When opportunity is there you grab it," Lim said.
Lim said he feels alive in front of a classroom. He loves entertaining students as they learn, and he enjoys engaging them as he teaches psychology.
"Going back to psychology, and having a job that pays me to do something I love as well as allowing me to engage young minds in my classes, makes me happy. I still have time to work on my cars, and I love that I can interchange both into my life," Lim said.
Tom Fortune, an instructor of Auto Technology at Pierce College, is friends with Lim and is glad that he knows someone who knows cars like the back of his hand.
"He's a great guy, and he's a car guy, you can tell. If you really like your job, then you are probably good at it. Lim has been here for a long time. Anyone who is good at their job does well," Fortune said.
When Lim isn't teaching or working on his cars in his garage, he likes to go to car shows and enjoys showing off his classic 1970 Datsun Roadster. Lim has been working on cars since 17, but the 1970 Datsun Roadster is his favorite car.
"I was given this 1970 Datsun Roadster that was no longer running. It was given to me when I was working in high school and college to get a degree in automotive," Lim said. "It took me a while before I actually started working on it, but I feel like the car was a work of art, and I really have enjoyed working on it for the past twenty years to make it better."
Mike Vandyke is an associate professor of Automotive Technology at Pierce and knows Lim because of his passion for cars and his bright outlook on life.
"He stops by here a couple times a month, and he's a great guy. He's brought his Datsun Roadster over to Pierce and hung out with the guys here. Ray is very upbeat and energetic, and he always has some positive feedback on anything we discuss," Vandyke said.
Lim said he is glad that he can teach technical courses and help struggling students succeed when they enter his class.
"To succeed, you have to put aside your friends and family and anything that might get in the way. To get in and to get out of school, you just need to focus on school," Lim said.
Alex Villalta is a close friend of Lim's and has been at Pierce since 2015, teaching Automotive Technology. Lim is his mentor and often talks to Villalta about cars and teaching.
"He is the type of person that I can go to for anything. I will always get advice, and whether it's for the classroom or automotive or anything, he is someone that I can rely on," Villalta said. "Out of my own will, I will just sit down in one of his classes and see how he teaches and how relaxed he is, and I have actually picked up on a lot of his skills and his ways of teaching."
Villalta also likes to bring up Lim to his students when he speaks about automotive technology. He likes to tell his students that success is possible.
"Lim is a gear-head just like us, and he is also a master technician. I don't speak highly of him just because I know him, but he is definitely someone that can be used as a type-A example of an overachiever who doesn't slow down," Villalta said.
Lim is proud to be a teacher at Pierce College and said he grows with his students. He hopes that his experience and expertise in the field can help him and other instructors continue teaching students that there are many ways to achieve their goals, but through hard work, anything is possible.
"I am now training future psychologists and future citizens. I'm training them, and it's not all about the grades, its about life and it's about learning about yourself. I have told my students, that they are going to be faced with disappointments, setbacks and failures, but their job as human beings is not to get over it, but go through it with full boxing gloves ready to take it on," Lim said.