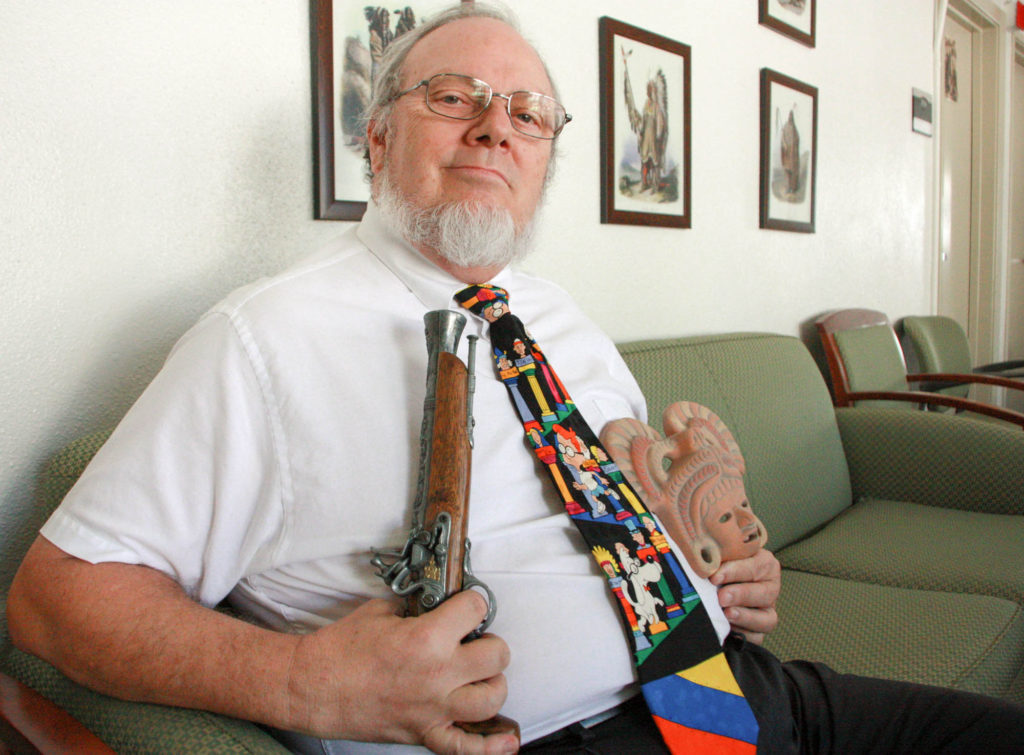 History buffs often draw inspiration from the world's greatest figures: Socrates, Albert Einstein or Joan of Arc. But for Richard McMillan, his inspiration was the cartoon "Mr. Peabody and Sherman."
McMillan, a history instructor at Pierce College, has always been a lover of stories and the how they are told.
"Mr. Peabody was my first historian, of all people," McMillan said. "I remember he would go in his way-back machine and go to different points in history."
McMillan said history is a pot full of stories from the beginning of time and everyone can relate to them. Stories are used to help guide adolescent minds to make better decisions based on previous encounters, he said.
"All of the sudden, student's eyes light up and they're thinking, 'Oh my god I get it. History isn't just about dead people, it's actually a story,'" McMillan said. "I always tell people I think I'm the luckiest guy in the world because I get paid to tell stories."
Since he was a kid, McMillan indulged in history from all different corners of his life. He loved to read history books and learn about stories, landmarks and profiles of historical figures.
"I truly do love history. My whole vacations are planned around going to historical sites and seeing these places that historical figures lived or were a part of," McMillan said.
During high school, McMillan said that he didn't have an academic drive, graduating with a 1.9 GPA from John Burroughs High School in Burbank.
McMillan referred to himself as "a student without a cause." He said he would only get A's in history and thought that the rest of the classes weren't benefiting him.
McMillan said that he had given thought to teaching, but at the time, teachers were not well paid. However, he came back to the idea after realizing how compatible he was for the position.
"If you dig down deep enough, teachers are all showoffs," McMillan said. "Like that little kid that jumps up and down saying, 'Look at me and what I know.' And I love showing off."
After high school, he received his associate's degree from Los Angeles Valley College and began to work at his father's auto parts store. He worked with his father for the next 17 years, then the economy shifted. McMillan said that the business was harder to maintain, especially with the passing of his father.
McMillan said that he thought about what could he do for the rest of his life, and he came to the conclusion that history was his answer.
McMillan went back to school and said that he became, 'Mr. Mom,' while his wife worked to support their family.
After starting at CSUN, McMillan realized how long it would take to get his bachelor's degree. He was faced with a hard decision: leave his father's store or obtain a degree.
McMillan closed his father's store and went back to school full time, receiving his teaching credential. After trying to find a job in a hard market, he went back to school to get his master's degree.
His first teaching job was at his alma mater. Jordan Middle School in Burbank. After four years there, he began teaching night classes at East LA College. From there, he taught at Southgate College and College of the Canyons, before getting a call to teach Latin American History at Pierce College, where he has been for 23 years.
After all the experience under his belt, the only thing McMillan said he looks forward to now is continuing to learn more about history and inspire his students when they walk into his classroom.
Zurq Akbar Romero, a film production major at Pierce said that McMillan made him interested in history.
"McMillan is the best professor at Pierce College," Zurq said. "He makes his lectures interesting and tells us things that no one really knows about. You can tell he loves it and he makes you love it too."
Tearance Hayes, an engineering major, said that he recommends McMillan's classes for those who have not had him as a teacher.
"McMillan is one of the only professors who actually made me want to be in class and pay attention because every moment in his class is gold," Hayes said.