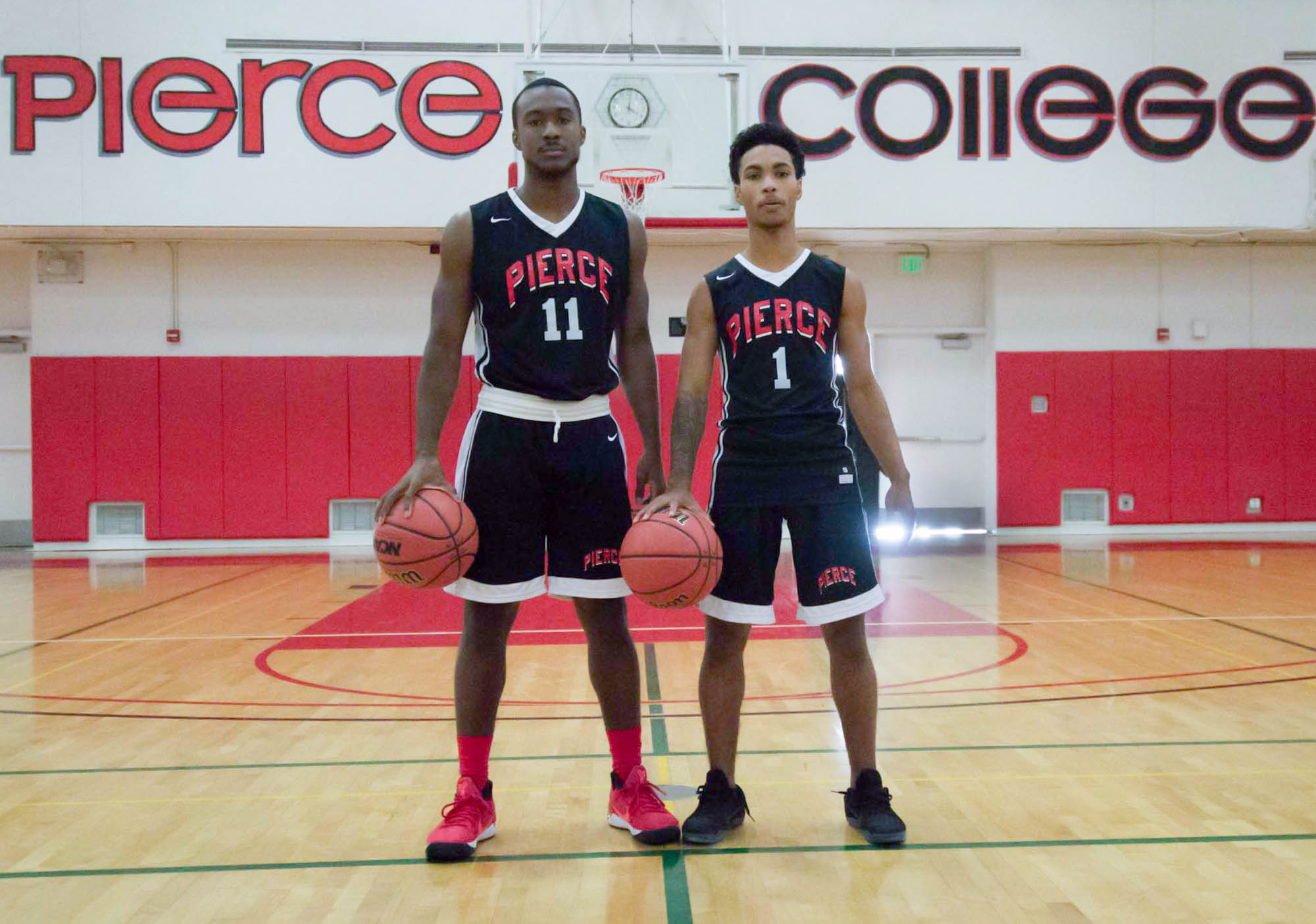 Two veteran Brahmas are sharing the captain's position and leading the men's basketball team on the court this season.
Jordan Newt and John Flowers, both returning basketball players, are stepping up as co-captains of the Pierce team. Head coach Charles White said that Newt and Flowers are sterling examples and motivators for their teammates.
"Jordan's certainly the real vocal and fiery cheerleader of the team, whereas John is the more mild-mannered take-care-of-business kind of guy. They're both well-rounded young men, and they're giving our new players something to look up to," White said.
Newt is currently in his second year of studies and is pursuing a business degree, while also exploring other options available to him at Pierce. He said that he isn't decided on what he would like to do with a business degree, but entertains the idea of starting his own business.
Newt said that his interest in basketball began at an early age, and was inspired by his relatives.
"My family all played ball; my mom did, my dad did and my brother did. When I was four, my dad was already having me dribble a ball through cones," Newt said. "I started playing in leagues when I was little, and I just gained a passion for it and have been playing ever since."
This upcoming season will be Newt's second playing with the Brahmas. He said that his previous experience with the team and older players taught him a lot and that, as a veteran player and new captain, he is taking it upon himself to act as a role model to his teammates.
"Now that I'm in this position, it's my job to inspire the other guys and take the team as far as it can possibly go," Newt said.
According to Newt, the pressure of being captain is minimal compared to the joy of playing basketball.
"Of course you want to win every single game, but whatever happens, happens," Newt said. "As long as our team works hard and plays hard, we'll live with the outcome. We're playing to have a good time."
Flowers is a Detroit, Michigan native in his sophomore year at Pierce college. He is currently a business major, and aims to go into sports management once he graduates.
Like Newt, Flowers said that his love of basketball came from watching his family play the sport.
"My whole family came up playing the game. Everyone—my grandpa, my dad, my sister and my cousins," Flowers said. "It's kind of like a family tradition I've been carrying on, and I've been playing all through elementary, middle school and high school."
Flowers is returning to the Brahmas for his second year of playing with the team. He said that he was attending school at another institution, where he suffered a torn ACL and returned to Michigan to recuperate. After rehabilitating, he decide to attend Pierce.
Flowers said that he considers the captain position obligatory since he is a returning player.
"As a returner, I feel like this is something that I have to do. I have to act as an example to the other guys and show them what it takes to win," Flowers said.
According to Flowers, co-captaining the team with Newt makes the duties of the position a little easier to carry out.
"Doing this with Jordan helps a lot because we're really close both on and off the court. We do almost everything together, and it feels like we could take this team and do something big this year," Flowers said.
Newt said that although he and Flowers haven't known each other for the longest time, the fast friendship that they have developed has made the captaining experience easy to get the hang of.
"When John first came out here, we instantly clicked and have been friends ever since. It makes captaining the team with him super easy" Newt said.
According to White, the leadership exhibited by Newt and Flowers has resonated well with the team.
"They're pushing our guys to perform well both in the classroom and out on the court. The players all respect them, and that's a big part of what's going to make this team successful going forward," White said.