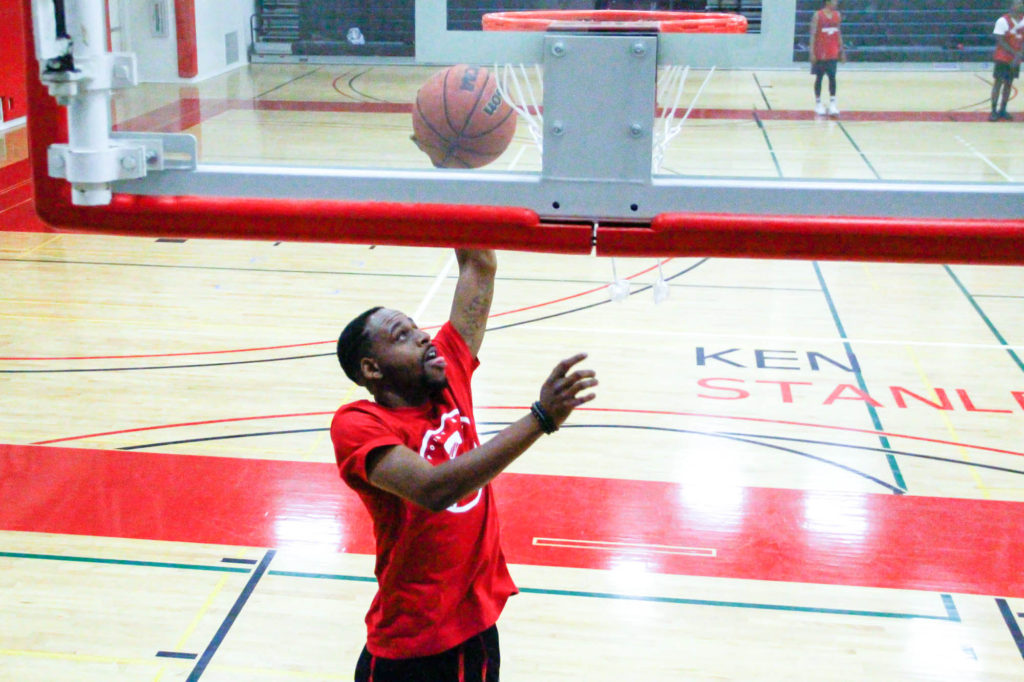 This coach moves to the groove and never misses a beat, whether he is strategizing a game plan or composing music.
Men's basketball assistant coach Terrance Taylor has many skills, one of which is playing multiple instruments. Taylor said he plays the saxophone, drums, flute, clarinet and trumpet.
Along with being a musician, he is also a songwriter, rapper, producer and Pierce College alumnus.
Taylor said he played on the basketball team from 2009 to 2010. Since then, Taylor said his family has grown and he not only coaches, but also makes music in his personal studio.
Head coach Charles White has known Taylor for 20 years.
"Terrance used to play for us," White said. "What makes him a good coach is that he's a responsible guy and he's passionate about Pierce's men's basketball."
White said he keeps their athletes focused on the bigger picture.
"He's passionate about what we are trying to accomplish here, and making sure that our student athletes understand that their education comes first and their athletics come second," White said. "He tries to stay on them about academics and teach them life skills."
Point guard John Flowers said Taylor brings the best performance out of his players.
"He knows your potential," Flowers said. "When he knows your potential he's going to push you to the best of your abilities."
Taylor said he wants to see his players succeed on and off the court.
"Don't quit. Never give up," Taylor said.  "If there is a road block you can go over it, go around it, but never turn around and go backwards.  I want them to beat adversity and never shy away from the long way or the hard way. Always attack things full force."
Taylor said that his family has a new addition to his three children, a newborn named Nova Marie Taylor.
"I would say my greatest accomplishment to me is just being a successful father," Taylor said. "I have four kids now and being married and making it work is my greatest accomplishment."
Taylor said he entered fatherhood early on in his college career and can relate to some of his players, whether it's on fatherhood or student life.
"Some students have children as well, and they go to school and have a job," Taylor said. "Those are the same things I went through when I played and those experiences shape who you are."
Despite his basketball past, Taylor said he wouldn't know where he'd be without music.
"I couldn't go a day without music," Taylor said. "I love basketball, and I love coaching. But, if someone made me choose today, I would choose music, because basketball is going to end somewhere along the line and music never ends."
Taylor said he discovered his ear for music at Olive Vista Middle School in Sylmar, Calif.
"One day, I tried out and played the saxophone and I was good at that," Taylor said. "Then my instructor made me play the flute. I picked that up fast, and then gave me a clarinet and a trumpet. Ever since then I just got into it."
Soon after, Taylor said he found his voice while singing in church.
"When I was in church I sang in the choir and once they gave me a microphone it was over," Taylor said. "I have been in front of the mic ever since."
Taylor said his time exploring poetry "ignited" his passion.
"I started in a poetry club that my mother put me in when I was in sixth grade, and It was kind of cool," Taylor said. "I just started writing rhythms and as I grew older I got into hip hop, rap, R&B and jazz."
Taylor said music feeds his passion.
"The wide range of styles within music inspires me," Taylor said. "There's rock, hip hop, country and you can never go wrong."
Taylor said music allows him to destress.
"Music is soothing. It's like therapy or meditation," Taylor said. "Music is a mind clearing mechanism."
Taylor said his outlet for self expression is songwriting.
"When I'm making a beat, I let my mood take over, and I write about whatever I am feeling," Taylor said.
Taylor said music is universal.
"Music is something that's in my spirit and it's in my soul," Taylor said. "You might go blind, you might go deaf, but with music you will always be able to feel the rhythm and the beat."