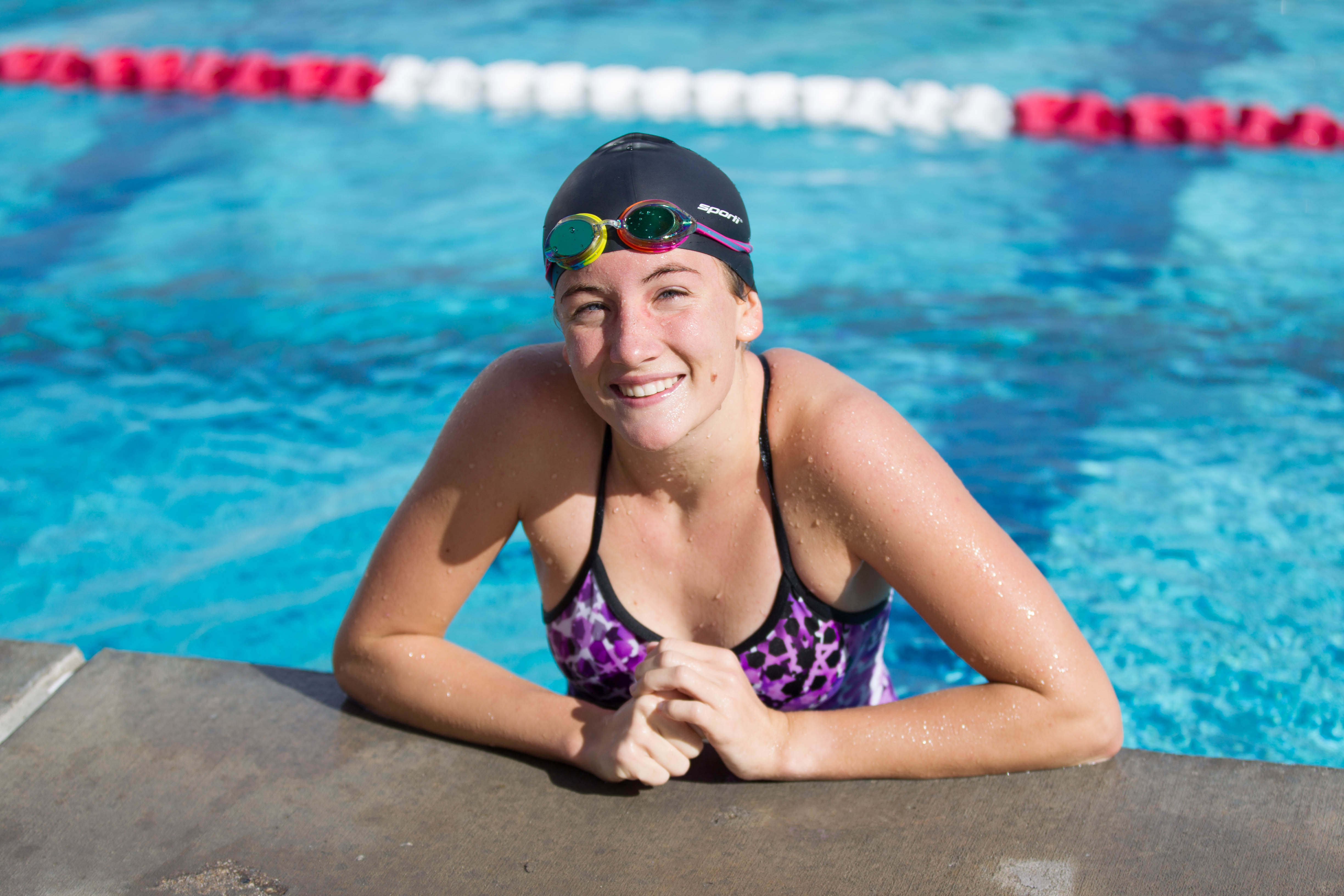 The transition from high school to college is a time for new beginnings, which allows a person to expand their horizons.
Hollen Raynor is one of many incoming freshman from the Los Angeles Unified School District. From the pools of her extracurricular activities, she's making a splash this water polo season.
A vegan and the youngest of six siblings, Raynor graduated this summer from Cleveland High School in Reseda. She said she's familiar with Pierce because he took a sign language class during her high school freshman year.
"I knew there was some really good opportunities here," Raynor said. "My brother was on the swim team, and I wanted to be in the swim team as well."
Raynor said she did synchronized swimming for six years and had a good base in treading water.  These skills, along with basic water polo abilities, proved to be important to play the sport.
Throughout her middle and high school years, Raynor swam with club teams outside of school. This season, was the first time she played water polo at an institution.
Raynor said Pierce's water polo team needed a goalie and she fit the criteria because she's a good swimmer.
She played goalie for the women's water polo team and said they didn't do well in the season because they focused on building and developing the team for next year.
Raynor said she is working on a conditioning season, preparing herself for swim team during the spring.
Raynor said she thinks clearly when she's in the water and said she feels good about having a toned body and getting in shape while practicing the sport.
"Swimming gives me a good opportunity to reflect," Raynor said. "I can think about things in my day. It's a good exercise because it's a lot of cardio."
Although her passion has always been water-sports, Raynor said she is not sure if she wants to pursue a career as a professional swimmer.
"For now, I'm just testing out to see if I like college-level swim competitions," Raynor said.
Outside of the pool, Raynor stays active at Pierce as the secretary of the English Club.
Raynor said she makes the club agendas for every week's meetings, takes notes during the meetings and publishing them on the canvas group page.
Raynor said she enjoys being a member of the English Club despite a busy schedule.
"It's a really good opportunity for me to expand my horizons, because I'm not an English major," Raynor said. "It's just a bit stressful balancing my involvements, work and school, but overall, it's been worth it."
Maeve Kiely, co-coordinator of outside event for the English Club, said Raynor is a hard worker for everything she does, proven by her involvement in sports, while being rigorous with her education.
Kiely said Raynor is organized and supportive and keeps everyone on track while running the agendas for the club.
"She runs a big part of the show," Kiely said.
Kiely said when they held elections for the officers, Raynor was already showing interest in becoming the secretary of the club.
"She was already taking notes, so she was already acting as preliminary secretary before we actually voted for one," Kiely said. "She was at every single meeting, on time, so that means she's serious about the club."
Raynor said she wants to transfer to Humboldt State University, major in wildlife biology and become a park ranger for the national parks.
Raynor said she has always enjoyed nature. She loves camping and hiking on the weekends.
"I love to work with animals and nature," Raynor said. "As a wildlife biologist, you can help conserve natural parks and endangered areas."
Raynor said she also spends her time at church on Sundays, where she serves in children's ministries. She helps fourth and fifth graders during sunday school and teaches them about the Bible.
English instructor and advisor of the English Club Brad Saenz said Raynor helped establish the club when they started from scratch.
Saenz said Raynor is a reliable and independent student who doesn't need to be told what to do. He said she takes the initiative for many projects and is a student leader.
"She's one of the founding members and she's an officer in charge of all the clerical work. She's very motivated, very mature and cordial," Saenz said.