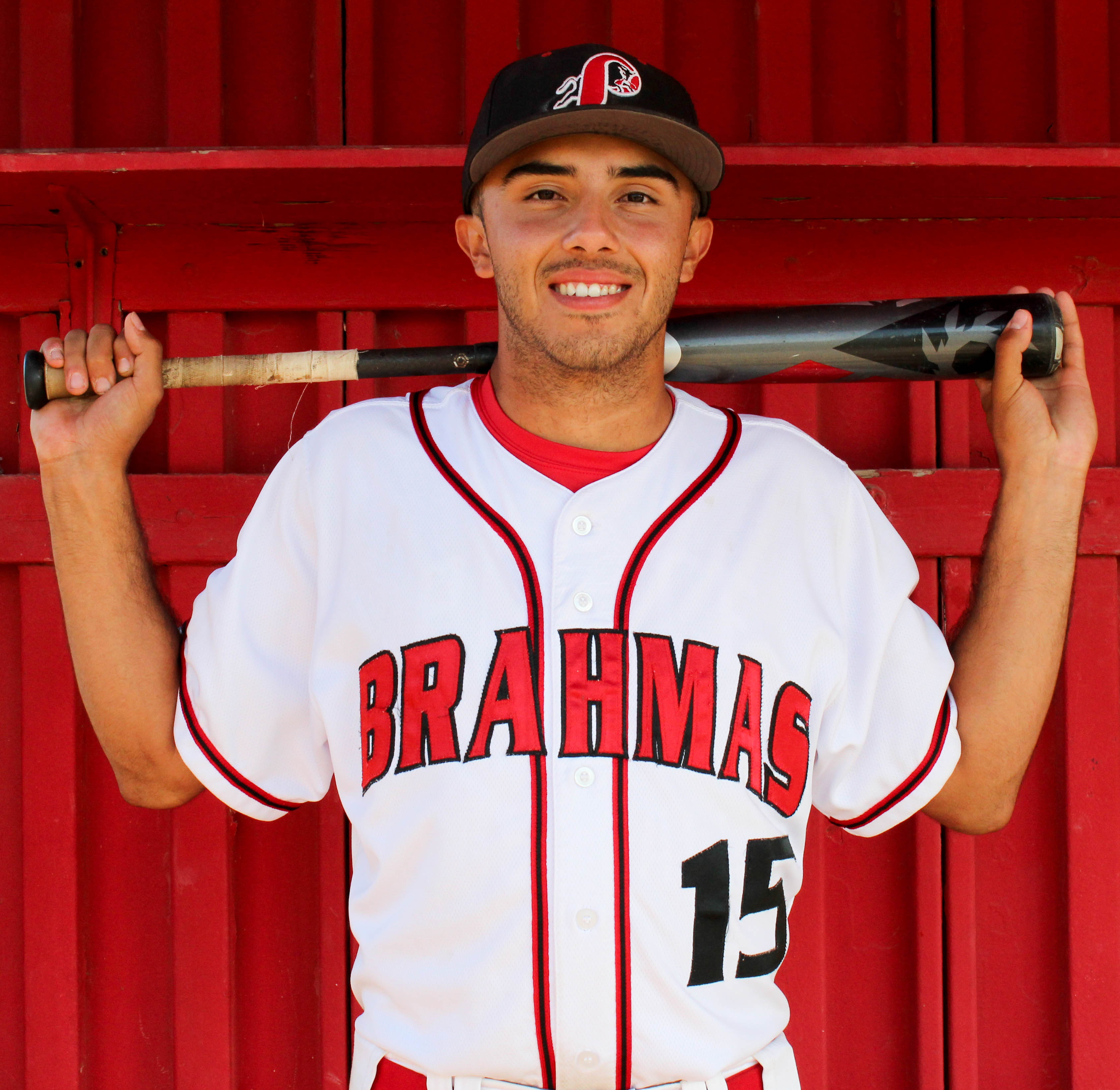 After pitching all season for the Brahmas, Alexis Miranda can finally let go of holding onto a baseball and instead hang onto all three of his college acceptance letters.
Miranda holds a 3.95 GPA and was one of the five players that made the All-Academic state team, which honors the baseball players in colleges who hold 3.5 GPA's or higher.
Miranda went on to discuss his enthusiasm toward achieving the award and what he did to stay focused on keeping a high GPA.
"It's a great accomplishment. I've always stressed grades my whole life. I always prioritize my studies, agendas, timing and planning helps. I also love getting my schoolwork done before Thursday, so that way I have weekends off," Miranda said.
Miranda was accepted into three colleges. They are UC Davis, Cal State Los Angeles and UCLA. He would like to play baseball at Davis, but would like to go to UCLA for academics.
Miranda is studying criminal justice and if he doesn't pursue baseball, he hopes to become a detective for the LAPD.
Miranda started most of the games this season. He made 13 appearances throughout the season finishing with a (3-4) allowing 82 hits and 51 runs.
Head Coach Bill Picketts said that Miranda gives his best in every game.
"He hasn't missed a start, and he competes his rear end off anytime he goes out there," Picketts said.
Miranda shares his experiences while being on the mound.
"When I am on the mound, I am pumped. My adrenaline is rushing and personally it helps me big time. I throw harder and perform well. I love pitching because you can control the entire game," Miranda said.
Miranda has been playing baseball since he was only 4-years-old. Starting off in T-ball at Northridge Little League, then making his way to playing on the Varsity team at Birmingham High School.
Miranda said he thanks his father for inspiring him to play and fall in love with baseball.
"He is the reason I play baseball. He's always been a diehard baseball fan. He's the one who got me into it. Practicing and everything is all because of him, I love it," Miranda said.
Another inspiration for his passion for baseball stems from one of the most important people in his life, his grandmother. His grandmother passed away due to breast cancer when he was only 12-years-old. He said he always remembers her watching him play.
Miranda said he plays in honor of his grandmother.
"I play for her. And school has always been for her. Before she passed away, I promised her that I would finish school," Miranda said.
Miranda explained what playing for his grandmother means to him every time he steps on the field.
"Playing for her is just basically to work hard and have fun more than anything," Miranda said.
Picketts said Miranda's studious ways is related to his sportsmanship.
"His work ethic on the field is second to none. He is always prepared, and I know he does the same in the classroom. He has been a huge part of our success this year," Picketts said.
JJ Gonzalez, first baseman said he's been teammates and close friends with Miranda since 2014. He said Miranda has a positive impact on the team.
"He's a really good person overall. He loves to mess around and when it's time to get serious, he makes sure people are focused and ready to go," Gonzalez said.
Miranda said he loves his teammates and the brotherhood that is shared between them.
"I've really enjoyed this team, we feel like family. We get along really well, we mess around a lot and have a lot of fun," Miranda said.
Miranda said he lives by his motto, and he implements it into every game.
"When you want to succeed, as long as you breathe, that's when you will be successful," Miranda said.