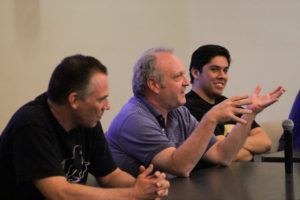 When the lights slowly lit the room, an intimate group of movie watchers clapped as the credits rolled after Film Club's first screening of the semester.
On Monday, the Great Hall hosted the Film Club's screening of Tim Burton's Big Fish (2003). This screening was the first of three this semester with the theme "Coping Mechanisms: Stories and Imagination". After the screening, there was a panel discussion with the approximately 35 person audience led by panelists; Media Arts Professor Jeff Favre, Assistant Professor of Cinema Ken Windrum, Film Club President Steve Lopez and former Film Club Vice President Kyle Coffman.
Following the movie, Favre sparked the audience's opinions by kicking off the discussion with his thoughts on the film.
"What I think is special about this movie is that it brings to question, does it really matter in a relationship if everything is factual and real? If the love is real, and clearly the love is real in this movie, does it matter if all the facts are real," Favre said.
Windrum said that the panel discussion after the film was very rich and interesting and he enjoyed that so many people participated. While Windrum thinks that Big Fish is not as intense as the other films, he said he agrees with how the film fits into the chosen theme.
"The main character is not really coping with trauma, but he is using stories to cope with, I don't know, maybe boredom, dissatisfaction," Windrum said.
According to Film Club Secretary Emily Sowers, the idea that all the films were intended to have in common is an unreliable narrator. With the collective input of the Film Club, Sowers developed the initial idea into the complete theme: "unreliably narrated films where a character uses stories and imagination as coping mechanisms."
The panel discussion revolved this theme of coping mechanisms and allowed the audience to share experiences to make the theme more personal.
Film production major Bryan Andrade enjoyed the panel.
"Any chance I get to see a film that Film Club thinks is valuable to anyone that's into film, I think it's important to kind of be associated and involved and experiences like that," Andrade said.
Lopez said that students still have other films for the series to look forward to. The second film of the series is The Machinist (2004).
"[The Machinist] is going to be a lot darker. This movie shows the more cynical aspects about using imagination as a coping mechanism," Lopez said.
The last film of the series is Sucker Punch (2011). Like The Machinist, Lopez describes Sucker Punch as dark.
"It also tackles the idea of sexual abuse and the concepts of misogyny, overactive patriarchy and a sense of how your imagination can shield all of that," Lopez said.
The Machinist will be screened in the Great Hall on Nov. 7 at 7p.m.