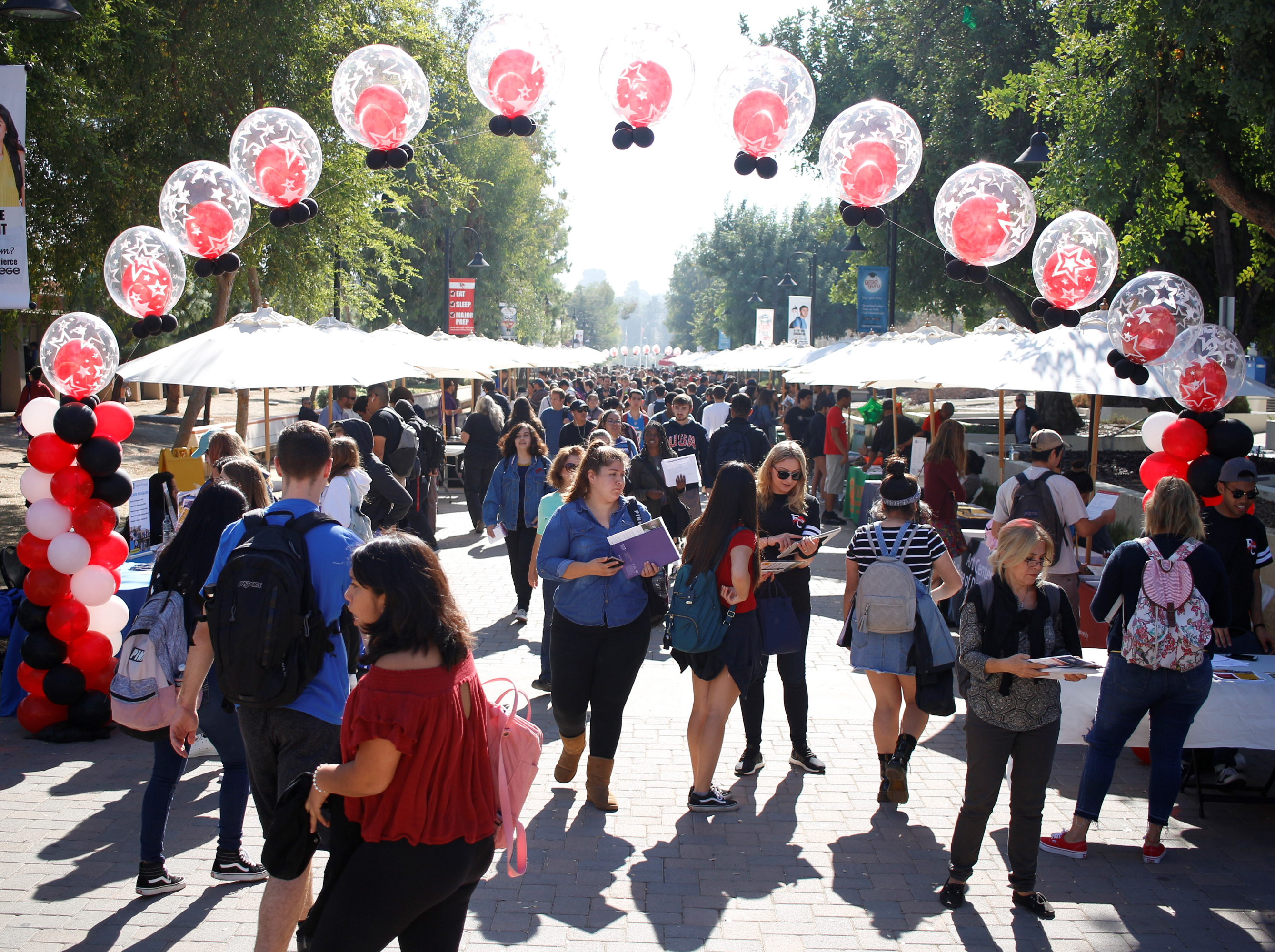 You may have noticed your professor wearing a shirt from a different college. Or maybe you noticed The Mall was even more packed than usual on Thursday.
Community College students are typically skeptical when it comes to transferring, because the decision to go to a certain university over others can affect your future career and life.
Pierce College hosted a Transfer Fair on Oct. 25 for students to learn about different universities they could transfer to with hopes of making their decision more clear.
Roughly 60 universities sent representatives to Pierce for the Transfer Fair, according to Sunday Salter, director of transfer center.
Salter said the main goal of the event is to get students to visit as many universities as possible at the same time and place.
"Over the last nine years that I've been doing this, students come to the fair and get to ask questions to the schools that they know they want to apply to," Salter said. "But then they also learn about schools they haven't thought of and it allows them to broaden their options."
Pierce Interim President Larry Buckley noticed two things at the event. His alma mater, the University of Hawaii, was not there, and many students at the event went to talk to representatives from the University of California, Irvine and Cal. State Northridge.
"Most of the students were at UCI and at Northridge, where I expected them to be," Buckley said. "Those campuses are the campuses reaching out to us and being available to us. It makes all the difference in the world because what students need is to know that the places they want to go are interested in them."
After not sending a representative to the transfer fair for years, Bruce Vancil, University Outreach and School Relations for Cal. State Long Beach, made a promise to come to the event.
"I always regret not coming out to the valley," Vancil said. "So many schools don't come out here. It took me close to three hours to get out here, but i promised Sunday Salter that i'm going to do it."
He said his main focus to is to make sure students know what they need to be eligible to get accepted to CSULB.
"My goal is to make sure that people understand that if they don't have the requirements, they're not going to get in," Vancil said. "And really, that's all of us. If you don't have the requirements, you won't get in. The assumption is it's too competitive. No, you didn't have the right requirements."
Pierce student Brandon Moghanian went to the event to learn more about the application process for the University of California, Los Angeles and the University of Southern California.
"Those are my two main schools because I'm LA based," Moghanian said. "I just wanted to get more information. UCLA is very difficult to get into so I thought it would be best to start getting familiar with the whole process early."