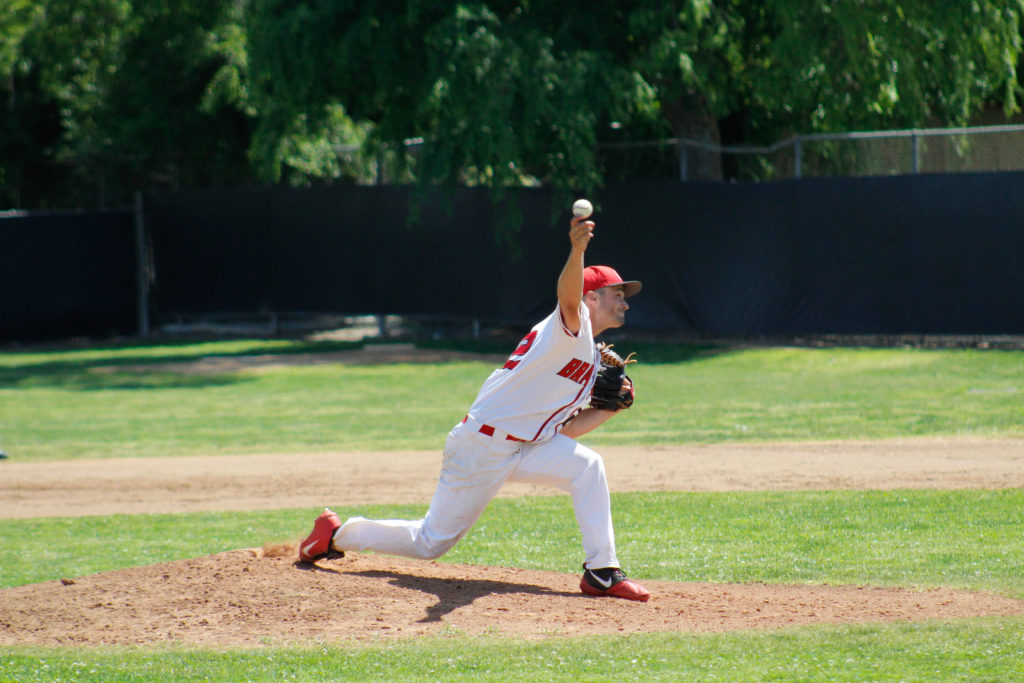 The Brahmas tried a new pitching strategy that worked as intended but they were unable to get the bats going against Bakersfield College on Saturday, April 6, at Joe Kelly Field.
The Brahmas used five different pitchers in the 3-2 loss. All but the starter, Jackson Briscoe, pitched only one inning.
"One of the things that I've been trying to do over the past few weeks is get [the relief pitchers] out there as much as possible, even if it's for only one inning," Picketts said.
Picketts plans to continue using the strategy in future games.
"Right now, with as young and as inexperienced as we are, we're looking to get pitchers out there and make some progress," Picketts said. "We need these guys to come back after a day's rest and go back out there again."
Briscoe pitched five innings for the Brahmas and allowed three runs.
He struck out one batter in the first, but Bakersfield still managed to score giving them a 1-0 lead over Pierce. Bakersfield pitcher, Alejandro Murillo, managed to get three strikeouts in the next two innings against Pierce.
"Their pitcher was good. He throws everything for strikes," Picketts said. "He shut us down offensively."
The Brahmas managed to get on base for the first time in the third inning when Nolan Bodeau hit a single to center field.
In the top of the fifth inning, Bakersfield had one runner on first and another on third. A single drove in another run, making the score 2-0.
Bakersfield loaded the bases on three singles in the fifth inning against Briscoe but only one run scored.
"I got a little tired at the end," Briscoe said. "My breaking ball wasn't as sharp and it was missing up a lot."
In the sixth inning, Daniel Tobias took the mound and pitched a scoreless inning.
The Brahmas got their offense going in the bottom of the sixth inning after Bodeau walked and Cole Bowers singled. Diego Harris then hit a double towards left field, allowing Bodeau to score, making the score 3-1.
"I knew I had a runner in scoring positioning, and we really need a run at the time," said Harris. "So, I was just trying to put the ball in play."
The Brahmas ended up stranding the tying runs in scoring position.
"We had guys on second and third but we didn't push another runner across," Picketts said.
Michael Roth pitched the seventh inning for the Brahmas and Brent Swearingen pitched the eighth inning. Both threw a perfect inning.
Swearingen was on the mound for the first time this season. He struck out one batter and got the other two hitters to fly out.
"I think I did ok," Swearingen said. "I feel like my arm hurt a little bit more than I hoped, so hopefully I get some instruction on my form."
In the bottom of the ninth, Harris was hit by a ball and was awarded first base. He managed to get to third base following a passed ball.  Zach Kaminkow hit a sacrifice fly, allowing Harris to score the final run of the game.
The Brahmas record is now 9-17, including 5-10 in conference play. Their next home game will come against Los Angeles Mission College on April 12 at 2:30 p.m.