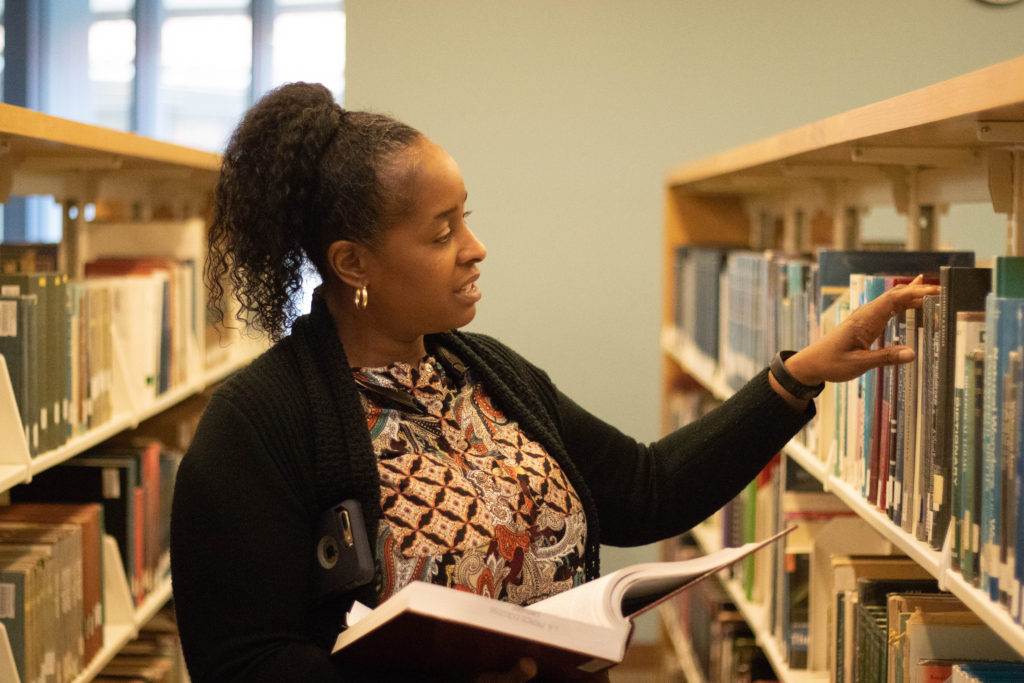 The average librarian might help students find certain books, but one Pierce librarian wants to help students find the the doors to their past.
Lisa Valdez is a Pierce College librarian who not only helps students understand books outside of just reading them, but is also a part of the Umoja program.
"To know their [students] history a little better, rather than knowing that their history is just slavery," Valdez said. "We come from a very rich culture and knowing things about yourself is very important and helps you define yourself as an individual, beyond what people see you as, rather than what society has labeled us."
Valdez compares students from the across the world and their connections to their roots to those in the African American community that are separated from their own.
"There are many students that walk this campus who are from Israel, Bangladesh, India, and Armenia and yet they know who they are," Valdez said. "They were born and raised in their country. They weren't stripped from their culture. It's important for individuals to know who they are if they don't already."
Valdez recently sponsored a genealogy event this spring that was provided for Umoja students during tours of Universities to view the life outside of their norm. An important part of those college tours were the visits to the Historically Black College Universities (HBCU).
"We went on an HBCU tour and with that tour they embrace culture and diversity and all other things," said Valdez "It's different when you go to school where people look like you or majority of our culture."
Going to HBCU teaches students things not only in the classrooms but outside of them  as well. Most of these universities are located in the southern states such as Georgia, Florida, South Carolina and Louisiana, just to name a few. It began prior to 1964, and before the Civil Rights Movement to solely serve African American culture.
"Most students at HBCUs,  that are already there, are comfortable in their skin and who with they are," Valdez said. "They came to terms as to some type of identity where its through dialog or classes of some sort."
This, however, doesn't always apply to those away from those universities.
"For some us who live on the west coast, we may not have adversity or have our families talking about our history and where we came from," said Valdez. "Everyone is different as to how important it is to know family."
Valdez's family history originally started in Texas and Louisiana. During the mid-1900s, her family, along with many African American, families migrated to the west for land, careers and better living situations. As for Valdez, she was born and raised in South Los Angeles.
Valdez knew that she couldn't help students find out more about their culture if she wasn't looking into her own. Through this she was able to find out a lot about where she came from, including that she is of Nigerian descent.
"I can't introduce a project about culture if I haven't done so myself," Valdez said. "I took time to look into myself and figure out who I am and where I come from. That's what makes this idea so important."
Student Tam McCoy explains how important genealogy is and thinks that Valdez goes above and beyond.
"I've enjoyed the genealogy project because it was important to me, I wanted to create a new narrative as of not so much how others see us but how we see ourselves,"  McCoy said. "Mrs. Valdez is more than just a librarian to us, it goes beyond that. She helps us anyway that she can for us to know about ourselves."
Tilmon Prelow said that Valdez has help him find more about his culture as well.
"I lived in the San Fernando Valley all my life and never considered looking into my heritage," Prelow said. "I just stopped by one day ,looking for a book for class and ended up research African American culture and speaking to my parents about it. Listening to them about my rich culture made me upset as to why this wasn't taught to me earlier."
Valdez really connects with the book Pride and Prejudice, because she likes the idea of going past what is expected of you, and making changes for the better.
"I like this book because its a woman who is fair skin that has a husband who hates people but with the help of his wife she able to humble this man to where it starts raising eyebrows in the town as to how and who changed this man that to be a better person," Valdez said. "This is what I do on a daily basis, humble my students as well as teach them to the best of my ability."