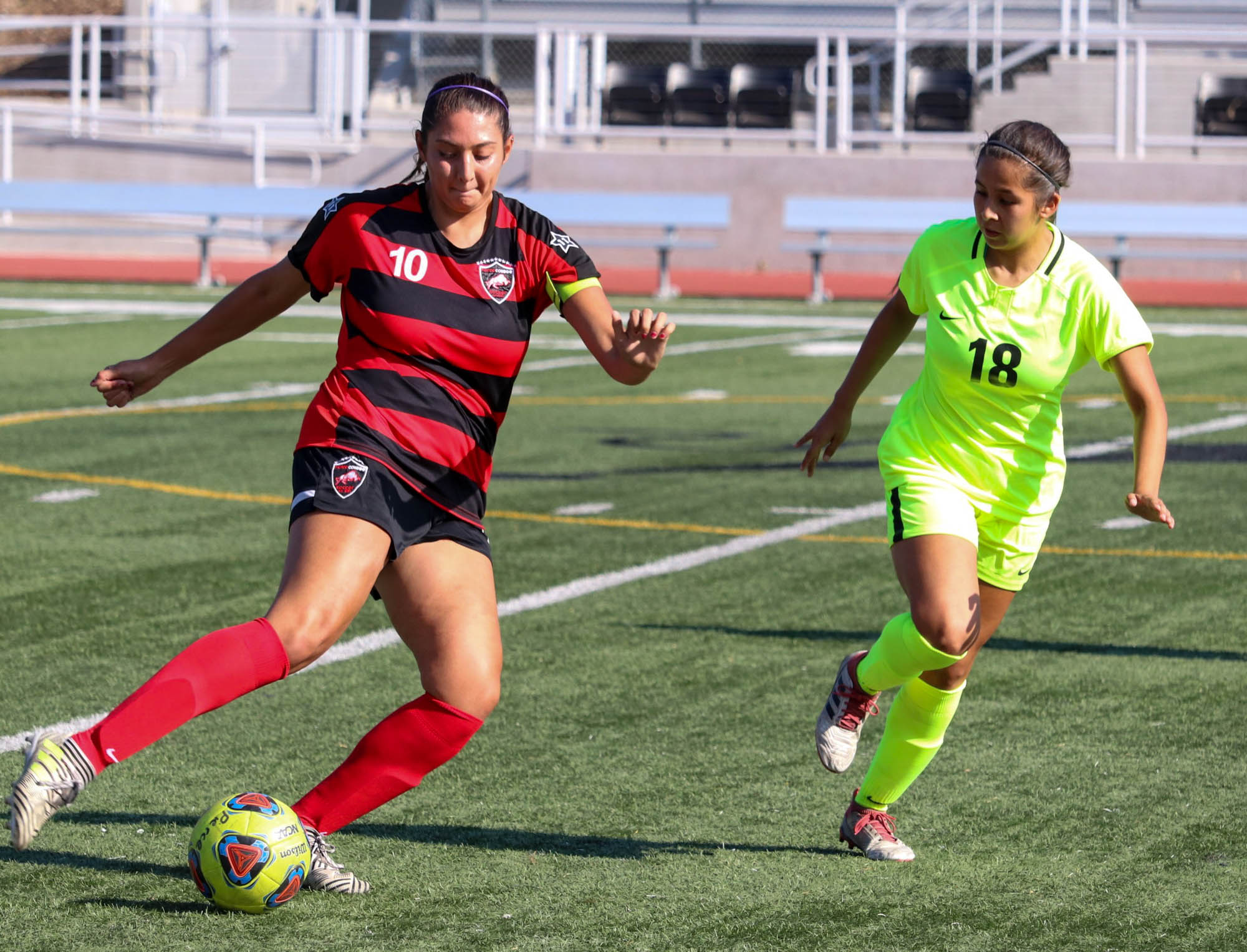 Sometimes a step backward is moving forward. Instead of clashing with the coaches and not improving at soccer, Sofia Caparelli, 19, decided to attend Pierce for a fresh start.
Caparelli previously played center defensive midfield for the Division One women's soccer team at California State University Northridge (CSUN). After disenrolling in the spring, she transferred to play for the Brahmas this season.
Caparelli said soccer wise  it was a good fit for her.
"I needed to leave to pursue what I wanted to achieve," Caparelli said. "I came to Pierce because I felt like it would be a good school to help me restart my soccer career. You know, start from the bottom and, again, make it all the way to the top."
The National Collegiate Athletic Association (NCAA) categorizes universities and colleges into divisions based on overall student body and athletic.
Over 350 schools and 6,000 athletic teams have a membership with the organization. CSUN is ranked a Division One university and is part of the NCAA's Big West Conference, alongside schools like UC Davis and Cal Poly.
Caparelli said that many of her teammates are amazing.
"Some of them are on national teams," Caparelli said. "We played against schools like UCLA, USC, top high-end girls who've played at that high level."
Now Caparelli is one of three captains on the soccer team and continues to be a center defensive midfielder.
Defender Julianna Euyoque said Caparelli is smart when she is on the field.
"She's the brains of the game," defense teammate Julianna Euyoque said. "On the field we hear her saying 'Come on girls, you got this, let's go.' You always hear her voice."
Adolfo Perez, soccer head coach, said there are only three returning players on the team this semester. 
"It's very tough that we have a completely new team, but Sofia's a leader," Perez said. "The girls respect her a lot. I think when we get her more fit she's gonna be a lot more dangerous."
Since the start of the season on Aug. 27, the team has won two games and lost four. However, the losses don't discourage Caparelli.
"This season I'm excited to have that feeling of achievement and success with my whole team and not just me individually," Caparelli said. "I feel like I can help the girls pursue playing at a higher level and I can help them get there."
Her soccer career began at 13 years old when her father, Vicente Caparelli, began coaching her. She says he taught the basics: how to pass the ball, how to read the game, how to love the sport and how to be passionate.
Yet Caparelli's asset is in her footwork.
"My strong foot is my baby," she said. "I feel like I'm definitely going to help out the team by having a strong foot to assist with long kicks, good free kicks and good shots."
Caparelli's overall goal is to pursue a career as a professional soccer player for either the Italian or Argentinian national women's soccer teams. 
For now she works three times a week at Mercado Buenos Aires, an Argentinian restaurant in Van Nuys.
 Additionally, Caparelli is a full-time student taking public relations classes to become a wedding or an interior designer.
She identifies as a creative person. Her teal Hydro Flask is covered in stickers of a kitten, an Argentinian soccer player hydrating and her former jersey number 29. 
Her new number is 10, chosen as an homage to Argentinian national soccer players Lionel Messi and the retired Diego Maradona. 
Although her school and jersey number have changed over the past year, what hasn't changed is her nickname on the field: Capa or Caps. 
In her bedroom, she has a white board stating the amount of goals and assists she's made in the season so far. Next to it is a copy of the game schedule with a scribble describing the overall score.
"I like keeping track because I remind myself, 'Hey, I only have one goal and now I'm going to go for more,'" Caparelli said. "I'm trying to make myself better and make the team better as well because I definitely like challenging myself."