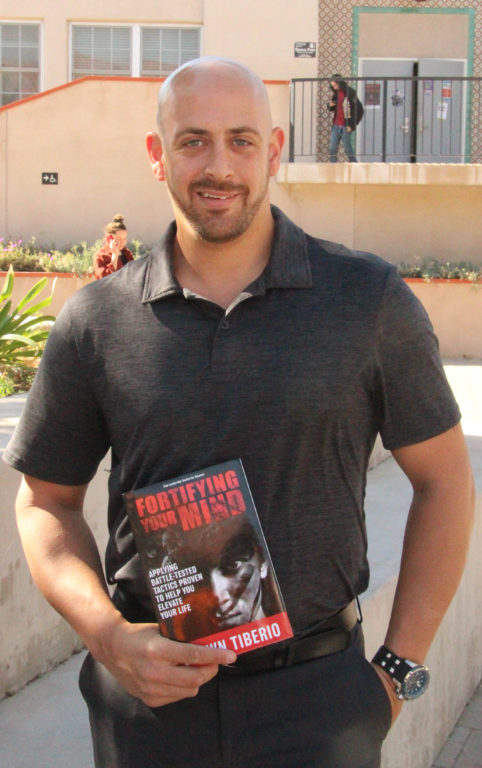 Despite being in the United States Marine Corps, raced in triathlons and being propelled down waterfalls, the biggest challenge in Shawn Tiberio's life was sitting down to write a book.
At 36 year old veteran and a first semester Pierce College student, Tiberio just had his first book published this past month. The book is titled "Fortifying Your Mind" and is about "applying battle-tested tactics proven to help you elevate your life." Tiberio is someone who has faced many challenges, such as joining the United States Marine Corps right out of high school, competing in triathlons or participating in canyoneering, but according to him, writing his book was the most challenging of all.
"I look at everything that I have done in life, two deployments to Iraq and one to Afghanistan, all the iron man and half iron man trainings, all the stuff that I have ever done, yet sitting down to write this book was the most challenging thing I have ever attempted," Tiberio said.
"Fortifying Your Mind" is a self-leadership book meant to help readers achieve their goals by utilizing five key concepts that Tiberio learned serving as a marine Marine. The concepts are simplify, visualize, emotional control, nonreactive and be like a lion. Tibero wants this book to help readers overcome the negative voice in their head, otherwise referred to as Bazooka Betty by Tiberio.
Tiberio said that his goal for the book is to be able to help at least one person achieve the success they want. 
"If one person reads that book and learns how to shut that little voice off and not listen to it and goes on to achieve anything and everything they have wanted to achieve because of that, then in my opinion the book has been a success," Tiberio said.
Tiberio decided to write the book, because he works as a marketing consultant for small businesses, owns some of his own businesses and speaks and hosts different events. Many people that he works speaks to ask where they could find his book. Tiberio also thought that having a book would hopefully help to spread his message to more people.
Tiberio began writing his book in June 2018. Throughout the process, he worked with a publishing coach, Patrick Snow. Snow said that when he first started working with Tiberio, he knew that he was well on his way to being a successful person and that he just needed a road map to help him get there and that is what he was hoping to provide. Snow also said that Tiberio was extremely hard working and was the perfect client because he followed every step given to him and was diligent about his work.
Tiberio's girlfriend, Diana Saki,  said that he was able to face the challenge of writing this book because of his mental fortitude.
"He is very strong mentally, so when he puts his mind to something, there is nothing that can stop him," Saki said. "He really pushed through, while working on other things, and he gathered his thoughts and finished the book."
Before being a published author, Tiberio grew up in Youngstown, Ohio. He said that he played sports and was never a big fan of school. When he was 17, he tricked his mother into signing papers allowing him to start the process of joining the Marine Corps by telling her they were papers he needed signed for a class. After graduating high school, Tiberio went off to boot camp. After boot camp, he was moved to Okinawa, Japan at the age of 18. Tiberio worked as a combat engineer and as an EOD, or Explosive Ordnance Disposal Technician. He spent two years in Okinawa, Japan and then did two tours in Iraq and one in Afghanistan before leaving the Marine Corps on May 14, 2011.
Tiberio arrived in Okinawa, Japan two days before the September 11 attacks in 2001. He said that after the attacks, life in the Marines Corps became very serious.
"Two days after getting there, you realize that everything you thought could happen just got real and it is really happening," Tiberio said. "It was definitely an interesting next few weeks."
After the Marines Corps, Tiberio started participating in triathlons in 2013. Tiberio said he started training seriously for triathlons in 2014. From 2014 to 2017, he participated in seven half Ironman triathlons and two full Ironman triathlons. In 2016 and 2017, Tiberio was ranked a bronze level all world athlete, which meant he was in the top 10% for his age group. Tiberio's last triathlon was in 2017, but he said he is hoping to start participating in them again soon.
After Tiberio finished racing in Triathlons, he started taking up the sport of canyoneering. Canyoneering is traveling through canyons in many different fashions such as jumping, climbing, repelling or many other methods. Tiberio said that he has been all over the world while canyoneering, including Spain and Mexico. 
Tiberio is currently taking classes in broadcasting and other forms of media at Pierce College. He also is still participating in canyoneering and working as a speaker, consultant and business owner. He hopes that now that his book is out, he will be able to start even furthering himself more and more in his career.
Tiberio hopes that in the future he can achieve his goal that he set out on when he first started his career.
"When I got in business, I set out for a goal that I will leave this planet changing at least a million lives, and I feel like 2020 is the year that I can really start to put the accelerator down on that goal," Tiberio said.
Tiberio has just recently sold his first 35 copies of his book. After having the experience and facing the challenge of writing and publishing his first book, he thinks that somewhere in the future, there may be a second book that he writes.