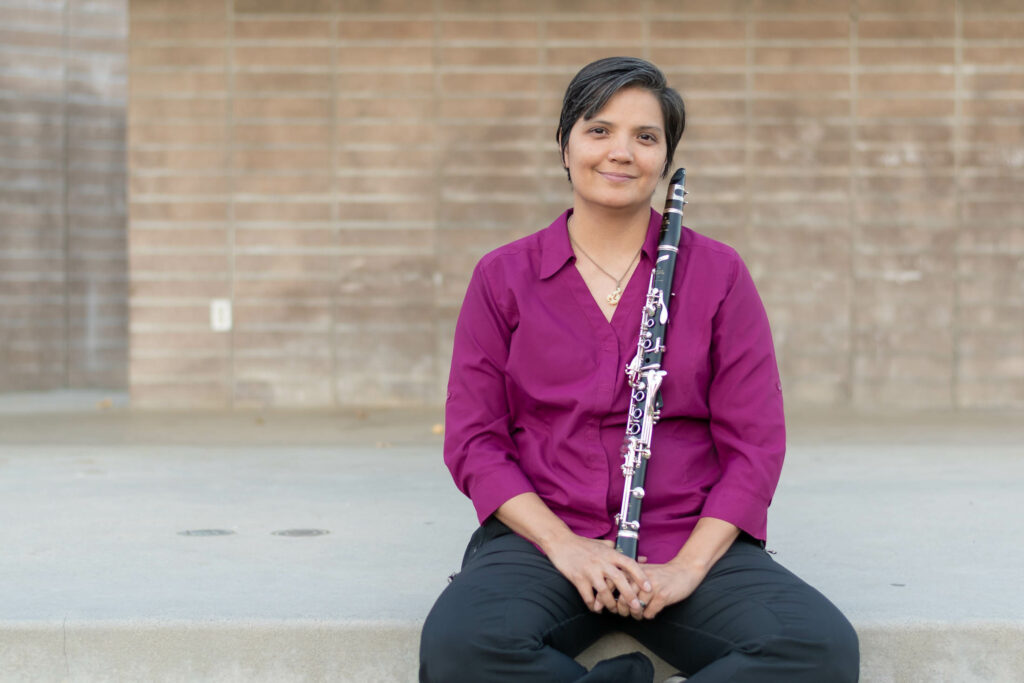 Correction
She didn't win the Emmy herself, she was a teacher in the program that won the Emmy. The Emmy winner is the founder of the organization named Larry Newman. She was present at the Emmy ceremony and Larry told the music teachers to accept the award with him on stage.
---
Despite generations of clarinet players in her family—including her grandmother and both of her parents—Wendy Mazon originally wanted to learn how to play the drums.
The public elementary school Mazon attended in Sacramento didn't offer drums to students who wanted to join band, so, instead, she chose the clarinet because she perceived its black body and silver keys as  cool-looking.
By then, she fell in love with its sound, which led her to eventually win a Los Angeles Area Emmy in 2016 for Children/Youth Programming for teaching winds and strings at Children's Music Workshop.
"What's so cool about the clarinet is that it's a lot like the human voice. What I mean by that is, it can have different colors to its sound," Mazon said. "You can play so soft that it sounds like the sound coming out from nowhere. It can come in, be really big, and then disappear again like it was never there and not all instruments can do that."
Mazon is a professor at Pierce and directs the Pierce College Symphonic Band. She's also a professional clarinetist, a journey that has been influenced by her family and teachers throughout her academic career.
In Sacramento, Mazon lived in a two-bedroom apartment with her family of five. Her father, Dionisio Sr., worked in a factory while her mother, Paula, worked at Sears. Despite not having "a lot of stuff" growing up, Mazon recollects when her mother saved enough money to rent her a clarinet.
"I remember her taking me to the store and us getting an actual clarinet," Mazon said. "Understanding how much work they put into so I could just have that to play, was very important to me."
While studying at Cosumnes River Community College in Sacramento for three years, Mazon's goal was to play soccer for a Division 1 team. After being recruited to play soccer for California State University, Northridge (CSUN), she moved to Southern California.
The first time she received a private clarinet lesson was at CSUN, where Mazon earned a Bachelor's degree in music education and a Master's degree in music performance.
Mazon took a break after her Master's degree between 2002-06. During this time, she attended a clarinet concert performed by Håkan Rosengren. She reached out to him to privately teach her because she believes in life-long learning.
"I've not heard a clarinetist play like that before," Mazon said. "That's all you have to do, is to hear him play and then you go, 'I want to study with you because I want to sound like you, I want to play musically and passionately as you do.'"
Since Rosengren is a professor at Cal State Fullerton, she had to drive two hours to attend lessons at Fullerton. During the two hour drive back to the San Fernando Valley, she would replay the lesson in her head.
"She played a beautiful sound and she was very conscientious about trying to be true to the composers and their original thoughts," Rosengren said in an interview via telephone. "She loves to take on challenges. She never shied away from that path. She's a very capable musician, serious musician and wonderful clarinetist."
Rosengren advised Mazon to get her Doctorate of Musical Arts degree at the University of Arizona. Between 2006-09, she would live in Arizona on the weekdays, fly back to the San Fernando Valley and teach clarinet privately on Saturdays, a study on Sundays and then fly back to Arizona to begin the cycle again.
Eventually, she earned her Doctorate in musical performance and a teaching certificate to be an instructor in higher education, which she has been doing at Pierce since 2016.
"Not only is she a professor, but she's also a professional musician," Maria Bates, a member on Mazon's tenure committee, said during an interview via telephone. "On top of that, she has a passion for what she does and compassion towards her students. She has a really nice balance between being rigorous and at the same time being kind and inspirational to her students."
In her spare time, Mazon performs as the principal clarinetist at the Filipino American Symphony Orchestra (FASO). The orchestra focuses on transforming Filipino folk tunes, patriotic songs and lullabies into western classical music. FASO had a sold-out show at the Walt Disney Concert Hall in August. Their new holiday-themed show will be on Dec. 7 at the White Memorial Church in Los Angeles.
In her office at the Music Department, she has a framed memorial program of her basketball coach Carrie Lynne Ladd who died in April of last year.
Although Ladd only coached her for a year, Mazon applies what Ladd has taught her into everyday life.
"Some coaches can be just in your face really mean and degrading, but she wasn't like that. She always had faith in you," Mazon said. "If I can even be close to anything like that, I would be happy to inspire and influence people to follow and do what they love and be good at it."