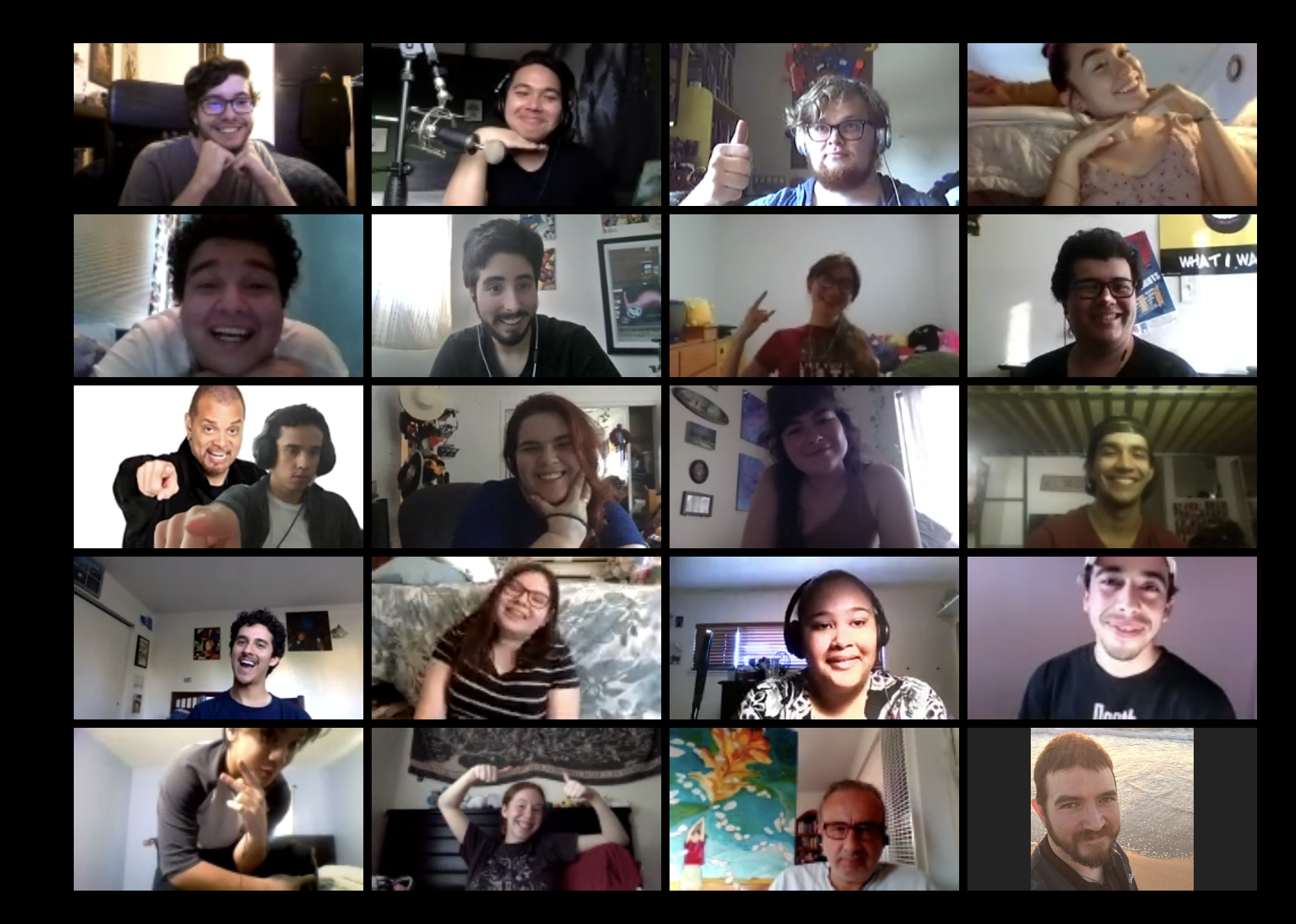 With only 24 hours to prepare, write, rehearse and perform, seven groups of actors in The Journeymen theatre club performed live May 23 over Zoom in what would be their final 5-minute plays of the semester.
Each group had a director, a writer and two to three actors. With a team of approximately 30, some didn't have much sleep. Others didn't eat much. With breaks in between, they still pulled it off with passion.
The Friday evening before, the team learned their prompt for the play festival was ghosts, interpreted literally or figuratively. Each person was randomly assigned into groups, then brainstormed. Scripts were then due by 7 a.m., followed by a 9:00 a.m. check-in and breakout sessions, 2:00 p.m. scheduled run-throughs and 6:00 p.m. regroups and final notes.
They performed at around 7:00 p.m. in front of over 100 attendees for about an hour. And each performance had one thing in common—one ghostly line:
'Did you feel that?'
"It was doing something subconsciously in your brain that you didn't realize that now you were like, 'Oh, that's why it was happening,'" said Jon Michael Villagomez, founding member, ex-president and mentor for the club. "We didn't tell the audience on purpose that [the line] was a requirement. [It] was sort of a fun challenge for writers and the directors to negotiate."
Villagomez said what inspired the play festival was through his friend Angel Villalobos, a UC Santa Barbara student in the university's BFA acting program. Villagomez said the program was looking for an event that was a culmination of the semester, which later was its version of the 24-hour play festival.
Villagomez added that Villalobos asked him to watch him perform over Zoom. Villagomez was excited by it and pitched the idea to the club adviser, Shaheen Vaaz, and its members.
With everyone in the club on board, Villagomez said there were no worries about copyrights or about borrowing other works to use for the acting. Instead, he said the plays were original.
Janel Javier, the club's president, said what inspired a group's piece was from her personal experience. Her dad would always watch World War II documentaries and she would keep hearing about her grandma. Javier's brother was a Marine.
"[The play] was going to be a brother going to be like, 'My brother's coming from war or something,'" Javier said. "And then you find out that he's long gone, but then it evolved into this thing."
Justine Gorry and another actress were the first group to act in the play festival. Gorry's character's name was Maggie, the older sister who received an ominous call from her younger sister
thinking she was alive but had already died.
"The sister stays on the phone while I receive a phone call from our mother, and that kind of triggers [the sister] to say her goodbye," Gorry said. "That's what the phone call was. A goodbye."
Gorry added that the goodbye was a cataclysmic event that she felt was very metaphorical to siblings. She said that the younger sister leaving the world shook their soul in an earthquake manner.
"And then [Maggie] receives a call from the hospital letting her know that her sister had passed away."
Michael Kendrick, an actor from a different group, played as Beauregard Debois (doo-buah), a smooth-talking character giving advice to his summoner, Wally. Wally was having trouble getting a girl and decided to call upon his ancestors for help.
"It helped. I had an accent in my trunk, basically, that I could work off of," Kendrick said. "And then from there, it was mainly just what is the most stereotypical, like Southern Dixie Gentry type-thing to go off of. The whole point of it is that you get the, 'Hey, this is, this is good comparatively to everything else that's happened.'
And then there's the immediate turn into the shock, which it's not too much of a surprise, but it's a surprise enough."
Miller Friedman, an actress from another group, played as Annaise, who encouraged another character, Sam, to open up about a dating experience that wasn't pleasant when he was alive. He partly blamed Annaise.
"At first, [being the character] was a bit strange because she's very different than I am," Friedman said. "She's a bit more, I wouldn't say stupid, but unaware of her surroundings and people. Very self-centered, but it was fun."
Aside from her character, Friedman said acting is a different level of intimacy over Zoom than it is over theatre. She added that when someone is sitting in his or her home to act, it is just that person in the room.
"It's not that it's easier to act when it's just you in the room because there are still people watching you on the Zoom call," Friedman said. "But it's a completely different kind of intimacy on the stage where there are a bunch of people watching you and all eyes are on you—and you are aware of that."
The team faced technical difficulties an hour before leading up to the play festival. However, once it began, there were no technical difficulties and it went according to plan.
Javier said that in the end, the team congratulated each other, commented on each other's pieces, learned from each other and received insight as to what they can do for future performances.
Javier added that there was an actor who performed for the first time and that the experience brought up their confidence.
Javier also said that because the play festival was over Zoom, not everyone was used to transitioning their acting to an online platform. However, she said the play festival gave them more confidence to perform there and can be utilized for future semesters.
Javier will continue to be the president in the fall semester. She said there will be more plays to come.