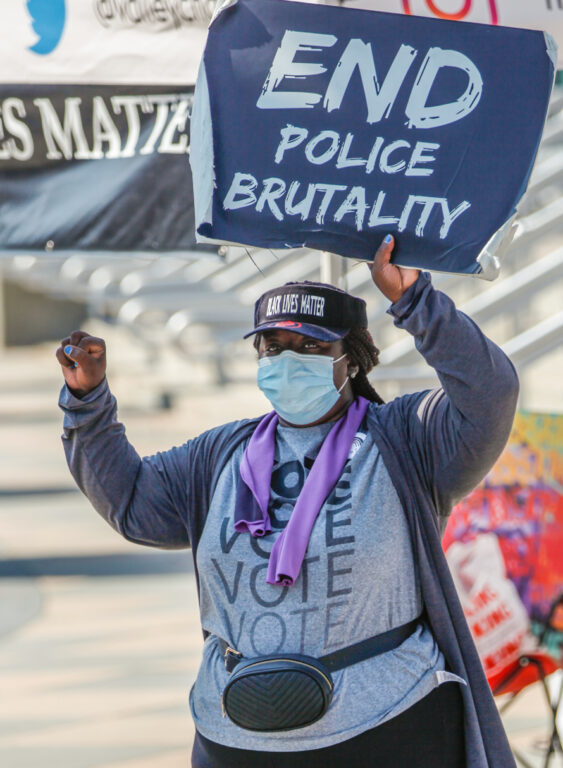 While protests remain active, there are fewer in early fall than there were during the summer months.
But one local organizer has remained steadfast, standing on the corner of Ventura Boulevard and Sepulveda Boulevard every day since May 31 to peacefully protest against police brutality and systemic racism.
Co-Founder of The Valley Of Change Latora Green protests for Black lives.
She sets up a canopy, tables, speakers, coolers for water, chairs and signs for people that join her at noon in front of the steps by the water fountain, and stays until 8 p.m.
Green flashes a peace sign with one hand and holds a black sign in the other hand that reads "End Police Brutality" and "I Can't Breathe." Drivers that honk in support are met with a friendly wave from Green and other participants.
Green said it is important to be there everyday to help reach as many people as she can with her message.
"I want to inspire people," she said. "I want to educate and motivate people to believe that they can do anything."
Green said standing in front of the Sherman Oaks Galleria for eight hours a day can be challenging.
"It's hard work," Green said. "It's hot. There's smoke, but my ancestors went through worse. We matter and we're not going to ask for it. We're demanding it."
Marc Bender frequents multiple Black Lives Matter protests, including The Valley Of Change's protest. Bender said he wants to see a change in the presidency.
"We want people to vote," he said. "But it's more than that. People have to do everything they can to make this a more just, democratic and egalitarian society."
Artist Quincy Clemens said he is relieved when people show support by honking their horns or smiling at them.
Green hopes to bring change no matter how many people stand beside her.
"Whether it's one person out here, 50, 100 or 5,000, we're still getting the same message across," she said. "They give me the hope and courage to keep going."