At Pierce College's Applied and Industrial Technology buildings, people are likely to be greeted by the sounds of welding metal, the sight of sparks flying and the echoes of what would've been full classrooms under normal circumstances.
2021, however, is anything but ordinary.
While some classes like English or Anthropology have been able to transition their courses online, other subjects like Nursing or Auto Technology could not replicate the same quality of instruction without hands-on learning as easily.
Welding instructor Ruben Hernandez said he, like some of the other industrial technology professors, didn't know what to expect when Pierce announced its temporary closure last March.
"The other instructors and I were in the mindset that welding has to be done in the workshop environment," Hernandez said. "That's the only way the student can learn [welding]. By doing the motions and applying the techniques, they tend to learn a lot faster. It's very hands-on."
Welding and Automotive Technology are both hybrid courses, meaning that lectures are held online while lab hours are in person.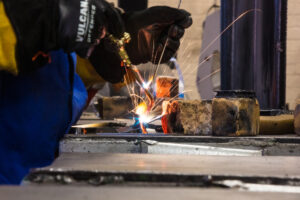 Sparks fly as Robert Cabigao welds scrap metal during an in-person class at Pierce College in Woodland Hills, Calif., on March 25, 2021. Photo by Benjamin Hanson.
Kevin Moreno, a welding student, said that the transition to an online curriculum was difficult without any of the hands-on labs.
"It was rough at first," Moreno said. "When we came back, it was limited but much better than just having online classes."

Auto Service Technology professor Alex Villalta said he was eager to return to campus despite the pandemic. Villalta said he struggled with the lack of communication with his students over Zoom, and found it hard to equip his students with the proper hands on training they needed to complete the conventional certifications.
"If they don't get that adequate training here with us, then they're going to suffer because ultimately they're going to be employed and they're going to be deprived," Villalta said.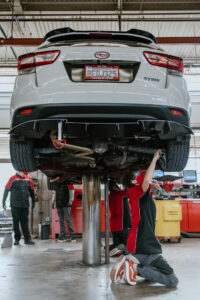 One of the Automotive Technology students, Luca Goldenberg working on a Subaru Impreza at Los Angeles Pierce College Automotive Tech Lab in Woodland Hills, Calif., on March 25, 2021. Photo by David Pashaee.
According to Villalta, there were only so many theories and interactive videos that he could review with his students. Villalta said he had even invested in a GoPro for his Zoom lectures, but could see his students' motivation levels dwindling.
Instructional Assistant Rodolfo Fajardo said that prior to COVID-19, the welding class size was around 40 students. But now, the number has gone down to about 20. 
The classes, separated into smaller groups, meet on different days spaced throughout the week.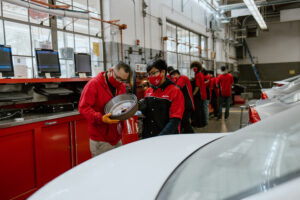 The Auto Tech intructor, Alex Villalta (left), is checking one of his students, Celso Mejia's work at Los Angeles Pierce College Automotive Tech Lab in Woodland Hills, Calif., on March 25, 2021. Photo by David Pashaee.
"We have less students, which is okay for now because we don't want to have the room too crowded," Fajardo said. "Fortunately, Pierce agreed to let us continue [in person]. It's good for the students."

Hernandez said the reason there's been a decrease in the number of students is because some decided to pursue job opportunities instead of continuing classes.
"It was no one's fault since quarantine came unexpectedly," Hernandez said. "A lot of students did go through [the career] route because of the uncertainty, but a lot came back when the labs started to reopen."
Some students were eager to return to campus, while others have found it difficult to adjust while balancing their jobs.
Auto service technology student Julian Herring, said it was rough getting back into the routine of in-person classes, and was still getting used to driving to Pierce at 8 a.m.
Herring said he picked up a job during quarantine and online classes made it easier to balance his work load. According to Herring, he enjoyed being able to work on classes at his own pace.
Most students in Villalta's class, however, have expressed gratitude towards their ability to come on to the Pierce campus to practice what they love.
Mohammad Mirzaei, another auto service technology student, said he missed the connections he made with his peers before the pandemic.
Mirzaei also said he missed the ability to ask his teachers questions with ease. 
"It felt good to have interaction with people, because we're human, so we need to communicate. It feels like if you don't communicate you kind of go crazy," Mirzaei said.
Mirzaei shared that coming on campus to work with other students has increased his incentive to learn. 
"Now that we get to go on campus, you're more motivated to learn because you're able to do things hands-on," Mirzarei said. "We talked with the students, we talked about our own cars, and our own experiences, which makes it more fun and makes you want to come in again. Talking to people has made everything a lot easier through the transition." 
Villalta said that his classroom changed in a lot of ways throughout the pandemic, including a sense of closeness between him and his students.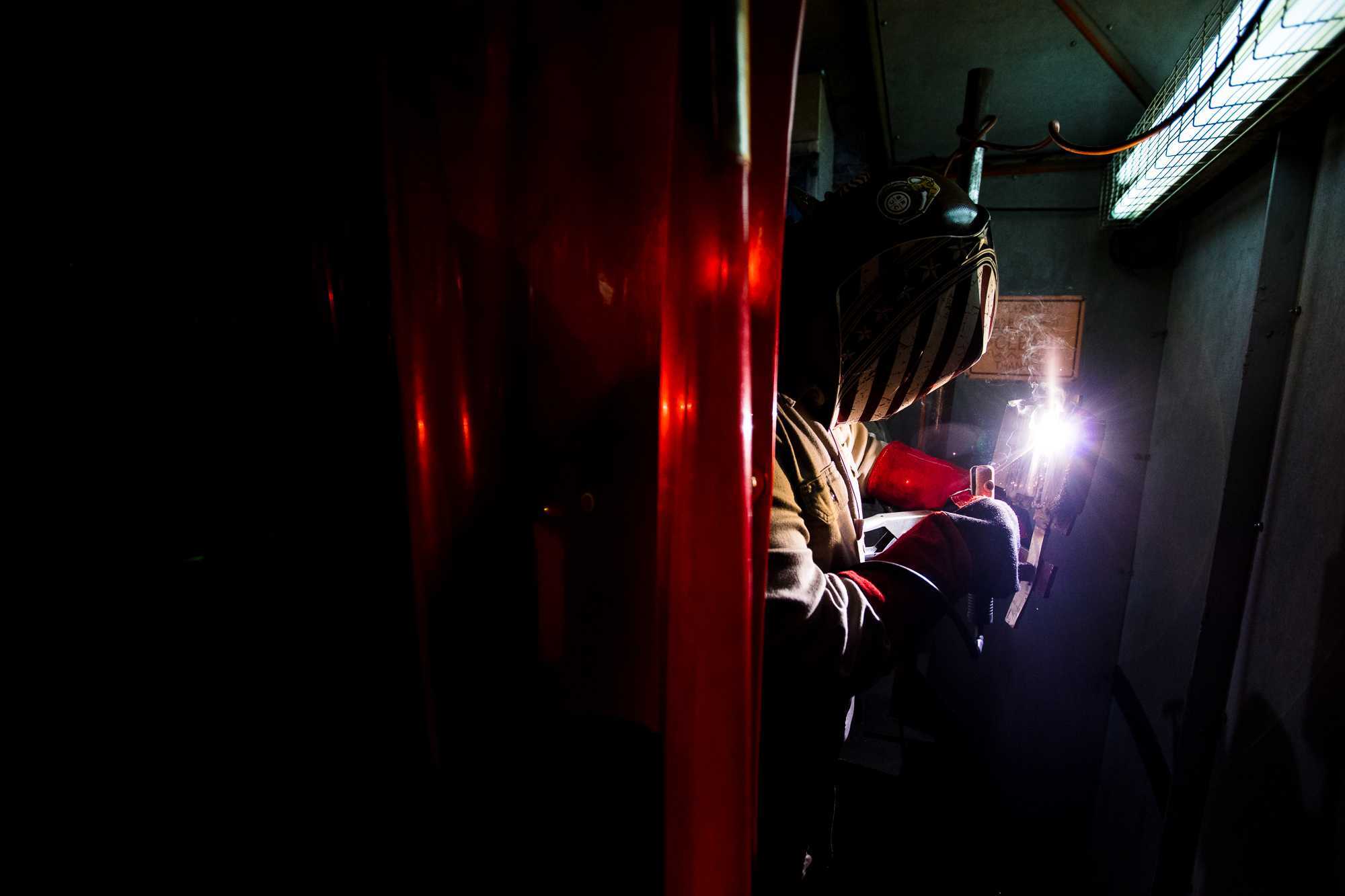 "Classes have become a lot more intimate with the students," Villalta said. "We share a lot of things that sometimes may not be relevant to the class, but is how we can all pretend that we're living in a normal era."
Villalta said he admired the dedication his students have shown above all challenges presented to them.
"Ultimately it was a big change, but I'm very proud of these kids," Villalta said. "They're resilient."