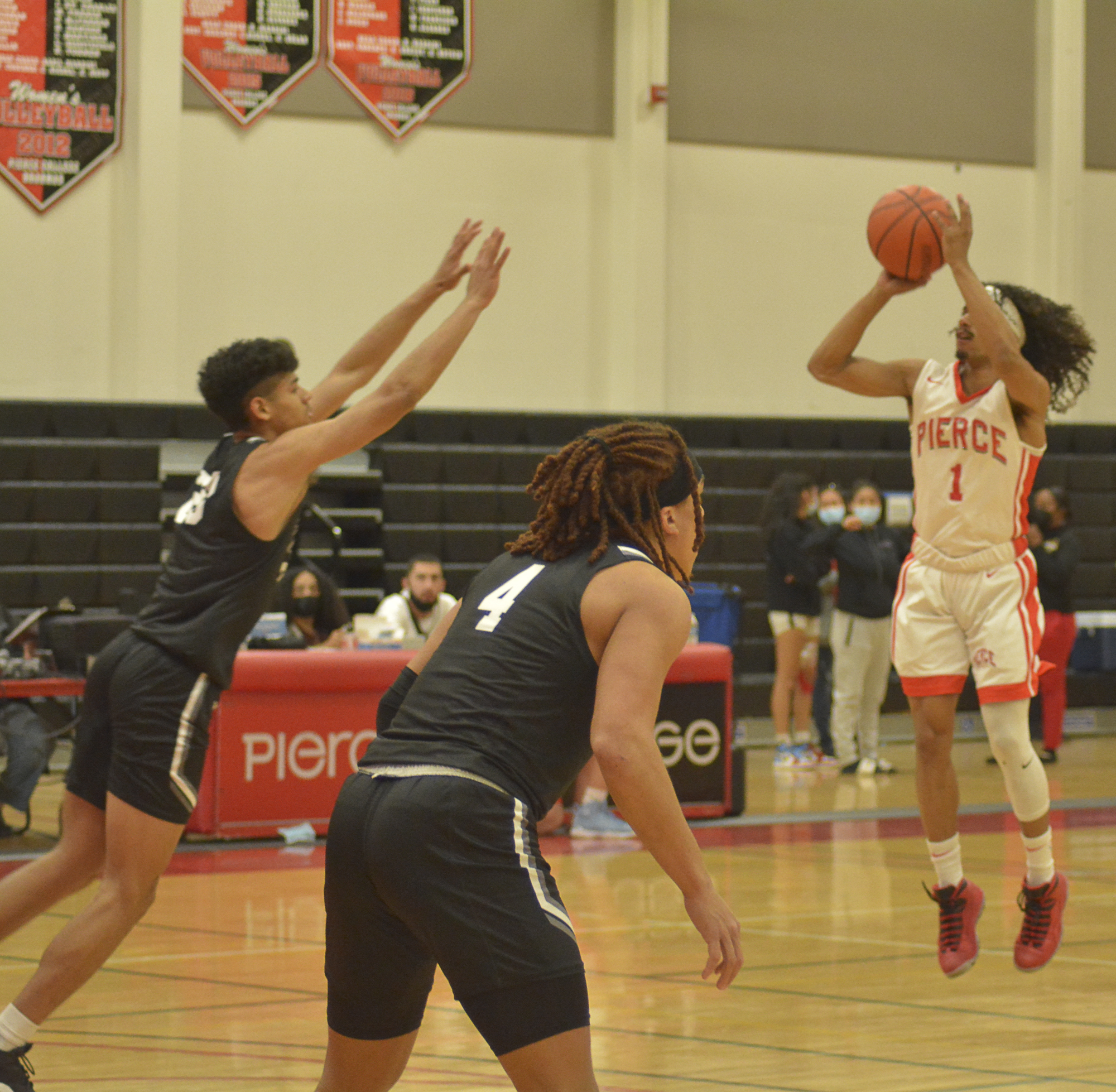 With the prospect of Thanksgiving on the horizon, Pierce College took down El Camino by "stealing the Turkey" and dominating on defense, as they demolished the Warriors 83-61 at Ken Stanley Court.
 The game began at a quick pace, with both teams moving the ball up and down the court trying to score. 
 The momentum swung in the way of Pierce however, when guard Larry Williams made a stunning no-look, behind the back pass to forward Don McCrary that brought the entire gym to its feet. This led to a run by the Brahmas that took the lead to 10.
 Team captain EJ Bushner felt as though the passing, along with some hard nosed defense, was the key to the team's success.
 "Moving the ball around was really big for us. And we made shots and then we pressured up on their guards a lot. So that really caused a lot of turnovers. That was the key," Bushner said.
 Holding to this idea, the Brahmas held the El Camino Warriors down, despite the road team having a very three-point oriented offense.
 As the first half came to an end there was plenty of energy going into the locker room, as McCrary made an emphatic defensive stop, sending an attempted layup into the second row.
 During the half time break head coach Charles White gave what must have been a rousing speech as Pierce started off with three straight steals leading to points. The communication continued, as the team would not stop chattering to one another.
 Forward and wing player Hector Page felt that the increase in communication was the key to their success on defense in the second half.
 "Communication was very big, very big as usual, [we've] still got a lot to work on. But yeah, communication was really big for us," Page said.
 The defensive wall was clear to see as the steals continued throughout the game.
 Although the defense was on top of its game there were still some issues, with the team unable to convert on many of the steals made. This was effectively keeping El Camino in the game despite the clear difference in game control.
 When looking back after the game, Bushner added that despite the control there are still things to work on.
 "I think we could have done some things better for sure. [we could have] cleaned things up for sure," Bushner said.
 Although the conversions weren't easy to come by, the shots were there to be made, as over the course of the week White made sure to emphasize the need for space on the floor.
 As the game wound down it was clear to see that this strategy was effective, with the Warriors defense clearly gassed from constantly running to catch up to the ball.
 "I just told them to move the ball, move the ball, move the ball, and just have some fun," White said.