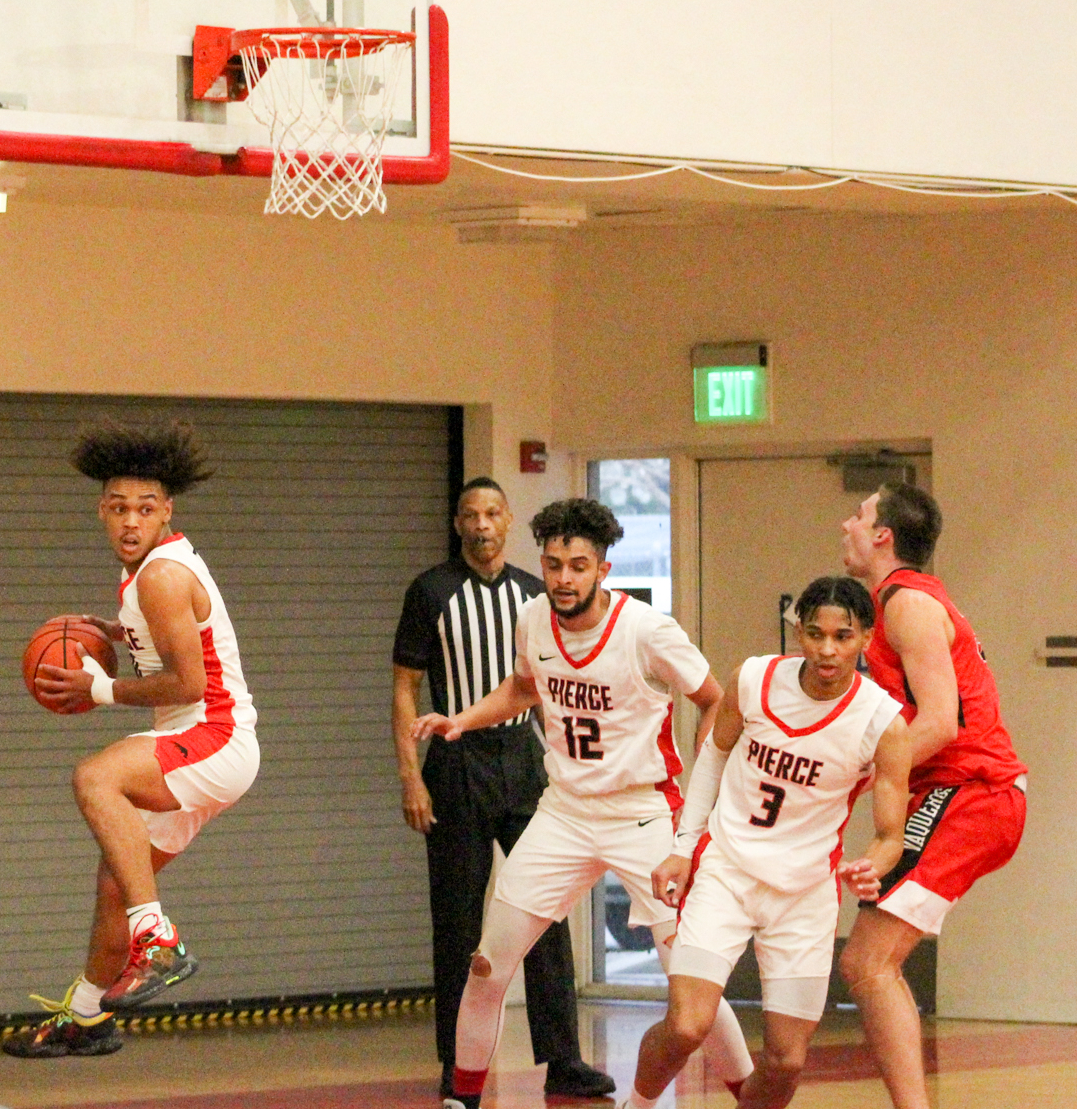 Up-and-downs are good for amusement parks. Unfortunately, in sports, that's a different matter.
The Brahmas lost to San Bernardino Valley in their last game of the season 81-67 on Feb. 21. The in a game was originally scheduled for Jan. 17, adding onto a two game losing streak.
The Brahmas finished the season with an overall record of 12-16 and a 3-9 record in the Western State Conference.
Shooting guard EJ Bushner had a mixed reaction to how the season went.
"We played well at home but we could have played better at away games," Bushner said.
Basketball Pierce  started their season  dropping thetheir first two games of the season against versus West LA and Cypress for the O'Fallon and Singui Classic Showcase and the Santa Monica Showcase.
After the two showcases, Pierce went on to win the Skip Robinson Classic versus Glendale Community College as well as having a mixed record at the Gregg Anderson Memorial Tournament versus Cerro Coso and Rio Hondo.
Point and shooting guard Hector Page said there was a lack of understanding amongst the roster.
"There actually was conflict between some of the players at the start of the season," Page said. "But we ended up getting past it and learned how to work together as a team." 
Bushner also stated that it felt different playing during the pandemic. 
Page was more critical about playing during the pandemic, specifically about going through the process.
"Playing during COVID was the worst thing ever," Page said. "The whole process [taking Covid tests and getting vaccinated] was annoying, and we just wanted to get out there and play."
The pandemic had a negative impact on Pierce as a whole when it came to athletics, but it seemed to have negatively impacted basketball the most. Many of the, where a lot of games were rescheduled or canceled, and when  and no fans were allowed in for a while.
"It felt weird playing without fans," Shooting guard Zion White said. "When we play with fans, it makes us play harder and it helps boost our morale." 
Despite some downfalls this season, there were some good moments.
The Brahmas won their Sophomore Night versus Santa Barbara City College on Feb. 15 with 91-86 being the final score, with Bushner and wing Don McCreary leading in scoring that night with 31 points and 20 points respectively as well as center Gabe Abott finishing with 14 points and 8 rebounds.
The Sophomore Night game was stated to have been Bushner's best performance in the season, garnering praise from  head coach Charles White and Zion White.
Zion White in general said Bushner was focused  and that he could see it in his eyes.
The Brahmas are more than willing to put the season behind them while prepping for the offseason and 2022 in general.
"For the offseason, I want to come back better and be more of a leader," Page said.
When discussing plans for the offseason and the rest of 2022, Zion White said he wants to go to Division One and wants to keep working hard to make it to the next level.
Bushner also said  he wants to keep working out and improve on his weaknesses and turn them into strengths.
EJ Bushner and Zion White were rewarded by the Western State Conference for their performance throughout the season, even though Pierce did not make the playoffs.
"It shows how hard I worked into it," Zion White said. "I put my heart into it and gave no excuses."