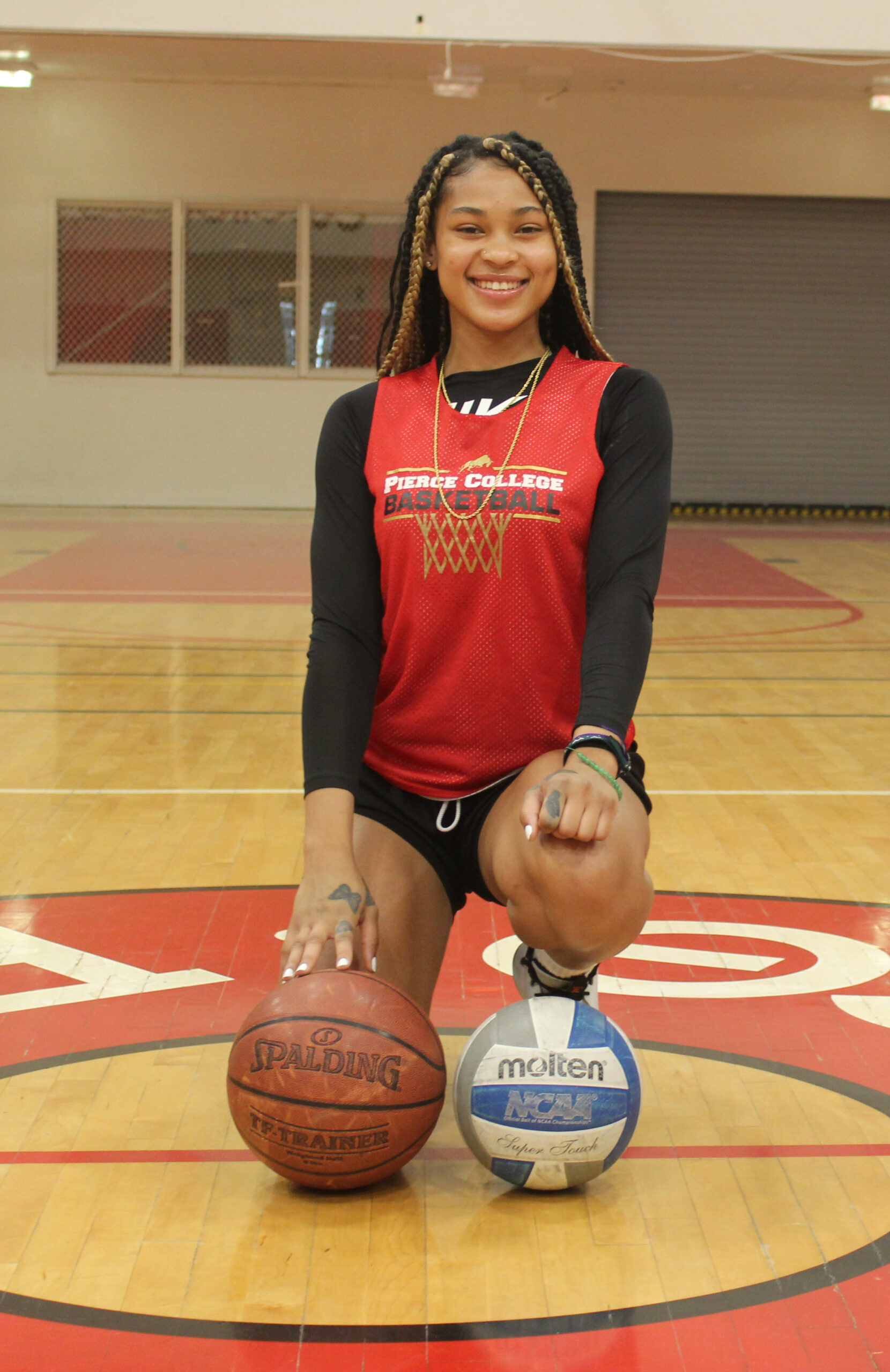 Volleyball and basketball seasons may be over at Pierce College, but that doesn't mean athletes should be slacking off on their training.
It is never too late or too early to learn the basics and fundamentals of both sports.
Kay Fisher, the forward/center for Pierce's women's basketball team, is no exception. 
Before joining Pierce's basketball team, Fisher stated she did not have a particular interest in the sport.
"Playing basketball was a way for me to not have a distraction," Fisher said. "It was an outlet to whatever was going on in my life at the time."
Fisher is also on the women's volleyball team, playing as a middle.
"Playing volleyball was something that was new to me," Fisher said. "I wasn't very consistent at it, so I started trying out and I eventually got better."
Fisher said she makes sure her priorities are in check before she competes in either sport.
With every game she learns a new lesson, and she strives to get better throughout the offseason.
As of today, Fisher made 20 appearances, being a starter for 15 of them. 
She also played in 11 conference games. In one of those appearances, Kay Fisher had scored 27 points with 20 rebounds versus Oxnard on Feb. 7 and Feb. 9.
Fisher's free throw percentage with 59.7% is the third-highest in the Brahmas' women's basketball team following guard Beatrice Pena and point guard/shooting guard Jamie Crespin. Her field goal percentage was the highest with 47.1%.
Fisher achieved recognition by the Western State Conference by receiving First Team All-Conference honors for her hard work this season.
Pierce's associate head coach Les Thompson said that he enjoyed working with Kay Fisher, despite her hesitance on being a leader for next season.
"I see her as being a leader next season," Thompson said. "She's kind of hesitant to be a leader because of [her] position, but like it or not, the girls already look up to you. So I'm going to talk her into being one of the captains."
Thompson said that Fisher has come a long way from when she had first started playing basketball.
"When we first saw her coming in, she had no clue about college ball," Thompson commented. "She was just going on playing on emotions and found out 'Hey, I can do this. I can do this.'"
Thompson said that he expects Fisher to be playing as either a small forward or to play in another position, as well as improving on her shooting.
Thompson was excited to hear that Fisher had placed in the First All-Team Conference.
"She deserved it," Thompson said. "She has just so much raw talent and she's quick. She's probably one of the quickest girls on the squad.
 Fisher's teammates were also happy to have worked with her, with point guard/shooting guard Adriana Garcia echoing Thompson's sentiments with how much she had stepped up.
"She had an amazing season," Garcia said. "We didn't always get along at first, but she really stepped up." 
Garcia expects her to keep improving and keep playing her game.
"I was surprised when I found out, considering our record this season," Garcia said. "But I'm really happy for her."
Though for point and shooting guard Izzy Ferguson, that was another story.
"Working with Kay was honestly a surprise," Ferguson said. "I've gone to school with her and played with her for one year even though I never really got to really interact with her beforehand."
Like Garcia and Thompson, Ferguson said that Fisher has come a long way when it came to playing basketball, calling her development crazy.
Ferguson said that she is helping Fisher with her dribbling even though she is good at rebounding.
Fisher said the student-athletes should try to do more than one sport.
"Take a leap of faith. I think anybody can do anything if they put their minds to it," Fisher said. I thought it was going to be a struggle, but the more you are consistent, the easier it gets."