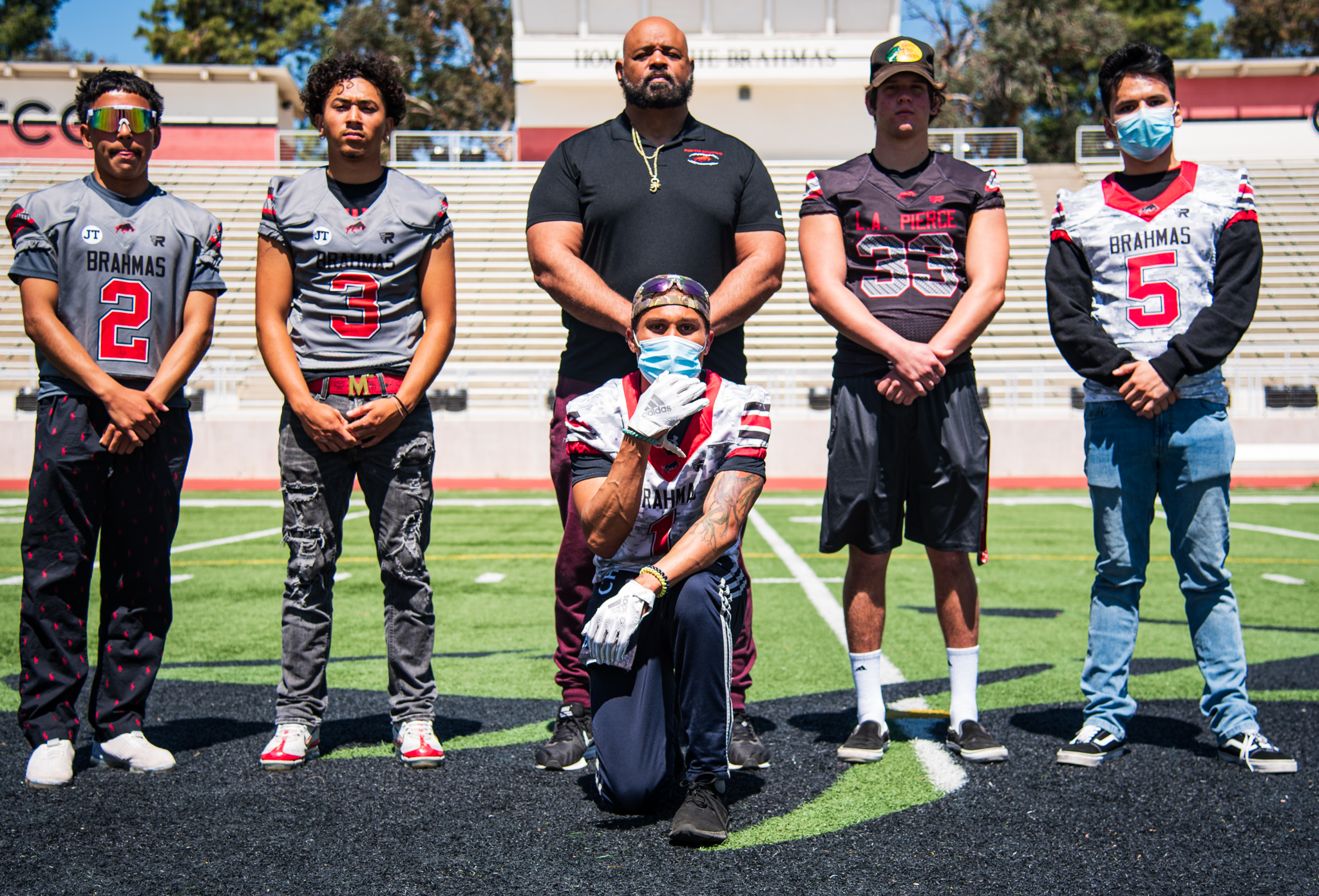 The Pierce College football team is under new leadership and is hoping to win on the field and academically.
On April 24, head football coach James Sims hosted the second prospect event, alongside athletics counselor Joseph Roberson and coaching staff for in and out-of-state recruits. 
The students were given a tour of the campus, accompanied by the Brahma cheerleaders, touring the Library, Student Services, the Financial Aid office, football facilities and John Shepherd Stadium. 
Roberson said he expects the best of the student athletes and for them to accept the leadership they need to succeed.
"I will show up with the same level of passion, energy and desire to help them succeed, that I would want if the situation was reversed," Roberson said. "I expect them to do their best and allow us to give them the support that will help them persist through their academic and athletic endeavors successfully."
Sims said that Pierce will be a stepping stone for the students to work on their academics and playing time. 
"Students come here to work on academics or they need a little bit more work on getting film time for their talent," Sims said. "You come here to do two years, three years at the most and get out of here and go to the next level of what you're trying to accomplish in life."
Sims explained that he's not too concerned about the wins, it's more so about the competitiveness.
"We have quality guys and it's going to grow from here on out, I want people to respect Pierce," Sims said. "I want the other teams to know when they see Pierce on the schedule they have a game ahead of them." 
Assistant football coach Will Chandler is also new to the team and is preparing to set an example, bringing the experience he's gained along the way and the keys to help the team.
"I'm bringing the knowledge the players need to perform in a D1 atmosphere," Chandler said. "The keys to a successful team is playing for each other, discipline and accountability. As a leader I expect to be a man, you have to be a man of your word and set examples by action, not always by words." 
Quarterback Matt Abajian, a civil engineering major, shared how he decided to join the team and his keys to being a team player. 
"I had players from high school that were hitting me up, that are on the team, saying 'Hey come back we're trying to build something great.' I got in contact with Mr. Roberson," Abajian said. "Being a team player means you have  to accept every player and that may not always be the easiest thing, but being able to tie a team together and call it one is really what makes a team great."  
Kicker Jared Picado, a cinematography major, joined the team out of an urge to keep busy.
"I was bored at home so I thought that this would be a good opportunity to help me become more productive," Picado said. "My weaknesses are fear but faith is my strength and hoping, not letting any negativity surround. Respect, honesty, being responsible and being supportive to everyone around you are some of the keys to a successful team."