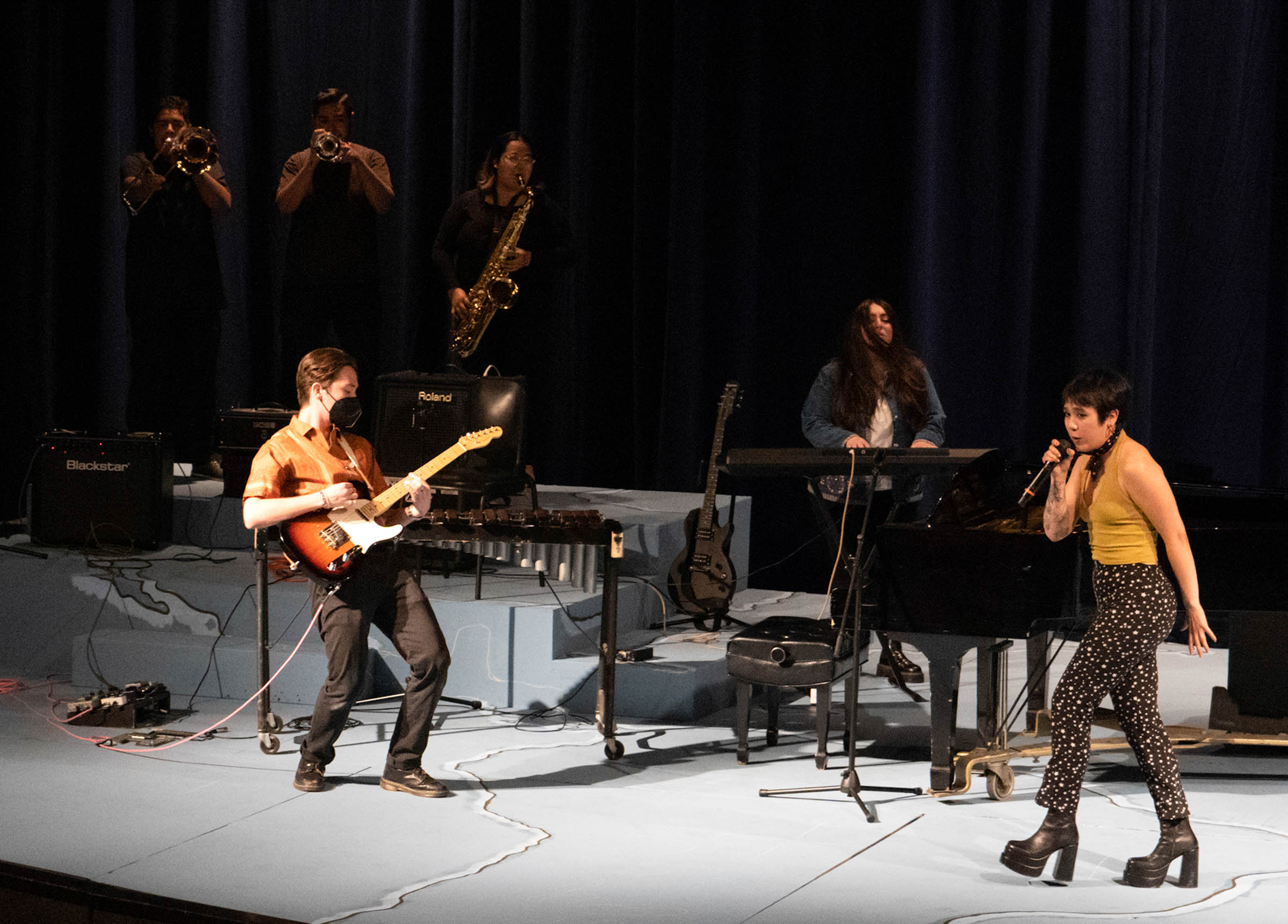 The Pierce College music performance class presented a student recital on April 19 to showcase their skills.
The performance started with Alezei Lozano, who sang an original song called "Worthy." It was complete with soft vocal tones and full emotion.
Rhenar Boncato played the song "Aruarian Dance," by Nubajes on his guitar with a feel-good Hawaiian genre type of vibe.
Rick Levey, Vince Cabanan, Taylor Frankel and Devyn Moreno played "Jailbreak," by Thin Lizzy. The group had a lead vocalist with a powerful presence and they had a great group chemistry overall.
Devyn Moreno and Stephanie Keledjian sang a duet of "July," by Noah Cyrus, which featured the two whistling mid-performance harmoniously.
Alezei Lozano came back on stage to not only sing but play piano as she's accompanied by Annie Yolo on the flute in their rendition of "I Found," by Amber Run.  It was an enjoyable performance with a song that exemplifies how love is found in plain sight.
Matthew Medina and Lance Merrill played a light-hearted and fun rendition of "Log Cabin Blues," by GH Green on the xylophone and the piano.
Sarah Ruopp, Garrett Sullivan, Connor Sullivan and Malmeth sang "Coney Island Barbershop Quartet." They all came onto the stage with matching outfits and In-In-Out Burger paper hats. 
They all had amazing facial expressions and hand gestures that truly brought an emotional performance into the song as they sang, "Goodbye my Coney Island, baby."  The song was complete with stellar harmonization and solos from each of the members in the group.
Hasti Almasi, Lorenzo Patino, Jonah Matos, and Pablo Sela performed "Don't Know Why," by Nora Jones.  The lead vocalist took to the front of the stage and by the middle of the song she was seen sitting next to the acoustic guitarist while he did his solo.
Adrian Clark, Lorenzo Patino and Pablo Sela played "Dern Kala," by Khruangbin. Like the vocalist from one of the previous groups, this set of musicians also had a strong stage presence that captivated the audience.
The second to last performance of "Los Ageless," by St. Vincent featured a horn section with a trumpeter, a trombonist and a saxophonist, two electric guitarists, a keyboardist, a drummer and a vocalist.  The different instruments blended together created a beautiful sound.  It was performed by Isabel Navas, Vince Cabanban, Denise Fuentes, Shelley Quinn, Alexander Reyes, Stephanie Keledjian, Asher Levich, Juan Camarena and Jose Espinosa.
The last song of the recital was "High Hopes," by Panic! At The Disco, which also featured a horn section among others.  The main vocalist invited everyone in the audience during the rendition to sing the lyrics that were provided on the brochure.
It was a perfect ending to the recital, leaving listeners on a hopeful note.