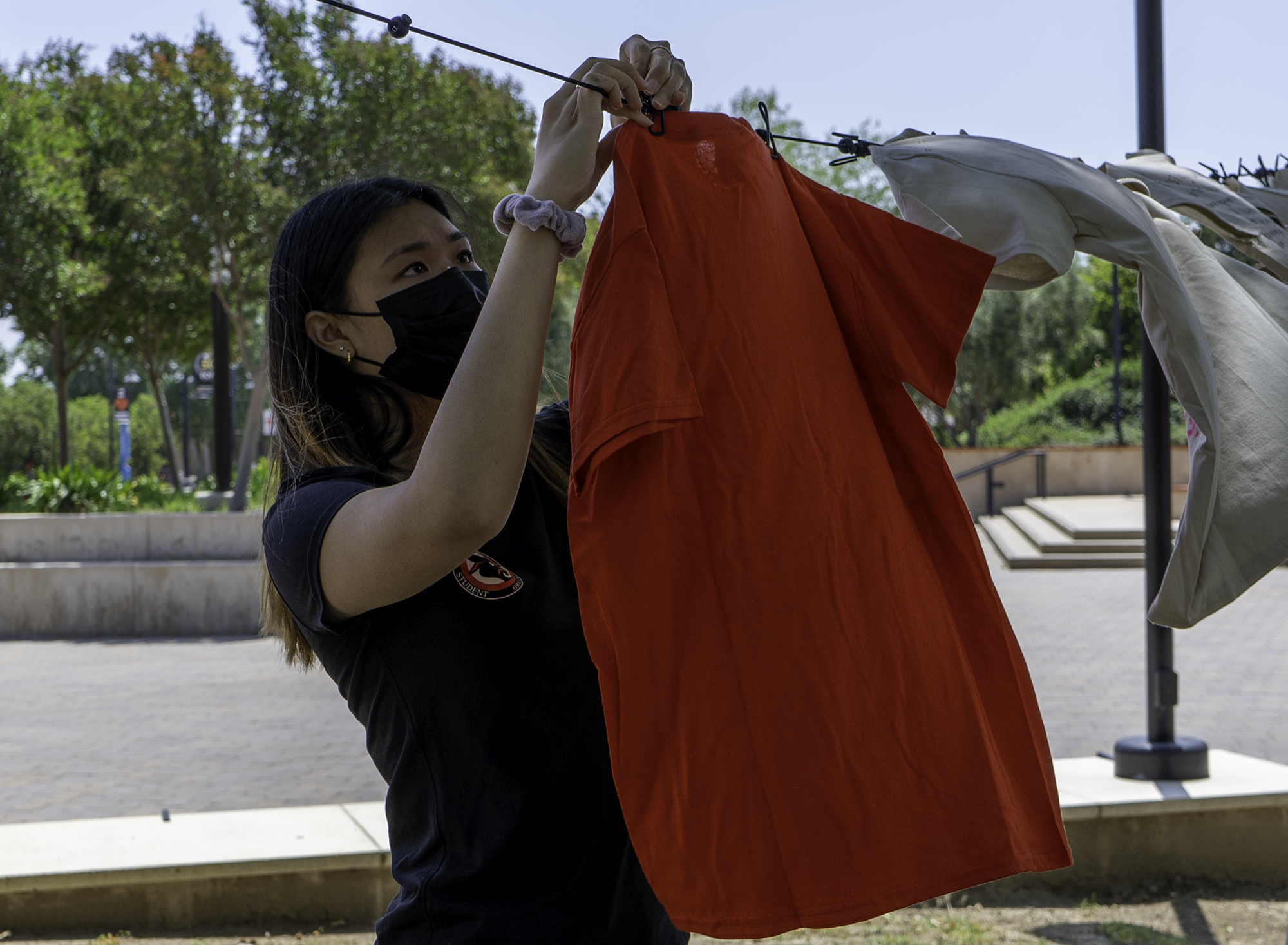 Associated Student Organization (ASO) set up its Clothesline Project at Rocky Young Park on Wednesday, April 27, for students to decorate and hang T-shirts with each color representing different forms of abuse. 
It's an annual custom for Pierce College's ASO, along with its co-sponsor, Brahmas Responding with Actions and Voices through Empowerment (BRAVE), to recognize Sexual Assault Awareness month.   
Sophomore David Tucker decorated a green shirt that represents incest and/or sexual abuse. He said that he faced sexual assault when he was about 10 years old by someone he trusted.  
"I had a respite worker that worked with me, [and] in the beginning things went well until he started showing signs of his weird character, but I was too scared to say anything to my mom. After he stopped working for that company, he would call my mom and ask her permission if we could hang out," Tucker said.   
Tucker mentioned that his abuser had groomed him to normalize the sexual abuse he faced as a kid. Now he said he wants other survivors, especially men, to speak up about their trauma and for abusers to be held accountable. 
"I want to have any hope for any young man who's been sexually assaulted, but were too afraid to come forward like me," Tucker said. "It took me 17 years to come forward about my abuse and it doesn't matter why someone waits so long to come forward. You're not alone."    
Denim Day was founded after a 1992 court case in Italy, where a judge ruled that the 18-year-old victim is responsible for provoking her 45-year-old rapist with her tight denim jeans.      
ASO co-adviser Lara Conrady said that Pierce has done the Clothesline Project (founded by Holly Hagen) since the 1980s. 
For this year, Conrady said that the Clothesline Project and Denim Day were put together to make it more symbolic to students on campus. 
"It's more powerful when you actually see the shirts that are made," Conrady said. "And then with the denim, of course it's more powerful. Wearing denim is an act of solidarity and empowering people what they need to express themselves and that no way leads to sexual assault."    
And this year, the event was brought back to campus, after more than two years of virtually celebrating it with Pierce students.  
ASO co-adviser Geremy Mason said that during the pandemic students had designed their t-shirts using Canva. 
"We've been hosting it over Zoom and having people design shirts virtually," Mason said. "And then we would share them in the Zoom session by having a slideshow where people would share them via chat." 
Mason added that it's important for ASO to participate in this event because their group is focused on student advocacy. 
"ASO is about empowering students to take leadership and make choices for themselves. And that's what this is about—making choices for yourself without fear," Mason said.  
ASO Senators Hannah Simadibrata and Dustin Lopez have designed T-shirts for students and they both said that they are there to support Pierce students.  
"I want to speak out about it because it's a very important matter in this world and I'm standing with all these victims that are speaking out," Lopez said. 
Simadibrata said it's her first time participating and she wants students to know that the campus is a safe place to express themselves.  
"I think it's really special," Simadibrata said. "It allows people to be vulnerable with each other and you don't have to put your name down. It can be completely anonymous and I think it just creates a really good community for the students."