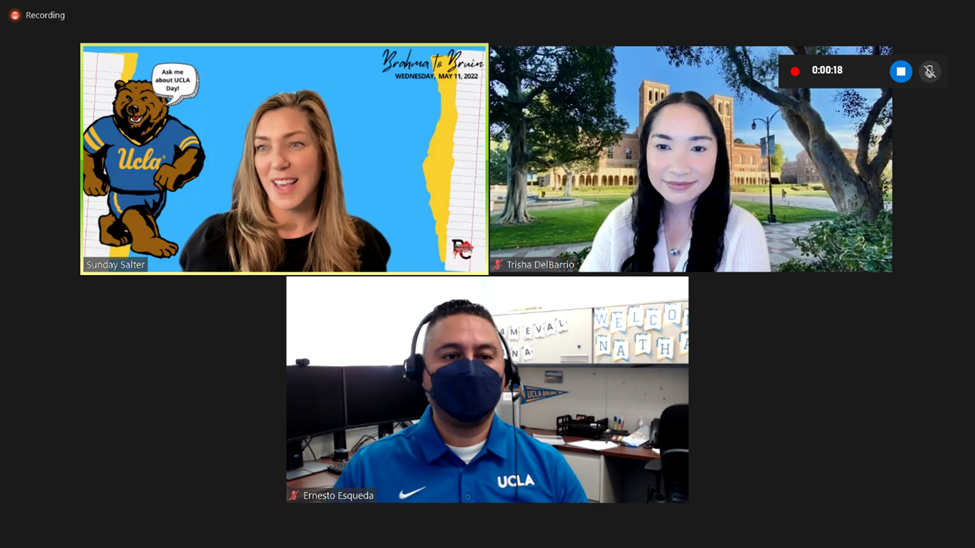 Soon to be Bruins attended UCLA Day hosted by the Los Angeles Pierce College Transfer Center.

The event focused on guiding newly admitted University of California, Los Angeles (UCLA) students transferring from Pierce and assisting prospective students.
Transfer Center Director Sunday Salter informed students with information about the application process.
"This is designed to help students with the ins and outs of UCLA," Salter said. "It's really an admissions overview so you know what next steps you need to take, and so you are a prepared candidate [when applying.] This also is a way to see if the school is for you. We want you to find the school that's the right fit."
UCLA Day was a four-hour-long virtual event, filled with sessions ranging from a transfer analysis to meetings with personalized clubs and programs aimed to help students with their classes and social life.
LAPC Program Coordinator at the UCLA Center for Community College Partnerships (CCCP) Alberto Moreno offered guidance on several scholarship programs aimed to help students with more financial needs, including the Academic Advancement Program (AAP).
Moreno oversees and offers assistance to Pierce students who require additional help with their transfer goals and overall success at UCLA and other universities.
The AAP allows low-income students to take advantage of opportunities and receive assistance with the overall admissions process.
While the program is based on Critical Race Theory, Moreno believes the theory allows for a foundation to help less privileged students to succeed in the admissions and student life at UCLA and universities overall.
]"The reason we use Critical Race Theory is to help us understand the different disparities and inequities in higher education in ways for us to combat these two to help create better access to under-represented and usurped communities," Moreno said. 
The event was extensive in its approach to helping students prepare for the transfer process to UCLA along with learning about the school from former Pierce College students who were admitted there.
Former Pierce College students Fatima Sheyda, Javier Garcia, and Alexander Chesney successfully transferred to UCLA, and shared their experiences in the admissions process.
The three students and Moreno formed a student transfer panel in hopes to assist students who plan on transferring to UCLA along with students who aren't sure if the university is the one for them.
Sheyda said that choosing a university can vary for each student depending on their personal priorities.
"For me definitely my major was the number one factor, and as a psychobiology major, only UCLA and UCSB offered this major, but the distance between my home and my family was really important to me since I didn't want to be too far away from them," Sheyda said.
Despite UCLA offering what Sheyda required for her major, she still had one more important need for the university to ensure it was the school for her.
"What programs they are offering is important as well," Sheyda said. "Something that was really important was the campus. I really like the campus, and while it might be the last factor for many people, for me it was really important to feel at home on the campus."
The student transfer panel also shared struggles they deal with currently such as housing options, parking, and the expensive enrollment fees.
"My transfer experience was my experience, but the things that truly helped me were the Transfer Center and places like the Black Bruin, because honestly as a transfer, it feels like you stick out a little bit compared to the students who came here straight out of high school," Chesney said.
Like Chesney, the other members of the student transfer panel shared struggles they dealt with when they first transferred to UCLA, including imposter syndrome, a lack of social experiences because of COVID-19, and also transferring from Pierce as opposed to enrolling at UCLA at the start of their academic careers.
"Hanging out in the transfer center and meeting other transfers made it much easier at UCLA because I'm not really like the usual students who get admitted here," Chesney said. "It sort of makes the adjustment period weird and off, and you get imposter syndrome, which affected me such as my mental mindset and I would always question if I was meant to be here and my place at UCLA."
While the whole panel had some struggles once they transferred to UCLA, they all shared optimism and hope that incoming transfers and students who plan to transfer to UCLA eventually, can have their experiences improved upon with the relationship between the students and the panel.
Furthermore, the panel also shared that once they were settled, UCLA has been an enjoyable experience, and the transfer summer programs and other social and campus life programs truly aided their overall experience.