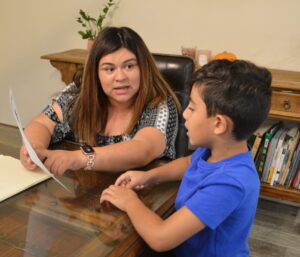 From being raised by educators to eventually becoming a teacher herself, Pierce College alumn Angela Diaz has expanded her skills outside of the classroom by launching her tutoring program website— Ms.DiazTutoring360.com.
The program offers not only academic help for students K-12, but Diaz uses her seven plus years of special education training to help students decrease challenging behaviors. 
"I started this without my website, unofficially, for about six to seven years," Diaz said. "In between teaching jobs and being an assistant, I'd meet all these families and they just asked me, 'Hey, can you support my child over the weekend?"'
Once the COVID-19 pandemic started, the amount of students struggling to learn from home grew. Diaz decided to launch an official tutoring program with the help of previous students of hers.
"Kids were truly falling behind. I noticed so much need with different families and teachers that I would meet. I thought to myself, I can really probably gain so many kids because schools were shut down. That's when it came into fruition," Diaz said.  
The program now has six tutors in the staff, including UCLA student Louise Apan, who has been tutoring for the program since launch day and even worked behind the scenes. 
"I started the summer before my senior year of high school. And I've been with Ms. Diaz before the tutoring business was a reality. We were together during the planning stages and figuring out advertisements; how to get our business out there," Apan said. 
The advertisements led to parent Jessica Llamas signing up her third grade daughter, Ileana, for the Spanish class offered by the program. 
"On Instagram her page just popped up, and I started browsing through. I saw that they do tutoring also in Spanish for beginners. I'm bilingual. My daughter being second generation, she mostly speaks English. So I got in contact with Miss Diaz," Llamas said. 
Llamas would eventually sign up Ileana for 10 to 12 Spanish lessons with Diaz over the summer. Now conversations in Spanish between her parents no longer go under Ileanas radar. 
"She understands more now. My husband and I will be having a conversation in Spanish. And then she'll be like, 'I know what you guys were talking about, I understood everything,"' Llamas said. 
Diaz and her team are prepared to help students that don't grasp the lesson right away. When the tutoring program had just started, a fourth grader came to Ms. Diaz for help and the beginning of their lessons were rough.
"It was a fourth grade student, Jackson. He was behind for that first session. He was crying and saying 'I don't want to do this,'" Diaz said. "And then here we are, seven sessions later from that time on he was having fun. He's like, 'Okay, I got this, I don't need much help.' The mom was so happy. After just a month he gained confidence. He actually learned to like math," Diaz said. 
Diaz wants the students who sign up for the tutoring program to understand that they are fully supported by the tutors and feel just as excited as their students when they improve during the sessions. 
"When we first get with a new client, I usually receive their report cards. Usually when they're beginning they're not doing the best, but later on, as we progress through the sessions, I see them improve. When they tell me, "I got 100 on the test!" That feels so rewarding to me. Just seeing their progression through the sessions we have together," Apan said. 
Even though Diaz was an ABA therapist and has more than seven years in special education services, the tutoring program has helped her learn more ways to accommodate special needs students during online tutoring. 
"Learning all these different needs that children have, it made me a better teacher as far as different things to use," Diaz said. "Fidget toys, that's a big thing and I have a few students who have ADHD. It's hard for them so I had to come up with things to keep them engaged and I brought that into my classroom, and vice versa." 
She understands that patience is important when working with children who have special needs.  Diaz uses the skills she learned as an ABA therapist when she's teaching her students.
"I was an ABA therapist before so I worked one on one with these students with decreasing challenging behaviors," Diaz said.  "And again, I truly just feel like I'm very patient and you have to really like your job. It didn't feel like a job to me and I found that I was good at it."  
Since launching the program, it has had 45 clients receiving their services. Diaz's goal is to not only help the students in their academics, but to make them feel supported by the tutors. 
"I do meet with them weekly and I give them strategies to use and I let the tutors know how to connect with the students. Ask them how their day was and try their best to make it fun," Diaz said. "We truly make it fun, lively, and tailored to the students' needs 100%." Diaz said.