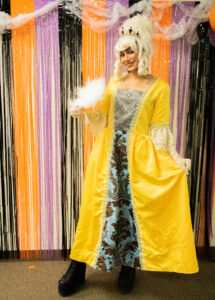 Spirit week is off to a spooky festive start and Pierce students are joining the action in costume
The Associated Student organization held a Halloween costume party on campus Monday. The costume contest marks the first day of spirit week at Pierce and ends with the Saturday home football game. 
The event kicked off spirit week but was also a way for ASO to get some on-campus exposure. ASO Freshman Senator Kaden Lewis hopes people have fun and get to know ASO and what they offer.
"We have this big room just for you guys to hang out and even when there are no events you can always come in (the ASO room) and chill out," says Lewis. "Not a lot of people know what ASO is and I want to make sure that before I leave we're more connected to students."
Students gathered in the ASO room where they could grab candy and Halloween treats after following the ASO Instagram and TikTok. 
There were about 30 students in attendance, some costumed and some not, but all were in the Halloween spirit. 
About 10 students participated in the contest portion of the event and were voted on by applause from peers. 
When Pierce psychology major Orion Kindred-Shafron heard about the event through an ASO Instagram post, they jumped at the chance to share their handmade costume.
"I'm Glados from the video game portal," says Kindred-Shafron. "I'm here because I really wanted to show off my costume, I'm very proud of it. I bought all these clothes and threw them together and used some EVA foam, paint, and hot glue."
The students voted the ten participants down to three finalists. The final costumes were Marie Antoinette, GLaDOS from Portal, and Deku from My Hero Academia. 
A roar of applause and cheers erupted for sophomore Shabnam Malakoot Tabary as Marie Antionette and she came in first place followed by sophomore Orion Kindred-Shafron  as GLaDOS in second and freshman Albert Colmenares-Pena as Deku in third. 
First place prize was a $50 amazon gift card and the runner ups each received $25 gift cards.
Pierce college faculty and staff held a similar event just down the mall with almost every faculty member in costume. Shannon Krajewski shared how important she thinks it is that staff are involved just as much as students. 
"It's an employee social part of our caring campus initiative," says Krajewski. "This is helping our employees become more connected to the college so that they can help our students become more connected to our college."
There's a different theme everyday on campus for spirit week so make sure to check the ASO Instagram for information and spirit reminders.