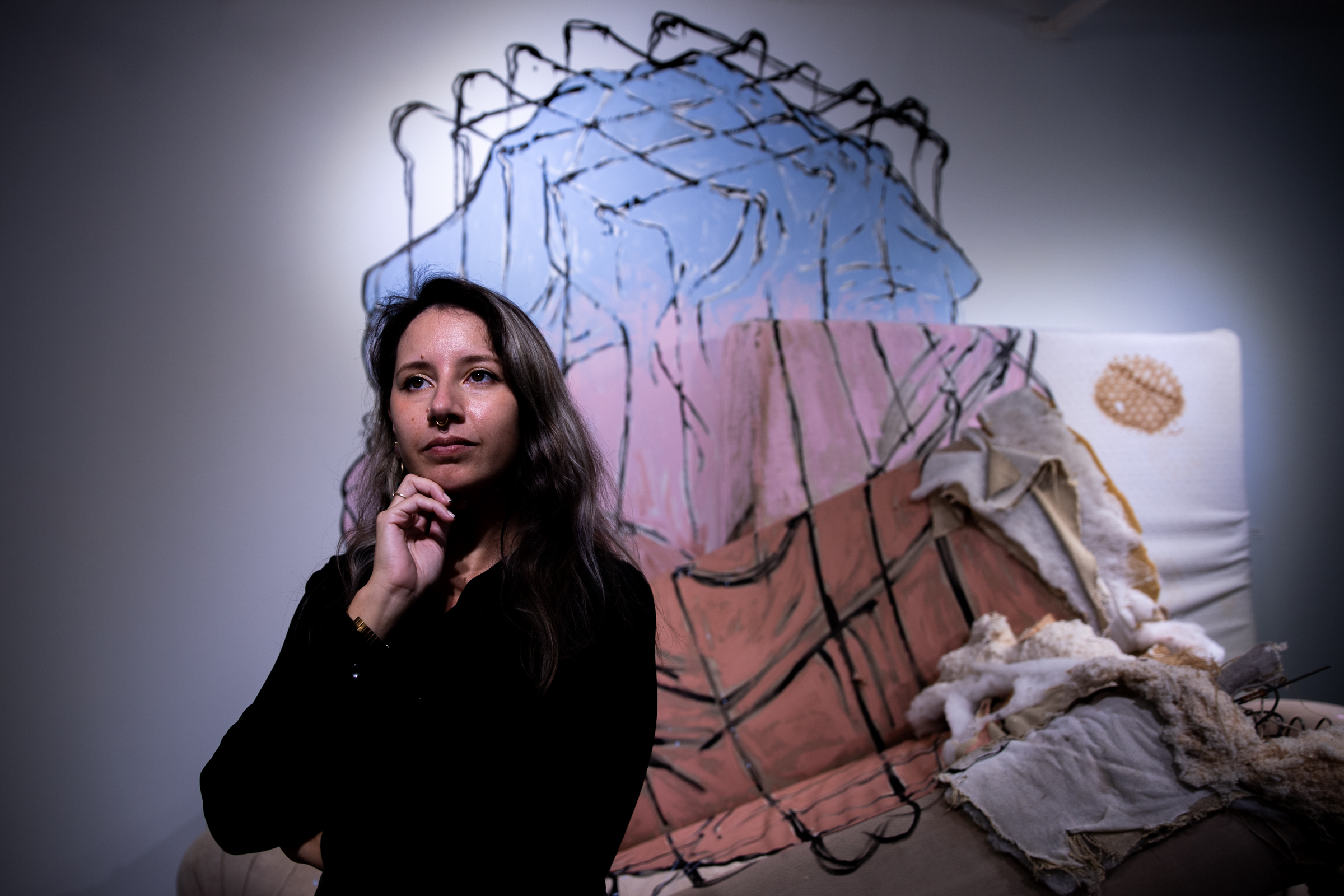 An artist was painting on a sectional couch that had been trashed and left out on her street for a garbage pick-up when the owner of the couch stopped her. 
"What are you doing?" they asked. 
Stephanie Sherwood was turning what was once her neighbor's trash, into a treasured work of art.  
The Pierce College fall art gallery opened on Nov. 1 featuring the distinctive works of Sherwood, who spoke at the exhibit on Nov. 7 and shared stories about her life, art and career to Pierce students.
Sherwood is a Los Angeles local who has been featured in nationally recognized galleries. She graduated from California State University, Long Beach, and studied at the Guangzhou Academy of Fine Arts where she was taught the fundamentals of fine art. A far cry from her today that draws inspiration from the unconventional and uncomfortable. 
Sherwood's ill-contained series, which is currently on display at the Pierce College Art Gallery, features her newest works done on discarded furniture and trash in different mediums. One of the works is an installation piece done specifically for this gallery and is partially painted on the wall.
Sherwood details how her art has evolved to its current state in the Artist's Talk portion of the show. 
"I was always working with subject matter that made me uncomfortable, that uncomfortable place was a place where my art tended to thrive," Sherwood said. "It evolved into painting still lifes of garbage and refuse and shopping carts full of refuse that is a very common sight on the streets of Los Angeles."
The large gallery installation piece hides a computer underneath a couch that plays videos she's taken of her art done on the streets of Los Angeles. 
Sherwood finds abandoned furniture and paints it on the street. She leaves the pieces there and they remain there until they are hauled off to the dump. 
Sherwood was originally drawn to broken furniture on the street as a canvas for its impermanence.
"I would encounter something outside that was definitely not going to be reused for its intended purpose then I would paint my subject matter onto the item wherever it was waiting for the city to come pick it up and take it to the landfill," Sherwood said. "It would become this temporary thing, this temporary art installation, its performative, it's ephemeral and it only lasted a couple of days."
Sherwood's unconventional style strikes a cord with viewers, but for art students, her work is much more personal. 
Interior design major Rahaf Khalil finds the obscurity in Sherwoods art endearing.
"I've never seen art like this where she gets pieces from the street and puts them together into one art piece," Khalil said. "She has something about her art that is different from any art I've seen."
Sherwood's work has grown and changed as she's found her creative voice. Her more recent works that delved into the 3D realm are relevant to some of the course work done in art classes on campus. 
Pierce art professor and gallery coordinator Constance Kocs believes Sherwood's work is the perfect way to expose students to different types of art, and its all done by one artist. 
"We try to bring work to (the students) to try to give them a broader experience and exposure to things that are contemporary and happening in LA," Kocs said. "Stephanie combines things like drawing, painting, 2D work, fabrication, with a range of materials as well as the instillation pieces, so it really touches on a lot of different areas in our department."
The exhibit runs until Dec. 12 at the Pierce Art Gallery.