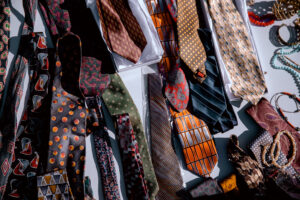 Shirts. Dresses. Slacks. Shoes. Ties. Jewelry.
All these items and more are up for grabs for students looking to boost their professional wardrobe. The University Transfer Fair was bookended by the opening of the Brahma Career Closet on Nov. 3 on the Pierce College Mall.
Students are able to browse and take any clothing or accessory items they like.
Career and Transfer Center Director Sunday Salter said they received donations from the community.
"The purpose is to help students who are planning to look for internships and part time jobs and maybe they don't feel that they have professional looking clothes right," Salter said. "Since the pandemic, most of us got used to just wearing pajamas all day so we haven't refreshed our closet."
Salter said that students can come to the Brahma Career Closet without feelings of judgement.
"We know that so many students are in need and just don't have the extra cash to go out and buy a bunch of clothes," Salter said. "They can come without any negative feelings and just grab a new jacket or a new pair of pants to make them feel more professional for that job or interview."
Pierce student Thuy Nguyen said she was happy to find some more professional-looking clothes.
Student worker William Macaraeg said he was glad to help.
"Some people aren't able to afford professional attire like suits and pants or even polos," Macaraeg said. "Giving the opportunity to students to have that chance to have personal attire to prepare themselves for an interview or for a job is something that I am happy to be part of."