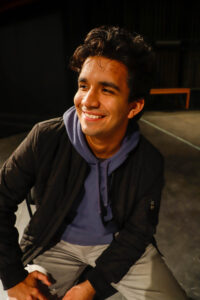 A 14-year-old boy left home for Los Angeles with dreams of becoming an actor. A 16-year-old boy wore hearing aids for the first time and became so overwhelmed by all the noise he'd never heard. A 23-year-old man was invited to a national acting competition. 
Such is the life of Itzhak Matos. 
At the Kennedy Center American Theater College Festival (KCATCF), which took place in Las Vegas in February, a group of theater students from Pierce went to compete for the Irene Ryan Scholarship. Matos made it to the semifinals. 
Matos grew up in New Jersey with a family of musicians. Being hard of hearing his whole life, he was never able to fully connect with music in the way his family was. But being born into a family of artists, Matos found movies and acting to be the outlet he wanted to use for his artistic vision. 
"I used to love watching movies from such a young age," Matos said. "I would sit in front of the TV and watch old Bruce Lee movies or reruns of old sitcoms. I don't know what it was, I just knew that that's what I wanted to do."
Matos has known his whole life that he wanted to be an actor but living in New Jersey, he found that there weren't many opportunities to do so. It wasn't until he and his family moved to LA that he got the chance to start acting. He moved just in time to start high school where he attended Valley Academy of Arts and Sciences. It was in his first theater classes there that officially started his career in acting. 
"I fell in love with it," Matos said.  "I jumped right in and I met so many amazing people and friends and great teachers."
But it wasn't so easy for him to acclimate to the new environment despite the fun he was having in his acting classes. While he had hearing problems his whole life, it wasn't until high school that he realized he needed to do something about it. It was something that was not very noticeable to him in his childhood but high school made him see that his hearing loss was making many things difficult for him. He was having trouble in school and connecting with people around him.
He was 15 when he heard from a doctor that his hearing was not going to get better and 16 when he first got his hearing aids. As much as he knew he needed the help, all the noise from the outside world that he was hearing for the first time quickly overwhelmed him. Along with all the looks he would get and feeling self-conscious, those factors made him decide to stop wearing them.
"I think it got to a certain point, after a month or two of wearing them, I became self conscious about them," Matos said. "Especially at that age of being socially awkward. I didn't like the attention it was bringing to me and people would always ask me questions about it or stare at them. So I stopped wearing them."
It wasn't until he graduated high school and started at Pierce that he started wearing his aids again.
"When I got to Pierce, I was in my first theater class and I was like, 'I need them,'" Matos said. "I don't think I would be able to do shows or memorize lines or continue my career if I didn't accept this part of myself. Because I wouldn't be authentic. I wouldn't be my whole truthful self."
Matos started at Pierce in the fall of 2018 and joined the theater department in spring of 2019. He has studied under theater professors Shaheen Vaaz and Esdras Toussaint, who have nothing but great things to say about Matos' acting abilities.
"He's super, super kind and quick," Vaaz said. "He has this amazing ability to access his true emotions. He can access things that are true to him. He's authentic."
Matos' first on stage role was in "Hookman" and since then he has acted in many different productions, the latest being "Clue", last fall, in which he played a lead role. It was his biggest role so far in his acting career. He performed so well that his performance led to a nomination in KCATCF.
"He did the lead role in Clue as Wadsworth and he really came into his own at that part," Vaaz said. "It had just the right combination of swagger and coolness, but also crispness and drive and he just really found that part and he made that role his."
"I was fortunate enough to make it to semi-finals and perform which was so much fun, but also scary to perform in front of judges that you've never met before," Matos said. 
Throughout his years at Pierce, he has grown as an actor and shown talent that is applauded by anyone who has seen him perform. He has made his love for acting clear and has shown continuous dedication to his craft. The professors that have helped him grow sing his praises frequently.
"He's naturally gifted," Toussaint said. "But his talent alone would not take him to where he is. I truly believe it is his work ethic that gets him to where he is today."
After Pierce, Matos will be continuing his education but he is not sure exactly where. He was accepted into CSUN but he is currently awaiting to find out if he is accepted into an acting conservatory called Stella Adler Acting Studio. Were he to get accepted, that is where he will go.
Matos has overcome many challenges in order to do what he loves. Being hard of hearing, overcoming the self consciousness that comes with being in the minority and countless other things have contributed to who he is and how he performs.
It's clear to anyone who has spoken to him that his love for acting runs deep.
"Theater and acting has saved my life," Matos said. "I don't know where I'd be if I wasn't doing this."