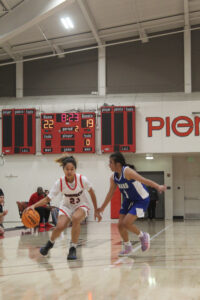 Pierce College women's basketball ended the season with an overall record of 3-25. They may not have won as many games as they hoped to, but head coach Thara Innocent is still proud of her team. The Brahmas are determined to come back strong next season despite their record. 
Innocent and her coaching staff are proud of the goals they were able to accomplish together this year. Seasons like this are hard on teams' spirits, but Innocent knows they will use it to their advantage in the future.
"Now that we're over our growing pains, next season is going to be revenge for all the games that we lost a lot to a little," Innocent said. "The girls and coaching staff are all excited, and I'm excited too. Getting some new talent in here next season makes me even more excited."
This was Innocent's first season as head coach of the Brahmas, so it was expected that the team spend the majority of the season learning and growing into their new program. 
Athletic Director Susan Armenta is pleased with the team's progress so far. 
"Thara did a good job," Armenta said. "We've had some challenges this season with some injuries and things like that, but we're looking ahead and are excited for next season."
Assistant Coach Hilda F. Martinez-Hernandez used to watch the games in her Sheriff's Department uniform before signing on as a volunteer. She is very proud of the team's progress this season and knows the scoreboard isn't the only measure of success. 
"A lot of these players started out the season not knowing much about basketball," Martinez-Hernandez said. "Just to see them grow and learn to trust themselves and their teammates has been amazing to see."
Guard May Htet Lu and forward Tijera Henry are both looking forward to coming back to play for Innocent next season. 
"We started out the season with a couple of disappointments," Htet Lu said. "But it's a new program and I'm proud of our team. I hope we can get some new skilled and experienced players next season."
"It was a season to remember," Henry said. "This was a great experience overall. We didn't think we were going to make it this far, but we pulled it out."
In addition to building a brand new ball program, Innocent made a promise to her team that she'd work to secure scholarships for any players trying to transfer for basketball to a four-year university, and she followed through on that promise. 
The team said farewell to two sophomores this season, forward Methara Rathnasiri and guard Nyia Freeman. With the help of Innocent, both players received scholarships to play basketball for Southern California Leadership University in the fall. 
"I want to make sure everyone leaves Pierce with a success story," Innocent said. "At the end of the day, these players are going to be successful. Their success story is our success story. They'll always be a part of our program and we're very proud of them."
Already looking toward next season, Innocent said the coaching staff has been actively recruiting throughout the season to prepare for the future. 
"We have some great prospects coming in next year," Innocent said. "It is a recruiting war, so there is no guarantee that we will get certain people, but we're definitely going to get some new blood in here and be even better next season. I'm excited about it."  
As the team continues to work hard and prepare for next season, they encourage all Brahmas to come support their program and watch them play. Anyone interested in joining the women's basketball team next season should contact the coaching staff for details on how to try out.