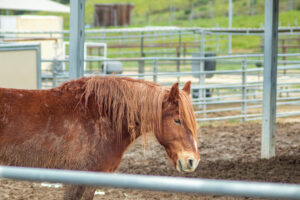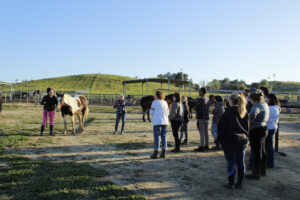 Imagine going to a classroom without pencils or books. Now imagine trying to learn about horses without any present on campus.
That changed this semester.
The horses have come back to Pierce College after being gone for almost three years. Their return is enthusiastically welcomed by the professors and students' part of the Equine program who have been struggling without them.
The horses were removed from campus when the pandemic hit in 2020 and the school closed. They returned in spring of last year but had not been incorporated back into lessons until this spring semester started. 
Their absence greatly impacted the Equine program as there were many classes that either could not be taught without them or were very difficult to teach.
"It was darn near impossible," Professor of the horse training class Heidi Paul said. "You really can't run this type of program without horses."
When the horses left campus the riding classes were canceled and the others that stayed available were run with great effort to teach the students as much as they could learn without horses. 
This included trying to teach with donkeys who were not very cooperative and many field trips to private properties off campus that had horses. These trips relied entirely on separate contacts Paul and other students had.
"Fortunately, we knew enough people between myself and a few students who would allow us on their property to deal with their private horses," Paul said. "But that's difficult to pull off."
Students part of the Equine program also suffered with the loss of the horses. Not being able to take certain classes meant they weren't able to get the credits they needed and their time at Pierce had to be extended.
"I didn't get the outcome for my teaching goals for the classes," said Paulina Chairez, an Equine student for over a year. "We kind of were just winging everything, and I feel like I kind of just wasted a semester here. It was just definitely not meeting my expectations as far as my career goals and education goals."
The horses are expected to stay for the rest of the semester, putting both professors and students at ease.
"I feel like I can actually graduate on time because the horses are here," Chairez said. "I feel like I'm back on track."
The future of the program is still not clear, but with the horses back there are hopes that the program will return to the state it was in before the pandemic. It's already slowly getting there, the return of the animals sparked more students to enroll in the riding, training and lecture classes.
"I would like to see this program start up again to the level it was previous to the pandemic," Paul said. "There's always a waiting list for these classes and people really, really enjoy doing them. It's for everybody– there's a lot of people who take them just because it's therapeutic."
Callen David, who started taking classes in the Equine program this semester, did not have to experience the program when they were missing the horses. He gets to start the program the way it was intended to be run.
"I've been looking to work with horses for a very, very long time," David said. "It's exciting to be here and learn proper technique and etiquette. Learning this whole new Pierce method with the horses is different than anything I've ever done. It's exciting."