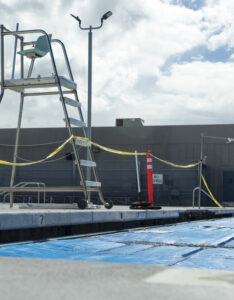 The two Pierce pools have been out of commission since October, leaving swim students and faculty in an inconvenient predicament. 
Concrete along the borders of both pools is deteriorating, making them unsafe to use. Yellow caution tape lines the perimeters. 
Computer graphics major Nathan Zilberman is on the swim team and said it would be much more convenient to have the pools up and running again. 
"I really wish we had our pool back so we can swim at our own school," Zilberman said.
Thanks to an existing partnership with Crespi Carmelite High School, the swim team has been able to practice during afternoons a couple times a week. However, it has not been without its challenges.  
Swimming Pool Coordinator Debra Hefter said that since both schools are competing for pool time, it is difficult to keep a predictable schedule. 
Hefter said that sometimes both teams need the pool at the same time which means students have to shift their schedules around and that is not always possible. 
"It's very hard to not have a home pool," Hefter said. "I feel immense gratitude towards the students because they've all committed to taking classes at very odd times so that they can also get to their practice and come back to campus if they have to take classes at a later time. It's not easy to do."
Director of Athletics Susan Armenta said it is tough to have to compete not just for the pool access but also for transportation. 
Armenta said that other programs at Pierce need the school buses and vans and when this happens, they need to arrange for alternate transportation. 
"It's more of an expense to get transportation to go over to Crespi," Armenta said. "It's a time restriction for athletes and students to have to come to campus for one class and then go off campus to practice. It's just not convenient. It's not the best thing for our student athletes."
Armenta said that the team has missed much needed practice time as a result of all the additional coordination that is needed. 
"It's just hard because it has to coordinate with their academic courses as well here on campus," Armenta said. "It's always a balancing act for them to make sure that they get their practice time and then get back in time for their classes."
According to Head Coach Judi Tehar, the instability has not been without its losses. Tehar said the team lost about five swimmers due to the changes which makes it difficult to enter the team into certain events and races. 
Zilberman said the relays are the area where they struggled the most. 
"We lost some team members, especially in our relays," Zilberman said. "We only have maybe four members in our A team, which is our fastest team for relays. It's not very easy to switch out different teammates, it is very strict and concise. But we're trying really hard."
Linguistics student Helene Hirsch said that it was hard to see so many of their swimmers go. 
"There were some really good swimmers who were excited about being on a team," Hirsch said. "Not having the pool at Pierce has been a very big deal. It makes it harder to be able to transfer back and forth all the time."
Zilberman said that even though transportation has been more inconvenient, swimming at Crespi has been a privilege. 
Tehar said that she feels that Pierce College is doing all they can to support the students through this time of uncertainty. Tehar also said that she feels confident in the team this season.
"The way you tell how the athletes are doing is you take the circumstances they're given, and they do the best they can with them," Tehar said. "We can't change the fact that the pool is broken. Our job is to show up every day, work as hard as we can. We're given two hours at that pool and train as hard as we can. The athletes will do the best they can with the circumstances."
Hefter said that since the pool was built in the 1970s it has needed rehabilitation multiple times, but it's been about 15 years since the last repair. 
Hefter said that the extent of the damage remains unknown but in December, the district sent a contractor to take samples of the deck. Once they get the samples back, a plan of action will be established.
"We are just really interested to find out what the solution is going to be," Hefter said. "Is it going to be something that's going to last us a lot longer or are we going to go for something a little bit bigger like rehabbing the whole athletics area? So those are all conversations that I know are being had."
Hefter said that the schedule has been hard on both students and faculty because they are working at a facility where they are not familiar, and they might not have all the things they need. However, Hefter remains positive and grateful. 
"Everybody has been really wonderful, flexible, and adaptable," Hefter said. "We've been making it work and it's gotten a lot better."