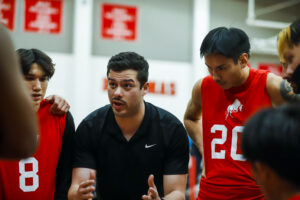 The men's volleyball team is set to begin the 2022-23 season under new leadership as the team seeks a coveted playoff spot. 
New Head Coach Joseph Arechiga has been tasked with a team rebuilding effort in his first year. 
Called "Coach Joe" by the players, he looks to help the team rebound after the 2022 team recorded no wins, as they finished with an overall record of 0-13. 
Arechiga said not to count out the Brahmas just yet. 
"I feel like we're coming into this season with a chip on our shoulders," Arechiga said. "After last year, people might think, 'Oh, we're playing Pierce, no big deal.' No, no, no– we're a big deal. We're back, and we're going to show you that we're back." 
Already, the loss of months worth of conditioning and practice in the summer and fall preseason threatens to slow their road to success. 
While many schools have been running practices since last summer, the Brahmas had no choice but to jump into things only in January. This was due in part to the latest coach change and the paperwork involved with it. 
Freshman and outside hitter Vinny Harris is using the late start to the season as fuel for winning. 
"[Having] two months of practice while everyone else has had half the year really sucks but it makes me want to beat them even more," he said. "I want to prove that no matter how much more time you have than me, it doesn't matter– I'm still gonna beat you."
Freshman, libero and defensive specialist Ethan Ortiz also admits that not having those extra months of team building puts them at a slight disadvantage, but he won't let the odds beat the team down.
"As unfortunate as it is, our team has used these last few months we've spent together training our hardest in order to be able to compete with other teams," Ortiz said. "We refuse to let the lack of a preseason negatively impact us." 
Despite the team still getting to know each other, team chemistry doesn't seem to be an issue. In a group of 16, strong bonds have already been formed that will help in the long run. This is something Ortiz is proud of. 
"I've been on teams where there's always that one player that causes the vibes to go down," Ortiz said. "But with this team, we are always uplifting each other, being positive and trying to make each other better each day. This is definitely a special group of guys." 
Meanwhile, Arechiga looks to start on a clean slate by stressing how this is a new year and a new team. He wasn't on the coaching staff last year, so he can't speak for what happened that resulted in a winless season. He chooses not to let the past affect team morale. 
Arechiga already has high hopes for this season.
"I have a feeling we could be one of the top four teams in our conference and we can make the playoffs," Arechiga said. "That's a very realistic goal and something I could definitely see happening."
Arechiga played volleyball at Pierce in 2015-2016 as a middle hitter and eventually, an opposite hitter. He then served as assistant coach in 2019 before going to finish his studies at UC Santa Barbara and USC. 
Being a former player and already having assistant coaching duties under his belt, Arechiga is familiar with the trials and tribulations of leading a volleyball team. 
Now, as head coach, he says things are much different and there is "definitely" pressure on himself to produce a win for the team. 
At the same time, his role as a coach goes beyond just volleyball and winning. 
"Of course, I want to be the best that I can possibly be as a coach and I want that to show in my record," Arechiga said. "But also, I want to make sure my players are transferring and they're taking care of grades. That, for me, will ultimately be my success." 
He seeks to instill a positive, forward way of thinking in his team as they get through little hurdles at a time, off the court and on the court. 
"The final goal is we all want to win (the state championships)," Arechiga said. "The reality is, we need to win our first set. From there on, 'how do we continue to improve ourselves and each other as a team?'As long as you're progressing upwards as a team, that's what's really going to matter."
One step at a time has proved to be the right mindset so far. 
Although the team's season opener on Mar. 1 resulted in a 3-1 loss to El Camino College, the single set they won will serve as motivation and a confidence booster as they look forward to the games ahead. 
"I think our season will definitely be better than the season prior to the current one– we already won a set which is something that didn't happen last year," Ortiz said. "I'm hoping we are able to string together some wins and make a playoff push since no one in our conference is expecting us to do so." 
The Brahmas' home opener against the Antelope Valley Marauders is on Mar. 8 at 6 p.m.