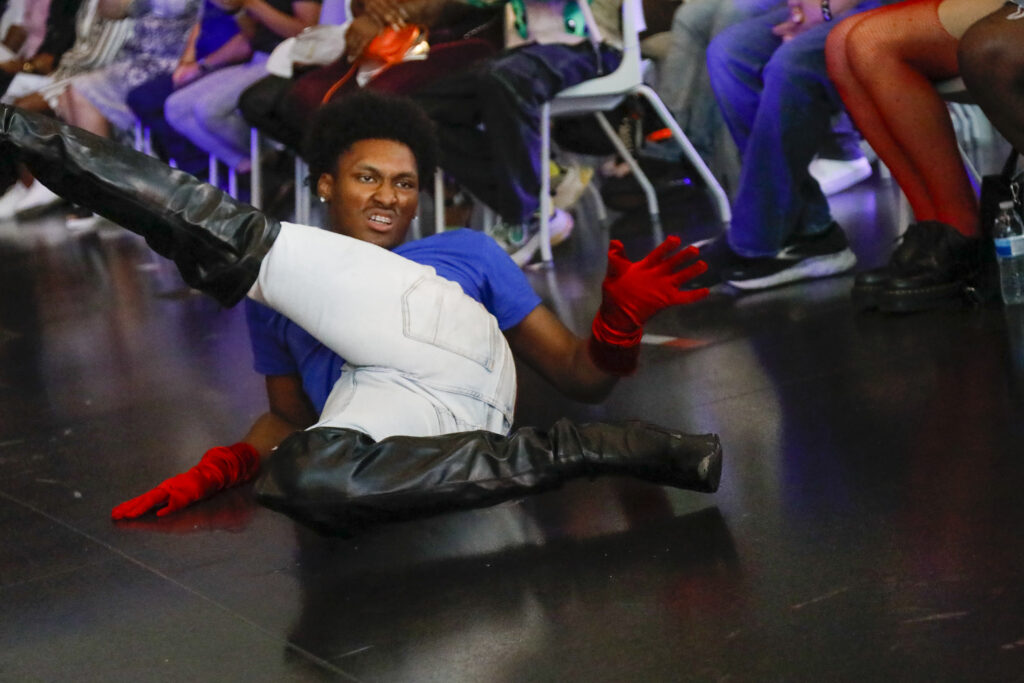 Pride month is just around the corner, but it doesn't need to be June to start celebrating. 
The 1st Annual Unique Ball took place at Los Angeles Trade Tech College (LATTC) on Saturday, presenting competitions in dance, fashion and beauty categories.
Produced by Chief Project Officer of REACH LA Greg Wilson, the space was provided by LATTC and made possible by Los Angeles Community College District (LACCD). 
The event was meant to support the LGBTQ+ LACCD students that may sometimes feel overlooked or misunderstood. 
Participation in the first set of competitions was open to LACCD students only, while the second half was open to the public, more seasoned performers. 
"We have categories that are specifically designed for students, allowing them to be highlighted, showcased and appreciated for their greatness and for the creatives that they are," Wilson said.
Commentated by musical artist Enyce Smith, the winners of the competitions were determined by five judges. 
Winners of the various categories won trophies and cash prizes ranging from $100 to $500.
The Unique Ball strove to bring the community historic ballroom culture which originated with the Black and Latino LGBTQ+ community in New York City late in the 20th century. 
Ballroom culture gives people the opportunity to compete on a catwalk in contests categories such as beauty, fashion, sexiness, shoes and "realness."
However, one of the most famous ballroom competitions is "voguing," a stylized dance of angular body movements that originated in the Harlem Ballroom scene in the 1980s. According to nytimes.com, Willi Ninja is considered the Grandfather of voguing after he brought the dance style to visibility and perfection in the 1980s .  
One of the sponsors of the event was REACH LA, a youth organization for the LGBTQ+ people of color. Among the many programs they have, REACH LA provides vogue dance classes.
LATTC Fashion major Armond Anderson Bell had walked in other categories before, but this was his first time walking as a college student. 
"It was really good for me to walk for what I am in school for, which is fashion design," Bell said. "I'm an entertainer. I'm a drag queen. But now I am in school for fashion and I am taking my creativity to the moon."
Performer Rosie Ninja was introduced to Ballroom about seven years ago by choreographer and dancer Dolores Ninja. Rosie Ninja walked in the Face category. 
The face category is about glamor and showing the structure of the face, skin, eyes and teeth.
"All in all I think it is fun, and it is a great way to show self expression," Ninja said. 
Virgin contestant Detreon has been going to REACH LA classes since last semester. 
"I'm very very virgin," Detreon said. "When I went to REACH LA lessons at first, I remember telling myself that you just have to look stupid until you look good."
Detreon found encouragement through Kiki House of Gucci when it came to walking at a mainstream event like the Unique Ball, to get practice.
"I have to slam my back," Detreon said. "It may look crazy, but who cares? I have to do it."
President of the Board of Trustees and Chair of the LGBT Affairs Committee for the District David Vela said he and Board of Trustees Vice President Nichelle Henderson brought up the possibility of teaming with the Los Angeles ball scene, That was when they met Greg Wilson. They subsequently partnered along with the nine colleges.
"We think that it is really a way to honor the very unique African American ball scene and LGBT scene as well," Vela said. "We don't really get to see it up close. It is a way to expose our students, staff and folks to this wonderful art form."
Vela said that this event may inspire students to participate in the balls, or to maybe even have one at Pierce College.
"The future is bright," Vela said. "LACCD will participate in the fourth Lavender graduation at Trade Tech."
LACCD will also participate in the Pride Parade of Los Angeles as well as the West Hollywood Pride Parade.