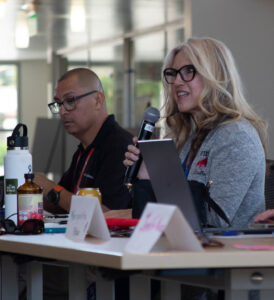 Nathalie Miranda contributed to this story.
The end of a semester often means transitions, and the Pierce College Academic Senate is going through a few key ones.
The Monday, May 22 Academic Senate Meeting marked the last time Barbara Anderson will preside as the body's president. Her second term ends June 30.
Anderson decided not to run again because she didn't want to take total control over the senate as she values fresh perspectives.
"I was very blessed to be able to work in this role and work with these great people here," Anderson said.
Curriculum Committee Chair Margarita Pillado commended Anderson on four years of exemplary leadership and on behalf of the Academic Senate, wished her success in future endeavors. 
"She has led by example with integrity, transparency and respect for processes and procedures, always to ensure inclusive and fair debate," Pillado said. "She has defended the mandate of the academic center of Los Angeles Pierce College in all academic and professional matters, through collegial consultation in good times and bad."  
A second resolution of recognition went to Academic Senate Treasurer Alex Villalta, who also ends his term this June after serving since 2021. 
"Villalta has served efficiently and effectively as treasurer of the Academic Senate," Pillado said. 
Pillado added that Villalta's job in sending email reminders about senate dues is just one of the numerous examples of his enthusiasm and dedication to the school. 
"During his term in his executive role, he has participated effectively in the work of the Senate Executive Committee and contributed to this grant of the faculty voice in an academic and professional manner," Pillado said. 
Adding on, Pillado shared how Villalta had become somewhat of a "local celebrity" on campus due to his helpful ways. 
"He was a first responder whenever you sent for immediate assistance in technical and other emergencies," Pillado said. 
Later in the meeting, a proposal concerning the faculty hiring process was debated for several minutes. Some senators believed that the language was vague and could be interpreted in a way that would allow faculty of a department to hire faculty for another department that they are not connected to.
An example that Judy Lam, counselor and Guided Pathways coordinator, gave was that someone working in Umoja could hire a Spanish professor without consulting the Spanish department. This could have serious consequences on students, so Lam suggested a resolution to make the language in the proposal more specific to avoid it from happening. 
After discussion, the Senate voted to approve Lam's suggestion and the proposal's wording was changed. 
"I'm happy that there's clarifying language now," Lam said. "We want to make sure that departments are being notified if people on campus are submitting positions in their department."
Villalta went on to propose an increase in senate dues for full-time faculty members, from $50 to $60. He explained the need for more funds was due to inflation and other rising costs.  
Since the wording of the proposal was unclear, the senate members took quite a bit of time discussing the meaning and asking questions and then they finally came to vote for whether or not the proposal should be approved. While the majority of the senate voted to approve, a couple chose to abstain and there were many who voted against. 
One senate member who voted against the policy was English professor Chris Corning.
"I felt like the policy was a little unclear," Corning said. "I don't like the idea that we're having a new incoming treasurer who's going to be kind of bound by this slightly unclear policy."
Umoja counselor Kalynda McClean thought it would be better to get more faculty participation to raise income, rather than increase the dues for already-paying faculty members. Currently, less than 90% of Pierce faculty participate in paying senate dues. 
"I do think it would be very wise of us to hold off and maybe look at an increase next year," McClean said, hoping to wait for the new Academic Senate president and treasurer to take office by then. 
Villalta explained that the proposal wouldn't necessarily affect those who are already paying the current fee. It would instead create an incentive for non-paying faculty members to pay their dues now before the price increases to $60 next year.  
This was the last Academic Senate meeting for the Spring 2023 semester. The Senate will reconvene again at the start of the Fall 2023 semester.