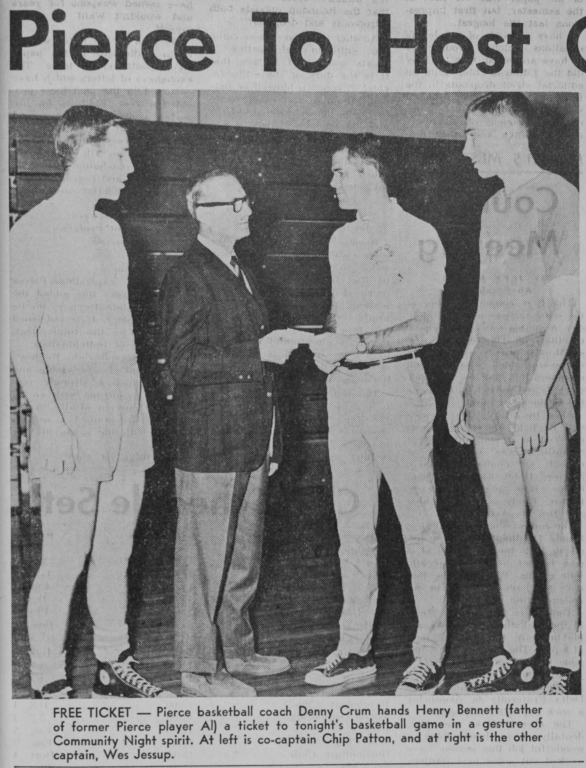 Denny Crum, a former Pierce College basketball player and coach as well as a two-time National Championship coach for the University of Louisville basketball team, died on May 9. He was 86 years old. 
Crum played basketball at Pierce from 1954 to 1956. He then transferred to UCLA and played basketball there for two more years. Crum returned to Pierce as a coach for men's basketball from 1961-1967. In 1968, he became assistant coach to John Wooden at UCLA. While at UCLA, the men's basketball team won three NCAA Championships.  
In 1971, Crum's career took a big turn as he became the head coach for men's basketball at the University of Louisville in Kentucky. In Louisville, he got his teams to six final fours and won two NCAA Championships, once in 1980 and once in 1986. His teams did extremely well with the record of 675-295. 
He was also the National Coach of The Year three times and in 1994 was inaugurated to the Naismith Memorial Basketball Hall of Fame. 
There are many in the Pierce College community whose lives were touched by Coach Crum. 
Bob Lofrano, a one-time Pierce student and former athletic director, recalled his memories of Crum.  
"I was a student at Pierce College in 1967-68 and I played baseball there," Lofrano said. "That's when Coach Crum was the basketball coach. I'd go to the games and I was very much aware of Coach Crum as a Brahma at that time."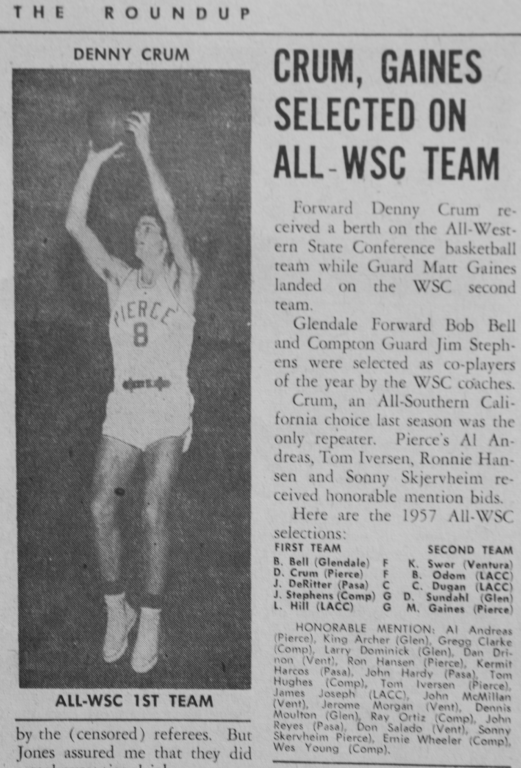 To Lofrano, no matter where Crum's coaching career took him, he was the  ultimate Brahma. 
Lofrano said Crum is synonymous with Pierce. 
"He took the head coach job at University of Louisville and then carved his own history," Lofrano said. "That's why everybody affiliated with Pierce has an appreciation once they know about Coach Crum- to have an appreciation about what Coach Crum meant to Pierce College." 
In 2010 Crum was inducted into the Hall of Fame at Pierce. 
"I said, 'Coach, I can't afford to pay for your flight here' because he was in Louisville, Kentucky,"Lofrano said. "He said, 'Don't worry about that, I wouldn't miss this for the world.' He's in so many different Hall of Fames and he told me that night at our Hall of Fame, that this one meant the most to him."  
Ken Stanley coached with Crum at Pierce as his assistant, when Crum was the head coach. 
Stanley also knew Crum before they coached together at Pierce. 
"We attended the same high school and he was a couple of years ahead of me. We both played on the same basketball team," Stanley said. "He was always very supportive of our high school and our teams."
Stanley said that he was a good basketball coach and good with the kids. 
Stanley also remembered who Crum was as a person. He mostly remembered the strong effect he had on people and how he brought people close to him. 
 "He had the ability to make you feel like he'd been your friend for ten years. He was just a neat guy," Stanley said. 
Former Pierce College baseball coach and athletic director Bob Lyons invited Crum to a ceremony before a Pierce men's basketball game in December of 2002 to retire Crum's basketball jersey number 8.   
Lyons recalled a compelling occurrence that took place during Crum's Pierce coaching career.  
"One of the things we did was we brought one of his old teams back together and they were all there to testify about what their experience was with Denny Crum," Lyons said. "They said he was instrumental in their lives, how they conducted themselves and what they did with their futures." 
Lyons said Crum was loyal to Pierce.  
"He would do anything for Pierce, if he could," Lyons said.     
Erwin Goldbloom was a wrestling coach the same time Crum was a basketball coach at Pierce. Goldbloom shared an office space with Crum, along with Ken Stanely. They shared a close friendship over the years that they knew each other as well.    
"Our families were very close," Goldbloom said. "He had two children about the same age as mine. We used to go on trips together and hang out." 
Goldbloom was close to Crum even after Crum left Pierce College. 
"Every time his team would come in and play UCLA, we'd always go to the games and get together," Goldbloom said. "We'd fish together quite a bit." 
Denny Crum was survived by his wife Susan Sweeney Crum and his three children Cynthia, Steve and Scott Crum.