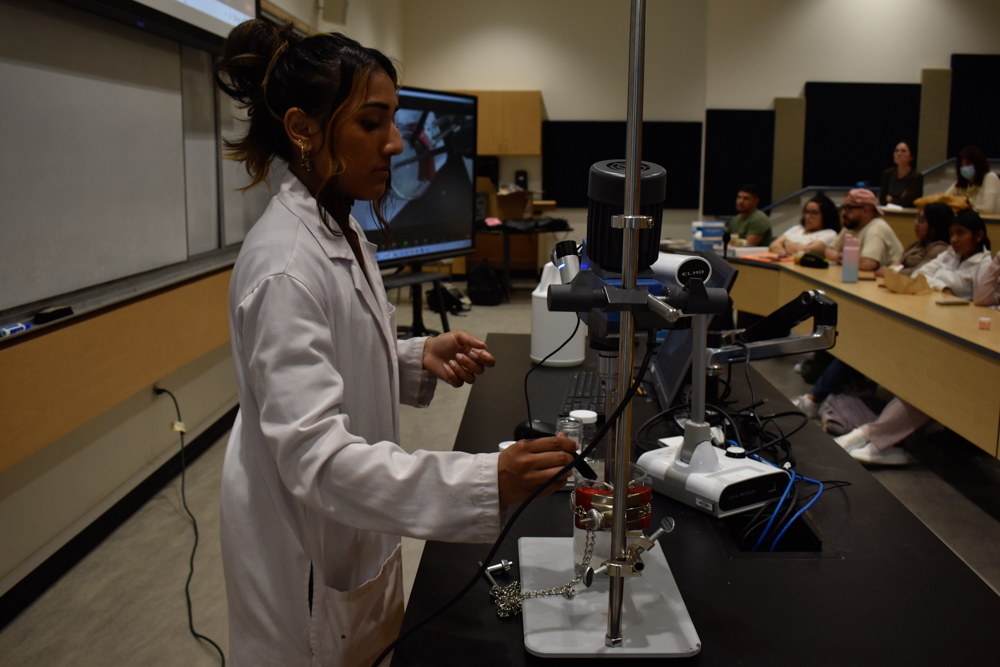 Choosing a career path is one of the biggest decisions a person will make in their life. 
A certain chemist is hoping to make it a little easier for Pierce College students. 
More than sixty students gathered for a workshop on cosmetic chemistry led by cosmetic chemist and former Brahma Nasrat Hamid in the Center for Sciences on Tuesday May 16. 
The main takeaway from the event was that there are many career paths for STEM students that they may not have considered before. 
Hamid said she stumbled upon cosmetic chemistry and her job at John Paul Mitchell Systems with a sheer stroke of luck. 
"It was during COVID and I really had to think about my life," Hamid said. "I asked myself what I can combine school-wise and life-wise and I thought, I'm really into skin care. There has to be chemistry behind that."
During the workshop, Hamid demonstrated how to mix shampoo using just a few ingredients: water, a preservative, a surfactant and salt. She emphasized the importance of mixing in the process. Students were also provided with their own demo samples and encouraged to engage and participate throughout. 
Since Hamid came to her work in a roundabout way, she is hoping to help future cosmetic chemists navigate the path a little easier.  
"These events are really important for me to hold at every school because there is an extreme disconnect with students in this industry," Hamid said. "A lot of students don't know about this industry and that it can be a potential career path."
Cosmetic chemistry is a very male-dominated field and Hamid said it is because the people who tend to apply and get interviews are male. 
"The reason why we're male dominant is because we don't get any women interviewing for these positions unfortunately," Hamid said. "We get a lot of men interviewing and if you have more men interviewing you're going to have more men in these positions." 
Hamid said while she has had an overall good experience, there may be times when women feel unwelcome by virtue of their gender. She emphasized there is always more space for women in STEM. 
"Sometimes you'll go to a certain event and you might feel threatened or like something is against you just because you're a woman," Hamid said. "So it's important to just hold your ground, have your confidence, and make sure nothing gets to you."
Associate Professor of Chemistry Benny Ng said the number one thing he wanted students to walk away from the workshop with is that there are so many opportunities in STEM that they may not have considered. 
For Ng, it was meaningful to have a former Brahma come to campus to share their experience because it can be a difficult field to break into if students are not aware of it. 
"Oftentimes this is not an industry that is easy to get into and you need to know someone to get in, so I think it's good to provide the students an opportunity to network," Ng said.
Another thing Ng hopes sticks with the students who attended is the notion of failure, which Hamid touched on several times. 
"Sometimes the formula doesn't work and you have to start over," Ng said. "Persistence and resilience is something that STEM students should have because it's not always sunny and bright every day that you work in the lab." 
While free coffee and sandwiches were served, Ng said it's the practicality that brings students out. 
"The title is very sexy–cosmetic chemistry," Ng said. "But every day you take a shower, use soap, shampoo lotion, sunscreen and all the personal care–that is all involved in chemistry. You flip the bottle and you can see the ingredients."
Ng believes it helps students to connect their school work to the real world.  
"It also gives my students another opportunity to connect what they are learning in class can actually be applied to everyday life," Ng said. "Helping them see the connection will motivate them to study and that's a strategy that I like to use." 
The workshop went over things from what it is like to work as a cosmetic chemist, to the ways that companies use words to entice or scare consumers. 
Psychology Major Andrew Vinterfeld, who considers himself into skincare, said he will be looking at his labels a little closer from now on. 
"It was great learning about the difference between exfoliating and surfactants and applying things that I would usually overlook on my products," Vinterfeld said. 
This was the second time this event has been held and it's been incredibly popular, bringing out dozens of students each time. According to Ng, the workshops have been so well-attended that there may be an opportunity for a cosmetic chemistry degree or certificate program at Pierce. 
At the end of the day, Hamid hopes at the very least she has inspired some students to expand their horizons. 
"I hope they got their eyes opened to a career that they didn't know was a potential for them," Hamid said. "That's really important for me."