Iranian-American and Pierce College professor of sociology Mitra Hoshiar held a Woman, Life, Freedom Learning Series on Thursday that talked about the women's rights movement in Iran. The movement in Iran is aligned with the global action that stands in solidarity with Iranian women and girls who are fighting for their human rights. 
The discussion was presented with PowerPoint slides that taught how to bring social change, and student and community discussion.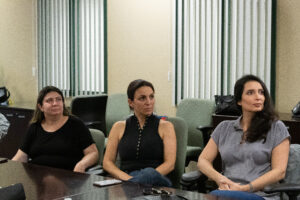 The Woman, Life, Freedom Movement in Iran was sparked in Iran after the death of 22 year old Mahsa Jina Amini. Amini was arrested by Iran's "morality police" for not covering her hair properly, according to the Iranian government officials. 
She died in their custody on Sept. 16, 2022, and the Women, Life, Freedom Movement was born. 
Hoshiar said that the rights of women were taken away in Iran, as well as Afghanistan, after they had those rights secured for  years. 
"When you look at the pictures from the 70s in Iran and Afghanistan, women were moving to the modern era," Hoshiar said.  
Hoshiar hopes to educate, bring awareness and ultimately train attendees to bring lasting social change. 
"It's been very educational because through these social movements little by little, we can raise awareness and bring social change in society," Hoshiar said.  "Social change is not easy."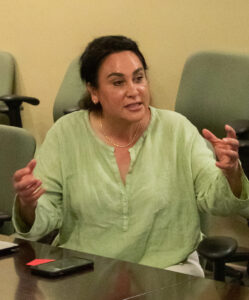 Hoshiar talked about how hard Iranian women struggle to have the most basic rights.
"On the surface, it may seem like it's about hijab, but it's not just about hijab," Hoshiar said. "It's about many other rights that women have been deprived of in Iran, such as divorce rights, travel rights and working rights." 
Hoshiar said that many women have to deal with child marriages. 
"In Iran, they say the marriage age is 18, but it's not," she said. "There are child marriages." 
Hoshiar has hope for the region if the Women, Life, Freedom movement achieves its goals.  
"With this Women Life Freedom Movement, I was personally very optimistic that maybe if that change happens in Iran for women's rights, because in that region most of the countries are very connected, maybe that will open the door to other women in the region," Hoshiar said.      
Hoshiar wants social change, but she said that the truth may come at a price. 
"There are a series of changes that women are trying to bring to society," Hoshiar said. "I don't think it is going to be easy. But I'm very optimistic because I feel like the trend has already started and people are fighting."       
Sophomore psychology major Zairi Giron thinks that the event was eye opening and transformative.

"I, as a student, do want to get involved in some sort of social change, and I always read about it on Instagram," Giron said. 
Giron thinks that these types of meetings shed light on the fact that there are still people who want to fight for justice and equality.  
"You'd think that the discussion of these issues are dead or it's in a dark room and nobody wants to talk about it anymore," Giron said. " It really helps and educates other people. I was educated as well today. And I just think it keeps the message of justice alive." 
Giron believes  strongly in showing tenacity and persistence in the face of injustices in the world, especially for keeping hope alive for the next generation.  
"Don't give up on these types of issues, especially the Women, Life and Freedom Movement," Giron said. "It's super important, especially here in the US. I just think we should keep educating ourselves, especially the younger generation because we are the next upcoming generation that can help the millennials and gen x societies." 
Former Pierce College student Marjan Nourai valued the learning process the event brought. 
"We're learning how to be active in society, whether it's here in the United States or if it's in Iran, it doesn't matter," Nourai said.
Nourai said that equality is a global issue and not confined within the borders of countries.  
"When there's injustice in one place, there's injustice everywhere," Nourai said. "We're here to create a social movement for justice not only in Iran but also in the community that we live and serve, which is right here in Los Angeles."  
Nourai thinks that the women's movement in Iran is a movement that touches everyone, especially because of the important role women play in society. 
"I really would like for people to understand that this movement of Women, Life, Freedom affects everybody because women are the foundation of society," Nourai said. "What we see happening in Iran where there's an oppression of women, we see societies go backwards. We're going to see it also here in the United States as women's rights are being suppressed as well. Without women, life does not continue. And if life does not continue, then there's no freedom."